US Amateur Qualifying - Colonial CC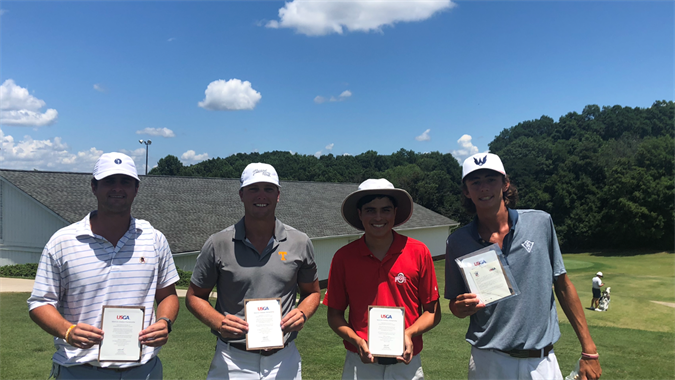 THOMASVILLE, N.C. (July 1, 2022) -- Final results from U.S. Amateur Qualifying at Colonial Country Club in Thomasville, N.C. on Thursday and Friday, June 30 – July 1, 2022. (6,740 yards, par 36-35--71).
Four qualifying spots and two alternate spots were available at this qualifying site.
Cade Russell of Knoxville, TN and Jet Tickle of Bristol, TN, teammates at the University of Tennessee, shared medalist honors after finishing at six-under-par 136. Walker Isley of Oak Island, N.C. shot rounds of 72 and 65 to finish at five-under-par 137 and claim the third qualifying position. Jacob Tarkany of Scottsdale, AZ fired a two-round total of four-under-par 138 to take the fourth qualifying positon. Six players finished three-under-par 139 and went to a playoff to determine the alternate positions. Ryan Ang of Singapore and Owen Kose of Holly Springs, N.C. made birdie on the first playoff hole to advance. Ang went on to birdie the second playoff hole as well to claim the first alternate position and Kose will be the second alternate.
The qualifiers will advance to the 122nd U.S. Amateur Championship at Ridgewood Country Club, in Paramus, N.J. from August 15-21, 2022.
Hole-by-hole scoring can be viewed here.
US Amateur Qualifying Results
Colonial Country Club, Thomasville, N.C.
June 30 – July 1, 2022
Pos.

Player

Affiliation

Total To Par

Total Score

Details

T1

Cade Russell

Knoxville, Tennessee

-6

136

T1

Jet Tickle

Bristol, Tennessee

-6

136

3

Walker Isley

Oak island, North Carolina

-5

137

4

Jacob Tarkany

Scottsdale, Arizona

-4

138

The following players did not make the cut

CUT

Ryan Ang

Singapore

-3

139

First Alternate

CUT

Owen Kose

Holly springs, North Carolina

-3

139

Second Alternate

CUT

Avery Price

Georgetown, South Carolina

-3

139

CUT

Harley Abrams

Tulsa, Oklahoma

-3

139

CUT

Wilson Andress

Macon, Georgia

-3

139

CUT

Grady Newton

Winston salem, North Carolina

-3

139

CUT

Joseph Cansler

Clemmons, North Carolina

-2

140

CUT

Caden Baker

Mebane, North Carolina

-2

140

CUT

Ike Joy

Denver, North Carolina

-1

141

CUT

John Fahey

Charlotte, North Carolina

-1

141

CUT

Justin Morgan

Denver, North Carolina

E

142

CUT

Jack Heath

Charlotte, North Carolina

E

142

CUT

Addison Beam

Cherryville, North Carolina

E

142

CUT

Nick Mayfield

Rock hill, South Carolina

E

142

CUT

Robert Lutomski

Simpsonville, South Carolina

E

142

CUT

Graham Chase

Charlotte, North Carolina

E

142

CUT

Garrett Engle

Harrisburg, Pennsylvania

E

142

CUT

Brett Barry

Winston-salem, North Carolina

E

142

CUT

Parker Derby

Greer, South Carolina

1

143

CUT

Jeremy Ray

Pfafftown, North Carolina

1

143

CUT

Blake Brantley

Winston-salem, North Carolina

2

144

CUT

Connor Holleran

Charlotte, North Carolina

2

144

CUT

Xiangyun Justin Bai

Chongqing

2

144

CUT

Cade McLaughlin

Sarasota, Florida

4

146

CUT

Luke Thalman

Charlotte, North Carolina

4

146

CUT

William Knauth

Williamsport, Pennsylvania

4

146

CUT

Jake Clodfelter

Trinity, North Carolina

4

146

CUT

Alex Martin

Thomasville, North Carolina

4

146

CUT

Connor Brown

Pinehurst, North Carolina

5

147

CUT

Wade Boteler

Burlington, North Carolina

5

147

CUT

Phillip Clifton

Winston-salem, North Carolina

5

147

CUT

Brandon Jones

Sanford, North Carolina

5

147

CUT

Samuel Uberseder

Lewisville, North Carolina

5

147

CUT

Jeffrey Boyan

Westfield, North Carolina

5

147

CUT

Sean Finan

Winston salem, North Carolina

5

147

CUT

Andrew Plate

Greensboro, North Carolina

5

147

CUT

Burton Wood

Siler city, North Carolina

6

148

CUT

Jonathan McCorkle

Weddington, North Carolina

6

148

CUT

Sam Davidson

Asheboro, North Carolina

6

148

CUT

Michael McCaffrey

Westlake, Ohio

7

149

CUT

Samuel Walker

Advance, North Carolina

7

149

CUT

Harry Reynolds

Greenville, South Carolina

8

150

CUT

Michael Sanders

Davidson, North Carolina

8

150

CUT

Kevin Stallings

Greenville, North Carolina

9

151

CUT

Carson Ownbey

Canton, North Carolina

9

151

WD

Ryan Blair

Charlotte, North Carolina

-

WD

CUT

Josh Spell

High point, North Carolina

-

DNF

NS

George Ordway

Charlottesville, Virginia

-

NS

CUT

Benjamin Peters

Winston salem, North Carolina

4

75

CUT

Hampton Roberts

Cary, North Carolina

4

75

CUT

Harry Walch

Denver, North Carolina

4

75

CUT

Ivan Jones

High point, North Carolina

4

75

CUT

Josh Lundmark

Hinsdale, Illinois

4

75

CUT

Zachary Murrow

Gastonia, North Carolina

4

75

CUT

Daniel Jones

Greensboro, North Carolina

4

75

CUT

Dillan Shaffer

Charlotte, North Carolina

4

75

CUT

Jack Dannemann

Charlotte, North Carolina

4

75

CUT

Matthew Laydon

Charleston, South Carolina

4

75

CUT

Nick Rubino

Charlotte, North Carolina

4

75

CUT

Paul Huber

Charlotte, North Carolina

4

75

CUT

Shiv Manhas

Parsippany, New Jersey

4

75

CUT

Andrew Harvey

Cary, North Carolina

5

76

CUT

Luke Edwards

Chapel hill, North Carolina

5

76

CUT

Nathan Kannenberg

Davenport, Florida

5

76

CUT

Robert Rechner

Charlotte, North Carolina

5

76

CUT

Greg Earnhardt

Greensboro, North Carolina

5

76

CUT

CJ Gatto

Statesboro, Georgia

6

77

CUT

Corbin Pye

Duncan, South Carolina

6

77

CUT

Eli Kennedy

Clemmons, North Carolina

6

77

CUT

Jackson Tedder

Cherryville, North Carolina

6

77

CUT

Jason Rogers

Matthews, North Carolina

6

77

CUT

Kayden Roberts

Cary, North Carolina

6

77

CUT

Will Conway

Weddington, North Carolina

6

77

CUT

Austin Northern

Blowing rock, North Carolina

6

77

CUT

Chris Cassetta

High point, North Carolina

6

77

CUT

Clayton Holland

Greensboro, North Carolina

6

77

CUT

Derek Schroer

Fletcher, North Carolina

7

78

CUT

Noah Maness

Troy, North Carolina

7

78

CUT

August Lascola

Durham, North Carolina

7

78

CUT

Austin Alexander

Rutherfordton, North Carolina

7

78

CUT

Langdon Aronson

Raleigh, North Carolina

7

78

CUT

Robert May

Davidson, North Carolina

7

78

CUT

Sam Nester

Mount airy, North Carolina

7

78

CUT

Zachary Groce

Germanton, North Carolina

7

78

CUT

Carson Castelli

Greensboro, North Carolina

8

79

CUT

Hank Robins

Salisbury, North Carolina

8

79

CUT

Joey Davis

Cornelius, North Carolina

8

79

CUT

Kyle Moffett

Snow camp, North Carolina

8

79

CUT

Pearse Lucas

Charlotte, North Carolina

8

79

CUT

Sean Citherlet

Solidaridad

8

79

CUT

Seve Anfindsen

Apex, North Carolina

8

79

CUT

Tyler Partee

Thomasville, North Carolina

8

79

CUT

Wes Cline

Thomasville, North Carolina

9

80

CUT

Alex Campbell

Charlotte, North Carolina

9

80

CUT

Corey Antley

Orangeburg, South Carolina

9

80

CUT

William Braude

Charlotte, North Carolina

10

81

CUT

Samuel Caldwell

Irmo, South Carolina

10

81

CUT

Wil Harrington

Summerfeild, North Carolina

10

81

CUT

Michael Ferrer

Mandeville, Louisiana

11

82

CUT

Teddy Seitz

Washington, District of Columbia

11

82

CUT

David Winesette

Waxhaw, North Carolina

12

83

CUT

Timothy Barto

Matthews, North Carolina

12

83

CUT

Will Hunsucker

Monroe, North Carolina

15

86

WD

Walker Jennings

Greenville, South Carolina

-

WD

CUT

Brandon Einstein

Clemmons, North Carolina

-

DNF

NS

Bryan Willis

Charleston, South Carolina

-

NS