Kirk and Flaskerud Capture the Carolinas Mixed Team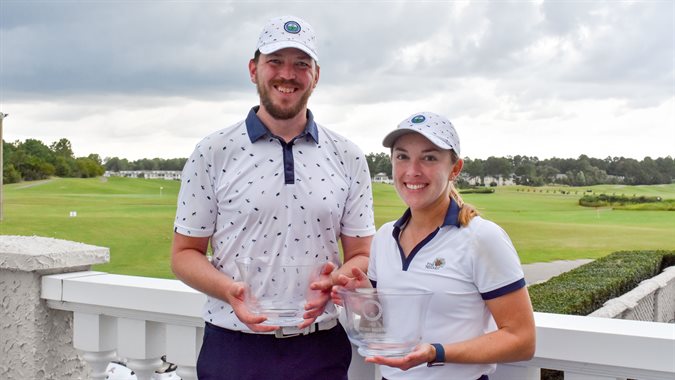 MYRTLE BEACH, S.C. (August 21, 2022) -- Final round results of the 17th Carolinas Mixed Team Championship at the Parkland Course at Legends Golf Resort in Myrtle Beach, S.C. on August 21, 2022. The Championship Men's Division played the blue tees (6,675 yards), the Tournament, Senior and Super Senior Men's Divisions as well as the Championship Women's Division played the green tees (5,526 yards). The Tournament, Senior and Super Senior Women's Division played the red tees (4,646 yards) (36-36--72).
Related: Championship Website | Full Field | Starting Times | Scoring | History | Photos

Katie Kirk and Andrew Flaskerud of Charlotte, N.C. came into the final round of the 17th Carolinas Mixed Team Championship one stroke off the lead and left Legends Golf Resort at the end of the day with two trophies and a new title to add to their resumes.


Mia Gray of Conway, S.C. and Liam Harris of Wake Forest, N.C. were tied for the lead with Lauren Dunbar and Allie Bates of Columbia, S.C. at 6-under-par, 66 after the opening round of four-ball stroke play. Kirk and Flaskerud knew they needed a strong round to take down the leaders and they had a plan to make it happen.


"We knew if I could get us in the fairway, he could hit them close and from there we just needed to make some putts," Kirk said.


They got off to a hot start with Kirk draining a 20-footer for birdie on the first hole, but it wasn't until No. 7 that they really got the momentum going.


"Katie just kept feeding me good numbers off her tee shots and I've been feeling really good with my wedges lately," Flaskerud said. "I knocked it to eight feet on No. 7, then I hit a 3-iron to the middle of the green and we two putted for birdie on No. 8. On Nos. 9 and 10 she gave me 80 and 90 yards out so I put it to five feet both times and she followed up all of those shots with dropped putts."


After No. 10 the duo had a two-stroke lead that they did not let go of for the rest of the round. They parred every hole from No. 14 to 18 and cruised into the clubhouse at 7-under-par, 137 which secured their seat at the top.


This is Flaskerud's first CGA Championship title and Kirk, the two-time Carolinas Women's Amateur Champion, claimed her third. "With it being the year that we are getting married, we will always remember this one as OUR first CGA win," Kirk remarked. "When we played last year, we were so close. We were both so eager to get back here and we did exactly what we needed to do. It was so fun to watch it all unfold together."


Ultimately, Gray and Harris tied for runners-up with Tara and Antoine Le Saux of Charlotte, N.C. at 5-under-par, 139. Notably the Le Sauxs were one of only four sides to finish under par in both rounds. Round 1 leaders, Bates and Dunbar finished in solo fourth with a 4-under-par, 140 finish.


The 2021 Senior Division Champions, Kerry and Frank Rutan of Daniel Island, S.C. defended their title with a 4-under-par, 140. The side shot 2-under-par, 70 in both the four-ball stroke play and modified alternate shot rounds to bring home the hardware for the second consecutive year. Janis and Tim Romeo of Charlotte, N.C. captured second at 2-under-par, 142.


Karen and Jerry Sennett of Stanley, N.C. won the Super Senior Division with a strong 2-under-par, 142 finish. The duo fired off four birdies in the final round to capture their division title. Murrie Ives and David Beaver of Pinehurst, N.C. finished just three strokes behind the Sennetts to earn runner-up at 1-over-par, 145.


Laura and Eric Parziale of Pinehurst, N.C. came out of the gates full force in the final round carding the low round of the day, 4-under-par, 68. Their impressive play in the modified alternate shot round catapulted them to the top of the Tournament Division leaderboard. They captured the title at 3-under-par, 141 overall. Samantha and Mark DeBusk of Lexington, N.C. earned runner-up with a 5-over-par, 149 for the weekend.


The Carolinas Golf Association would like to thank the members and staff at Legends Golf Resort for graciously hosting the 17th Carolinas Mixed Team Championship.
17th Carolinas Mixed Team Championship
Legends Golf Resort (Parkland), Myrtle Beach, S.C.
Final Results
About the Carolinas Golf Association (CGA)
The CGA is a 501(c)(3) not-for-profit educational organization that was founded in 1909 to promote and to protect the game of golf in the Carolinas by providing competitions, education, support and benefits to golf clubs and golfers. The CGA is the second largest golf association in the country with over 700 member clubs represented by nearly 150,000 individuals.
The CGA annually conducts 48 championships and five team match competitions for men, women, juniors, and seniors. It also runs over 150 One-Day (net and gross) events as well as qualifying for USGA national championships. The CGA serves golf in the Carolinas with numerous programs such as: the USGA Handicap System; tournament management software and support; course measuring and course/slope ratings; agronomy consultation; answers about the Rules of Golf, Rules of Amateur Status, and Handicapping; Carolinas Golf Magazine; Interclub series; Tarheel Youth Golf Association; Carolinas Golf Hall of Fame; expense assistance for USGA Junior and Girls' Junior qualifiers from the Carolinas; and the Carolinas Golf Foundation (CGF). The CGF has distributed nearly $2,000,000 since 1977 to benefit Carolinas' golf initiatives including junior and women's programs.
For more information about the CGA, visit our website.
##30##