US Women's Four-Ball Qualifying - Columbia CC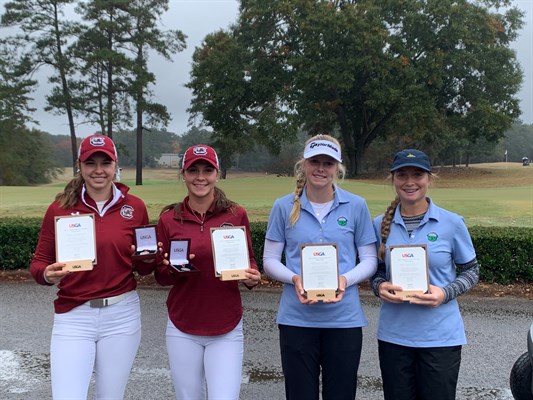 COLUMBIA, S.C. (October 30, 2022) -- Final results from U.S. Women's Amateur Four-Ball Qualifying at Columbia Country Club in Blythewood, S.C. on Sunday, October 30, 2022 (6,187 yards, par 72).
Two qualifying sides and two alternate sides were available at this qualifying site.
The side of Sophia Burnett and Camila Burnett of Bluffton, S.C. won medalist honors with a round of six-under-par 66. The side of Leah Edwards of Greensboro, N.C. and Elizabeth Rudisill of Charlotte N.C. claimed the second qualifying ticket with a round of four-under-par 68. Three teams finished tied at three-under-par 69 and went to a playoff to determine their finishing positions. The side of Madison Moman of Palm Beach Gardens, FL and Remi Bacardi of Miami, FL birdied the first playoff hole to claim the first alternate position. The side of Kate Barber of Savannah, GA and Sawyer Brockstedt of Rehoboth Beach, DE won the second alternate position.
The qualifiers will advance to the 8th U.S. Women's Amateur Four-Ball Championship at The Home Course in Dupont, Washington from May 13-17, 2023.
Hole-by-hole scoring can be viewed here.
US Women's Amateur Four-Ball Qualifying Results
Columbia Country Club, Blythewood, S.C.
October 30, 2022
Pos.

Players

Affiliation

To Par

Total Score

Details

1

Sophia Burnett + Camila Burnett

Bluffton, South Carolina

-6

66

2

Leah Edwards + Elizabeth Rudisill

Greensboro, North Carolina, Charlotte, North Carolina

-4

68

The following players did not make the cut

CUT

Madison Moman + Remi Bacardi

Palm Beach Gardens, Florida, Miami, Florida

-3

69

First Alternate

CUT

Kate Barber + Sawyer Brockstedt

Savannah, Georgia, Rehoboth Beach, Delaware

-3

69

Second Alternate

CUT

Colleen Estes + Rachel Wyatt

Charlotte, North Carolina, Charleston, South Carolina

-3

69

CUT

Karsyn Roberts + Ellie Hildreth

Pikeville, North Carolina, Wrightsville Beach, North Carolina

-2

70

CUT

Bridget Wilkie + Caroline Hawkins

Bluffton, South Carolina, Columbia, South Carolina

-1

71

CUT

Alexandra Farnsworth + Hannah Gomach

Houston, Texas, Duluth, Georgia

E

72

CUT

Mia Gray + Madison Messimer

Conway, South Carolina, Myrtle Beach, South Carolina

E

72

CUT

Emerson B Dever + Grace Ridenour

Durham, North Carolina, Raleigh, North Carolina

E

72

CUT

Olivia Schmidt + Elise Schultz

Edmond, Oklahoma, Milton, Florida

1

73

CUT

Allison Wix + Katie Kirk

Harrisburg, Pennsylvania, Charlotte, North Carolina

1

73

CUT

Alisa Pressley + Zoe Duval

Hoschton, Georgia, Cumming, Georgia

1

73

CUT

Hannah Hall + Georgia Blount

Rockledge, Florida, St Marys, Georgia

2

74

CUT

Emily Kurey + Lauren Shoemaker

Spartanburg, South Carolina, Sandy Springs, Georgia

5

77

CUT

Danielle Higbee + Alexa Prettyman

Mickleton, New Jersey, Plain City, Ohio

6

78