US Mid-Am Qualifying - Camden CC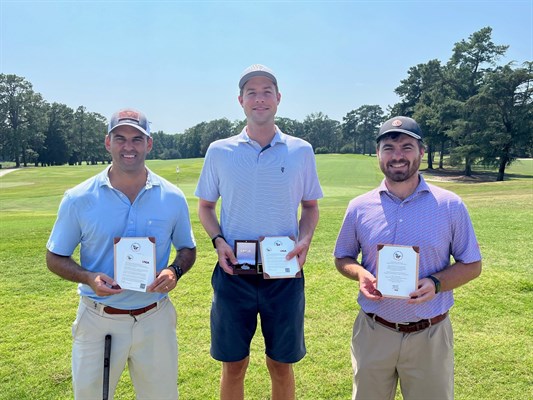 CAMDEN, S.C. (August 24, 2023) -- Final results from U.S. Mid-Amateur Qualifying at Camden Country Club in Camden, S.C. on Thursday, August 24, 2023. (6,453 yards, par 70).
Three qualifying spots and two alternate spots were available at this qualifying site.
Davis Womble of Winston-Salem, N.C. earned medalist honors with a round of seven-under-par 63. Spencer Skiff of Columbia, S.C. and Ben Goforth of Greenville, S.C. both shot rounds of one-under-par 69 to claim the other qualifying positions. Five players finished at even-par 70 and competed in a playoff to determine the alternate positons. Nicholas Eberhardt of Charlotte, N.C. will be the first alternate and Drake Cassidy of Columbia, S.C. will be the second alternate.
The qualifiers will advance to play in the championship at Sleepy Hollow Country Club in Scarborough, NY from September 9-14.
Hole-by-hole scoring can be viewed here.
US Mid-Amateur Qualifying Results
Camden CC, Camden, S.C.
August 24, 2023
Pos.

Player

Hometown

To Par

Total Score

Details

1

Davis Womble

Winston-salem, North Carolina

-7

63

T2

Spencer Skiff

Columbia, South Carolina

-1

69

T2

Ben Goforth

Greenville, South Carolina

-1

69

The following players did not make the cut

CUT

Nicholas Eberhardt

Charlotte, North Carolina

E

70

First Alternate

CUT

Drake Cassidy

Columbia, South Carolina

E

70

Second Alternate

CUT

Michael Motz

Alpharetta, Georgia

E

70

CUT

Raymond Wooten

Clemson, South Carolina

E

70

CUT

Rusty Mosley

Vidalia, Georgia

E

70

CUT

Levi Joiner

Prosperity, South Carolina

1

71

CUT

Logan Harrell

Mooresvile, North Carolina

1

71

CUT

Paul Fitzgerald

Charlotte, North Carolina

1

71

CUT

Andrew Fowler

Greenville, South Carolina

1

71

CUT

David Denham

Athens, Georgia

1

71

CUT

Daniel Welborn

Charlotte, North Carolina

1

71

CUT

Michael Tulacz

Rock Hill, South Carolina

1

71

CUT

Daniel Jackson

Indian Trail, North Carolina

1

71

CUT

Walt Todd Jr.

Greenville, South Carolina

2

72

CUT

William Rainey

Charlotte, North Carolina

2

72

CUT

Brandon Cemprola

Elgin, South Carolina

2

72

CUT

Ryan Kerns

Cornelius, North Carolina

2

72

CUT

Jeremy Ray

Pfafftown, North Carolina

2

72

CUT

Connor Haskins

Mt Pleasant, South Carolina

3

73

CUT

Brandon Reece

Rolesville, North Carolina

3

73

CUT

Jared Crane

South Carolina, South Carolina

3

73

CUT

Ryan Reynolds

Lugoff, South Carolina

3

73

CUT

Zachary Harris

Gastonia, North Carolina

3

73

CUT

Andrew Grice

Austin, Texas

4

74

CUT

Chip Brooke

Altamonte Springs, Florida

4

74

CUT

Will Ovenden

Mount Pleasant, South Carolina

4

74

CUT

Sean Farren

Charlotte, North Carolina

4

74

CUT

Brian Quackenbush

Aiken, South Carolina

5

75

CUT

Bryan Jones

Atlanta, Georgia

5

75

CUT

Jared Purvis

Valdosta, Georgia

5

75

CUT

Nick Lykins

Cincinnati, Ohio

5

75

CUT

Thomas Todd Iii

Pinhurst, North Carolina

5

75

CUT

Tim Johnson

North Charleston, South Carolina

5

75

CUT

Steve Paley

Columbia, South Carolina

5

75

CUT

Donald Taylor

Columbia, South Carolina

5

75

CUT

Tyler Brookman

Palm Beach Gardens, Florida

6

76

CUT

Will Durrett

Aiken, South Carolina

6

76

CUT

Stephen Woodard

Charlotte, North Carolina

6

76

CUT

Chris Waters

Evans, Georgia

6

76

CUT

Bobby Few

Lugoff, South Carolina

6

76

CUT

Eric Phillips

Macon, Georgia

6

76

CUT

Cass Sigmon

Mt. Pleasant, South Carolina

7

77

CUT

Kyle Niemann

Charleston, South Carolina

7

77

CUT

Jamie Carey

Charlotte, North Carolina

7

77

CUT

Michael Keeter

Lugoff, South Carolina

7

77

CUT

Jonathan Mccorkle

Weddington, North Carolina

8

78

CUT

Michael Hutchison

Charleston, South Carolina

8

78

CUT

Jake Rutter

Charlotte, North Carolina

8

78

CUT

Michael Maness

Greenville, South Carolina

8

78

CUT

Spencer Hurteau

Charleston, South Carolina

8

78

CUT

Robert Rechner

Charlotte, North Carolina

9

79

CUT

Michael Young

Fernandina Beach, Florida

9

79

CUT

Jay Biber

Charlotte, North Carolina

9

79

CUT

Peter Galloway

Savannah, Georgia

10

80

CUT

Nick Gomez

York, South Carolina

10

80

CUT

Brian Mazhari

Charlotte, North Carolina

10

80

CUT

Jim Henderson Iii

Savannah, Georgia

10

80

CUT

Bruce Bevins

Matthews, North Carolina

12

82

CUT

Greg Desroches

Chapin, South Carolina

13

83

CUT

Joshua Adams

Lexington, South Carolina

13

83

CUT

Riley Krupen

Atlanta, Georgia

13

83

CUT

David Dulin

Charlotte, North Carolina

13

83

CUT

Alan King

Mount Pleasant, South Carolina

14

84

CUT

Ben Brodhead

Charleston, South Carolina

14

84

CUT

Kyle Moore

Woodbine, Georgia

17

87

CUT

Adam Steele

Bluffton, South Carolina

18

88

CUT

Brian Motherwell

Matthews, North Carolina

-

DNF

CUT

Jordan Brock

Summerville, South Carolina

-

DNF

CUT

Doug Appleby

Fountain Inn, South Carolina

-

DNF

CUT

Ryan Clancy

Bluffton, South Carolina

-

DNF