Results: Ladies' Play Day Kiawah (Osprey Point)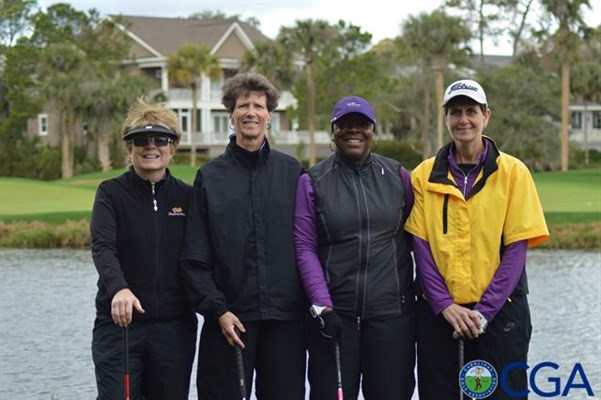 Ladies Four-Ball Play Day Results
from Kiawah Island Resort (Osprey Point)

SOUTHERN PINES, N.C. (January 24, 2017) -- Final results from the Ladies' Four-Ball Play Day hosted by Kiawah Island Resort (Osprey Point) in Kiawah Island, S.C. on Monday, January 23, 2017
112 ladies competed in the first Ladies' Four-Ball Play Day of 2017, despite a rained out event at Kiawah Island's Ocean Course on the previous day. The play day at the Ocean Course will be rescheduled for December 4, 2017.
Ladies' Four-Ball Play Days are 18-hole events of four-ball stroke play, with prizes given for gross and net winners in each flight. The field is divided into divisions based on tee preference and flighted based on team Handicap Index®.
All players received points in the Race to the Carolinas Cup, a season-long points competition based on finish and participation in Ladies' Four-Ball Play Days.
Ladies' Four-Ball Play Day
Kiawah Island Resort (Osprey Point)
Kiawah Island, S.C.
January 23, 2017

Results
Division A
Place
Team
Team Gross
Team Net
1st Gross
Huff, Natalie / Bartley, Suzann
73
66
1st Net
Shore, Julie / Zvarich, Betty
79
71
Stewart, Angela / Heinchon, Meghan
76
71
Bomkamp, Lisa / Simpson, Kit
86
71
Division B - First Flight
Place
Team
Team Gross
Team Net
1st Gross
Yang, Sook Hee / Elphick, Dokim
70
63
1st Net
Andia, Carmen / Montgomery, Bonnie
71
60
2nd Gross
Holmes, Lynn / Ferree, Karen
71
67
2nd Net
Dobler, Elizabeth / Dulude, Carol
72
62
3rd Gross
St. Peter, Therese / Colatsky, Susan
73
65
3rd Net
Rickson, Terry / Biety, Kristen
77
64
Freeman, Capey / Confort, Brook
73
64
Lee, June / Ash, Gigi Jandog
75
65
Garber, Frankie / Givens, Louise
76
67
Edmunds, Jackie / Malone, Maria
77
67
Stockwell, Teddy / Rawl, Laura
78
65
McGill, Linda / Canals, Shelly
79
64
Hillock, Jean / Bennett, Jackie
79
69
Meihaus, Ginny / Blanchard, Karen
83
69
Division B - Second Flight
Place
Team
Team Gross
Team Net
1st Gross
Berg, Helen / Tang, Linh
75
62
1st Net
Lord, Susan / Farber, Macky
78
61
2nd Gross
Davis, Michele / Hebble, Jennifer Lea
80
69
2nd Net
Fogel, Kate / Reynolds, Kathy
81
64
3rd Gross
Oelschlager, Kathleen Marie / Schulze, Missy
81
64
3rd Net
Ott, Debbie / Eberhard, Diane
83
64
Blum, Jan / Williams, Suzie
81
65
Carroll, Marsha / Wolfe, Karin
85
74
Higgins, Amy / Amerine, Lindsey
86
68
Olson, Venita / Boehm, Renie
86
68
Reardon, Kay / Tolve, Chris
87
68
Littlejohn, Kathy Houser / Groh, June
91
74
Division B - Third Flight
Place
Team
Team Gross
Team Net
1st Gross
Ripsom, Pam / Nickerson, Chris
83
67
1st Net
Tykal, Patty / Larue, Rachelle
84
63
2nd Gross
Jones, Marianne / Fleming, Jeanne
84
64
2nd Net
Tate, Diane / Hardinger, Cara
84
64
3rd Gross
Cameron, Mary Jo / Neil, Libby
84
65
3rd Net
Trent, Maryann / Gebert, Betty
88
65
Lee, Lisa / Hill, Carol
84
66
Schroeder, Bonnie / Mataya, Patricia
86
65
Stossel, Deborah / Joyce, Kathy
87
66
Levy, Deborah / Stewart, Franny
90
71
Prestwood, Teresa / Queen, Alice
91
69
Constandis, Anne / Porter, Marcia
91
67
Schaible, Chris / Parsons, Bonnie
91
69
Division B - Fourth Flight
Place
Team
Team Gross
Team Net
1st Gross
Ford, Gail / Hauslohner, Emily
84
61
1st Net
Trzcinski, Patti / Mature, Susan
91
62
2nd Gross
Peters, Jean / Bourne, Anne
87
65
2nd Net
Sjodin, Barbara / Ballard, Marie
89
63
3rd Gross
Johnson, Laura / Tripoli, Charlotte
88
65
3rd Net
Barker, Robin / Starbuck, Karen
89
64
Lamar, Susan / Davis, Ann
90
73
Taylor, Susan / Small, Arden
90
66
Loveland, Kelly / Gamber, Robin
92
67
Leslie, Lori / Neubeiser, Nancy
93
68
Montagna, Andra / McCann, Mary Ann
95
71
Beane, Ginny / Redman, Stacy
97
69
Jorgensen, Rubi / Esch, Cindy
99
66
About the Race to the Carolinas Cup and Ladies' Four-Ball Play Days
The Race to the Carolinas Cup is a season-long points competition in which players accumulate points based on team finish and participation in CGA Ladies' Four-Ball Play Days.
Four-Ball Play Days are ladies-only four-ball (better ball) competitions that are conducted at member clubs across North and South Carolina. Play Days are designed for players of all skill levels and abilities. These events are flighted by team Handicap Index and include gross and net prizes. Players have the option to play in two divisions at different yardages (one of which is always the most forward tees on the golf course). Most events will be a shotgun start and all events will include lunch.
Every team at every Four-Ball Play Day earns points in the Race to the Carolinas Cup based on their gross or net finish in their respective flight. Each team will also receive participation points. Team points will be split between players to apply to each player's individual standing in the Race to the Carolinas Cup. Players may play with any partner in any of the play days and earn points toward her individual standing. At the end of the Race to the Carolinas Cup regular season, the player with the most points will be named the Race to the Carolinas Cup champion. This award will be given at the year-end Carolinas Cup Tournament. Players in the Top 100 of the Race to the Carolinas Cup standings, as well as each gross and net flight winners at every play day, will be invited to participate in the Carolinas Cup Tournament at Pinehurst Resort (No. 3). Players may compete with any partner that is also eligible for the tournament. The Carolinas Cup Tournament will be held on December 9, 2017 and will include a banquet and luncheon to celebrate the Race to the Carolinas Cup Champion as well as the Carolinas Cup Tournament winners.
More Information about the Race to the Carolinas Cup
2017 Ladies' Four-Ball Play Days Schedule
About the Carolinas Golf Association (CGA)
The CGA is a 501(c)(3) not-for-profit educational organization that was founded in 1909 to promote and to protect the game of golf in the Carolinas by providing competitions, education, support and benefits to golf clubs and golfers. The CGA is the second largest golf association in the country with over 700 member clubs represented by nearly 150,000 individuals.
The CGA annually conducts 43 championships and five team match competitions for men, women, juniors, and seniors. It also runs over 140 One-Day (net and gross) events and qualifying for USGA national championships. The CGA serves golf in the Carolinas with numerous programs such as: the USGA Handicap System; tournament management software and support; course measuring and course/slope ratings; agronomy consultation; answers about the Rules of Golf, Rules of Amateur Status, and Handicapping; Carolinas Golf Magazine; Interclub series; Tarheel Youth Golf Association; Carolinas Golf Hall of Fame; expense assistance for USGA Junior and Girls' Junior qualifiers from the Carolinas; and the Carolinas Golf Foundation (CGF). The CGF has distributed more than $1,500,000 since 1977 to benefit Carolinas' golf initiatives including junior and women's programs.
For more information about the CGA, visit our website.
##30##