US Amateur Qualifying - Camden CC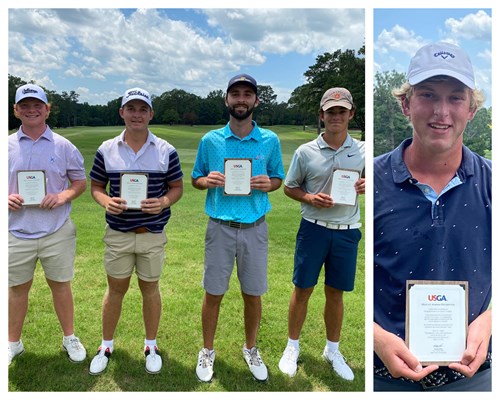 CAMDEN, S.C. (July 19, 2022) -- Final results from U.S. Amateur Qualifying at Camden Country Club in Camden, S.C. on Monday and Tuesday, July 18 and 19, 2022. (6,455 yards, par 70).
Five qualifying spots and two alternate spots were available at this qualifying site.
Nick Lyerly of Salisbury, N.C. won medalist honors with a two-day total of nine-under-par 131 with rounds of 61 and 70. Jackson Koivun of San Jose, CA shot 65 and 67 to finish at eight-under-par 132, Zach Adams of Charleston, S.C. shot 66 and 67 to finish at seven-under-par 133 and Nathan Franks of Roebuck, S.C. shot 64 and 69 to finish at seven-under-par 133. Three golfers shot six-under-par 134 and went to a playoff to determine their finishing positions and William Jennings of Greenville, S.C. won the fifth and final qualifying position. Andrew Swanson of Bluffton, S.C. will be the first alternate and Alexander Heffner of Harrisburg, N.C. will be the second alternate.
The qualifiers will advance to the 122nd U.S. Amateur Championship at The Ridgewood Country Club in Paramus, N.J. from August 15-21, 2022.
Hole-by-hole scoring can be viewed here.
US Amateur Qualifying Results
Camden Country Club, Camden, S.C.
July 19, 2022
Pos.

Player

Affiliation

Total To Par

Total Score

Details

1

Nick Lyerly

Salisbury, North Carolina

-9

131

2

Jackson Koivun

San jose, California

-8

132

T3

Zach Adams

Charleston, South Carolina

-7

133

T3

Nathan Franks

Roebuck, South Carolina

-7

133

5

William Jennings

Greenville, South Carolina

-6

134

The following players did not make the cut

CUT

Andrew Swanson

Bluffton, South Carolina

-6

134

1st Alternate

CUT

Alexander Heffner

Harrisburg, North Carolina

-6

134

2nd Alternate

CUT

Collin Adams

Charlotte, North Carolina

-4

136

CUT

Michael Childress

Salisbury, North Carolina

-4

136

CUT

Evans Lewis

Sumter, South Carolina

-4

136

CUT

Drew Hackett

Charlotte, North Carolina

-4

136

CUT

Ben Woodruff

Huntersville, North Carolina

-4

136

CUT

Luke Walmet

Charleston, South Carolina

-4

136

CUT

Todd White

Spartanburg, South Carolina

-4

136

CUT

Alex Goff

Lexington, Kentucky

-3

137

CUT

Dongjin Park

Charlotte, North Carolina

-3

137

CUT

Grant Sellers

Mcbee, South Carolina

-3

137

CUT

Austin Scott

Charleston, South Carolina

-3

137

CUT

Gene Zeigler

Florence, South Carolina

-3

137

CUT

Tyler Gray

Lugoff, South Carolina

-2

138

CUT

Lansdon Robbins

Davidson, North Carolina

-2

138

CUT

Trey Mixon

Macon, Georgia

-1

139

CUT

Jonathan Honeywell

Whispering pines, North Carolina

-1

139

CUT

Griffin Tarver

Tega cay, South Carolina

-1

139

CUT

Rafe Reynolds

Greenville, South Carolina

-1

139

CUT

Pake June

Florence, South Carolina

E

140

CUT

Brady Hinkle

Lancaster, South Carolina

E

140

CUT

Daniel Azallion

Hilton head island, South Carolina

E

140

CUT

Hughes Threlkeld

Savannah, Georgia

E

140

CUT

James Lightsey

Indian land, South Carolina

1

141

CUT

Mitchell Vance

Hartsville, South Carolina

1

141

CUT

Matt Hutto

Blythewood, South Carolina

1

141

CUT

Zach Reuland

Rock hill, South Carolina

2

142

CUT

Brooks Snyder

West lafayette, Indiana

2

142

CUT

Sihan Sandhu

Pinehurst, North Carolina

2

142

CUT

David Hrubala

Spartanburg, South Carolina

3

143

CUT

Ben Van Wyk

Athens, Georgia

3

143

CUT

Matthew Larkin

Atlanta, Georgia

3

143

CUT

Ayush Bodhale

Huntersville, North Carolina

3

143

CUT

Waymon Thomas

Mt pleasant, South Carolina

4

144

CUT

Carlos Garre

Myrtle beach, South Carolina

4

144

CUT

Ollie Rotermund

Charleston, South Carolina

4

144

CUT

Reece Coleman

Anderson, South Carolina

4

144

CUT

Layne Lambert

Matthews, North Carolina

4

144

CUT

Matthew Doyle

Summerville, South Carolina

5

145

CUT

Colin Browning

Charlotte, North Carolina

5

145

CUT

Randall Hudson

New bern, North Carolina

6

146

CUT

Adam Hunt

Columbia, South Carolina

6

146

CUT

JD Patterson

Bluffton, South Carolina

6

146

CUT

Barrett Josey

Moore, South Carolina

6

146

CUT

Corey Chrzanowski

Suwanee, Georgia

7

147

CUT

Walt Todd Jr

Piedmont, South Carolina

7

147

CUT

Lucas Acevedo

Charleston, South Carolina

11

151

CUT

Austin Mosher

Mt pleasant, South Carolina

12

152

NS

Drayton Stewart

Charleston, South Carolina

-

NS

CUT

Alex Schoel

Waxhaw, North Carolina

2

72

CUT

Connor Fahey

Greer, South Carolina

2

72

CUT

Max Dupree

Eatonton, Georgia

2

72

CUT

Rye Tifft

Charlotte, North Carolina

2

72

CUT

Trey Howard

Woodruff, South Carolina

2

72

CUT

Chris Blackburn

Evans, Georgia

2

72

CUT

Jack Marcotte

Apex, North Carolina

2

72

CUT

Trey Cauthen

Simpsonville, South Carolina

2

72

CUT

Zach Pardoll

Kiawah island, South Carolina

2

72

CUT

Zachary Herold

Gilbert, South Carolina

2

72

CUT

Braeden Barnett

Galivants ferry, South Carolina

3

73

CUT

Bronson Myers

Columbia, South Carolina

3

73

CUT

Cass Sigmon

Mt. pleasant, South Carolina

3

73

CUT

Mitchell Tanis

Pineville, North Carolina

3

73

CUT

Daniel Welborn

Charlotte, North Carolina

3

73

CUT

Jake Snelgrove

Charleston, South Carolina

3

73

CUT

Tommy Lamb

Cary, North Carolina

3

73

CUT

Kyle Eckenroth

Camden, South Carolina

4

74

CUT

Elliott Pope

Lugoff, South Carolina

4

74

CUT

Evan Mendyk

Summerfield, North Carolina

4

74

CUT

Evan Thompson

Statham, Georgia

4

74

CUT

Griffin Bull

Bluffton, South Carolina

4

74

CUT

Jack Anderson

Charlotte, North Carolina

4

74

CUT

Josh Bowder

Victoria, British Columbia

5

75

CUT

Max Green

Okatie, South Carolina

5

75

CUT

Mitchell McNeill

North augusta, South Carolina

5

75

CUT

Ratchanon Aiemsumang

Bangkok

5

75

CUT

Rowan Sullivan

Charleston, South Carolina

5

75

CUT

Ryan Anderson

Aiken, South Carolina

5

75

CUT

Trey Stallings

North augusta, South Carolina

5

75

CUT

Gage Weeks

Evans, Georgia

5

75

CUT

Harry Jones

Augusta, Georgia

5

75

CUT

Ryan Reynolds

Lugoff, South Carolina

5

75

CUT

Trey Crenshaw

Lancaster, South Carolina

5

75

CUT

William Phipps

Florence, South Carolina

5

75

CUT

Brandon Muir

Charleston, South Carolina

6

76

CUT

Jennings Glenn

Raleigh, North Carolina

6

76

CUT

Robbie Biershenk

Boiling springs, South Carolina

6

76

CUT

Carson Briggs

Charleston, South Carolina

6

76

CUT

Andrew Graham

Asheville, North Carolina

7

77

CUT

Mason Tucker

Lancaster, South Carolina

7

77

CUT

Vince Van Brunt

Atlanta, Georgia

7

77

CUT

Harrison Hall

Charleston, South Carolina

7

77

CUT

Harrison Long

Columbia, South Carolina

7

77

CUT

Jacob Pilarski

Evans, Georgia

7

77

CUT

Luke Gossert

Matthews, North Carolina

7

77

CUT

Allen Caldwell

Johnâ s island, South Carolina

8

78

CUT

David Gibson

Lexington, South Carolina

8

78

CUT

Dylan Murray

North augusta, South Carolina

8

78

CUT

John Cammarano

Arlington, Massachusetts

8

78

CUT

Chris Culler

Camden, South Carolina

9

79

CUT

Drew Weary

Bluffton, South Carolina

9

79

CUT

Keegan Vaugh

Myrtle beach, South Carolina

9

79

CUT

Levi Moody

Greenville, South Carolina

9

79

CUT

Shaw James

Columbia, South Carolina

10

80

CUT

Andres Lopez

Bluffton, South Carolina

11

81

CUT

Andrew Stewart

Yulee, Florida

11

81

CUT

Ben Brodhead

Charleston, South Carolina

11

81

CUT

Dalton Younts

Fountain inn, South Carolina

11

81

CUT

Mike Finnegan

San tan valley, Arizona

13

83

CUT

Bradley Parker

Toronto, Ontario

13

83

CUT

Max Vischer

Clemson, South Carolina

14

84

CUT

Taylor Danser

Charlotte, North Carolina

16

86

CUT

Timothy Walter

Silver spring, Maryland

16

86

CUT

Thomas Brannock

Galax, Virginia

20

90

WD

Lamar Gresham

Atlanta, Georgia

-

WD

WD

Rich Montgomery

Little river, South Carolina

-

WD

WD

Tanner Cadieux

Greensboro, North Carolina

-

WD

WD

Cameron Cappuzzo

Fort mill, South Carolina

-

WD

WD

Eli Scott

Hartwell, Georgia

-

WD

NC

Sullivan Hooper

Lexington, South Carolina

-

NC

NC

Toshi Hirata

Pooler, Georgia

-

NC

DNF

Holden Grigg

Myrtle beach, South Carolina

-

DNF

DNF

Kyle Stiles

Athens, Georgia

-

DNF

NS

Graham Farmer

Anderson, South Carolina

-

NS

NS

Patrick Larkin

Cary, North Carolina

-

NS

WD

Zack Gordon

Gaffney, South Carolina

-

WD