US Amateur Qualifying - Club at 12 Oaks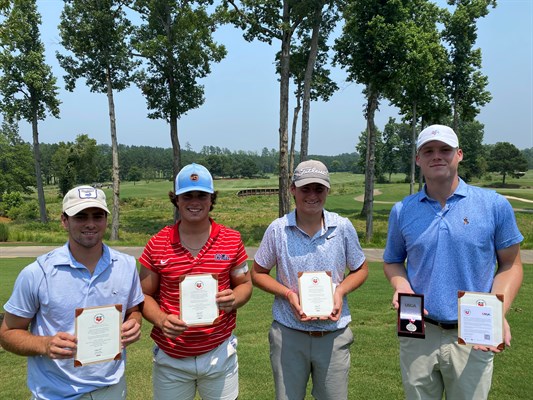 HOLLY SPRINGS, N.C. (July 18, 2023) -- Final results from U.S. Amateur Qualifying at the Club at 12 Oaks in Holly Springs, N.C. on Monday and Tuesday, July 17 and 18, 2023. (6,985 yards, par 72).
Four qualifying spots and two alternate spots were available at this qualifying site.
Connor Brown of Pinehurst, N.C. won medalist honors with a two round total of seven-under-par 137 after shooting rounds of 68 and 69. Will Hartman of Marvin, N.C. and Michael La Sasso of Raleigh, N.C. qualified for the championship with two round total of five-under-par 139. James Rico of Cary, N.C. shot rounds of 74 and 67 to finish at three-under-par 141 to claim the fourth qualifying position. Jake Conklin of Cary, N.C. will be the first alternate after finishing at two-under-par 142 and Edward Coffren V of Owings, Maryland will be the second alternate after finishing at one-under-par 143 and winning a playoff for the spot.
The qualifiers will advance to play in the championship at Cherry Hills Country Club in Cherry Hills, Colorado from August 14-20.
Hole-by-hole scoring can be viewed here.
US Amateur Qualifying Results
Club at 12 Oaks, Holly Springs, N.C.
July 17-18, 2023
Pos.

Player

Hometown

Total To Par

R1

R2

Total Score

Details

1

Connor Brown

Pinehurst, North Carolina

-7

68

69

137

T2

Will Hartman

Marvin, North Carolina

-5

70

69

139

T2

Michael La Sasso

Raleigh, North Carolina

-5

70

69

139

4

James Rico

Cary, North Carolina

-3

74

67

141

The following players did not make the cut

CUT

Jake Conklin

Cary, North Carolina

-2

70

72

142

First Alternate

CUT

Edward Coffren 5th

Owings, Maryland

-1

72

71

143

Second Alternate

CUT

Garrett Risner

Holly Springs, North Carolina

-1

70

73

143

CUT

Alan Van Asch

Raleigh, North Carolina

E

73

71

144

CUT

Andy Knox

Apex, North Carolina

E

72

72

144

CUT

Daniel Mcbrien

Holly Springs, North Carolina

E

70

74

144

CUT

Alexander Heffner

Harrisburg, North Carolina

E

69

75

144

CUT

Layne Lambert

Matthews, North Carolina

1

73

72

145

CUT

Kyle Haas

Winston Salem, North Carolina

1

72

73

145

CUT

Alex Martin

Thomasville, North Carolina

1

75

70

145

CUT

Andrew Gregory

Inman, South Carolina

1

70

75

145

CUT

Aj Shaffer

Horse Shoe, North Carolina

2

74

72

146

CUT

John Eades

Charlotte, North Carolina

2

73

73

146

CUT

Chad Wilfong

Charlotte, North Carolina

3

73

74

147

CUT

Narayan Mohan

Chapel Hill, North Carolina

3

73

74

147

CUT

Rich Wills

Cramerton, North Carolina

3

71

76

147

CUT

Andrew Graham

Asheville, North Carolina

3

70

77

147

CUT

Branden Boyce

Spring Lake, North Carolina

3

76

71

147

CUT

Brady Hinkle

Lancaster, South Carolina

4

74

74

148

CUT

Kyle Shealy

Saint Petersburg, Florida

4

75

73

148

CUT

Carter Vance

Willis, Virginia

4

71

77

148

CUT

James Bohn

Cary, North Carolina

5

75

74

149

CUT

Daniel Adkins

Holly Springs, North Carolina

6

73

77

150

CUT

Bryan Fang

Raleigh, North Carolina

6

73

77

150

CUT

Colin Clark

Charlotte, North Carolina

6

72

78

150

CUT

Josh Lendach

Raleigh, North Carolina

6

75

75

150

CUT

Gray Mitchum

Winterville, North Carolina

6

76

74

150

CUT

Jake Herring

Wilson, North Carolina

6

76

74

150

CUT

Mason Tucker

Lancaster, South Carolina

7

71

80

151

CUT

Watcharakan Chankarn

Pinehurst, North Carolina

7

76

75

151

CUT

Jack Fitzgerald

Wilmington, North Carolina

7

76

75

151

CUT

Simon Burgos

Raleigh, North Carolina

8

74

78

152

CUT

Brian Krusoe

Raleigh, North Carolina

8

75

77

152

CUT

Shawn Benson

Morehead City, North Carolina

9

74

79

153

CUT

Owen Kose

Holly Springs, North Carolina

10

73

81

154

CUT

Matthew Messenger

Raleigh, North Carolina

10

76

78

154

CUT

Holden Grigg

Myrtle Beach, South Carolina

11

76

79

155

CUT

Jacob Tozier

Concord, North Carolina

12

73

83

156

CUT

Jeremy Edmunds

Charlotte, North Carolina

12

76

80

156

CUT

Keenan Royalty

Raleigh, North Carolina

13

72

85

157

CUT

Solomon Park

Martinsville, Virginia

14

76

82

158

CUT

Shannon Campbell

Charleston, South Carolina

16

75

85

160

WD

Campbell Skelly

Charleston, South Carolina

-

75

WD

WD

WD

Nathan Mallonee

Charlotte, North Carolina

-

76

WD

WD

CUT

Clayson Good

Durham, North Carolina

5

77

77

CUT

Cameron Hardison

Greenville, North Carolina

5

77

77

CUT

Bradley Davis Jr.

Pilot Mountain, North Carolina

5

77

77

CUT

Maddox Whittington

Lenoir, North Carolina

5

77

77

CUT

Nick Mayfield

Rock Hill, South Carolina

5

77

77

CUT

Harrison Rhoades

Raleigh, North Carolina

5

77

77

CUT

Matthew Doyle

Summerville, South Carolina

5

77

77

CUT

Tim Manyatis

Raleigh, North Carolina

5

77

77

CUT

Drew Wood

West End, North Carolina

5

77

77

CUT

Ethan Hall

Morehead City, North Carolina

5

77

77

CUT

Cam Baker

Tega Cay, South Carolina

5

77

77

CUT

Michael Vick

Raleigh, North Carolina

5

77

77

CUT

Evan Mendyk

Summerfield, North Carolina

5

77

77

CUT

Tommy Lamb

Cary, North Carolina

6

78

78

CUT

John Weiss

Columbia, South Carolina

6

78

78

CUT

George Mcneely

Durham, North Carolina

6

78

78

CUT

Jonathan Schram

Charlotte, North Carolina

6

78

78

CUT

Tyler Partee

Thomasville, North Carolina

6

78

78

CUT

Stephen Lavenets

Willow Spring, North Carolina

7

79

79

CUT

Jack Boyer

Greensboro, North Carolina

7

79

79

CUT

Trey Schneider

Mooresville, North Carolina

7

79

79

CUT

Tanner Cadieux

Greensboro, North Carolina

7

79

79

CUT

Austin Mosher

Mt Pleasant, South Carolina

7

79

79

CUT

Andrew Gallagher

Grimesland, North Carolina

7

79

79

CUT

Travis Childress

Oak Island, North Carolina

7

79

79

CUT

Myles Patterson

Apex, North Carolina

8

80

80

CUT

Kareem Elkassem

Raleigh, North Carolina

9

81

81

CUT

Brock Olson

Wake Forest, North Carolina

9

81

81

CUT

Chris Finn

Wake Forest, North Carolina

9

81

81

CUT

Jake Clodfelter

Trinity, North Carolina

9

81

81

CUT

William Cooper

Charlotte, North Carolina

9

81

81

CUT

Trent Cade

Ocean Isle Beach, North Carolina

9

81

81

CUT

Evan Higgins

Hampstead, North Carolina

9

81

81

CUT

Ryan Macri

Wake Forest, North Carolina

9

81

81

CUT

Austin Peterson

Morrisville, North Carolina

9

81

81

CUT

Matthew Coltren

Wallace, North Carolina

9

81

81

CUT

Michael Schaal

Chapel Hill, North Carolina

9

81

81

CUT

Chris Niemiec

Pinehurst, North Carolina

10

82

82

CUT

Tim Washburn

Raleigh, North Carolina

10

82

82

CUT

Columb Knight

Raleigh, North Carolina

10

82

82

CUT

Scott Park

Charlotte, North Carolina

10

82

82

CUT

John Costa

Raleigh, North Carolina

10

82

82

CUT

Justin Nagy

Holly Springs, North Carolina

10

82

82

CUT

Parks Helms

Fayetteville, North Carolina

10

82

82

CUT

Kenny Walter

Concord, North Carolina

11

83

83

CUT

Supanat Rujiranan

Pinehurst, North Carolina

11

83

83

CUT

Peter Nusbaum

Pittsboro, North Carolina

11

83

83

CUT

Andrew Neal

Cary, North Carolina

11

83

83

CUT

Hunt Jardina

High Point, North Carolina

11

83

83

CUT

Peter Jackson

Raleigh, North Carolina

11

83

83

CUT

Wes Cline

Winston Salem, North Carolina

12

84

84

CUT

Easton Keller

Inman, South Carolina

12

84

84

CUT

Gordon Brann

Apex, North Carolina

13

85

85

CUT

Noah Maness

Troy, North Carolina

13

85

85

CUT

Keegan Jones

Wilminton, North Carolina

14

86

86

CUT

Tyler Owens

Cary, North Carolina

14

86

86

CUT

Rick Brown

Franklin, Tennessee

15

87

87

CUT

Scott Sullivan

Blythewood, South Carolina

15

87

87

CUT

Connor Holleran

Charlotte, North Carolina

16

88

88

CUT

Walker Neal

Cary, North Carolina

17

89

89

CUT

Cole Wright

Wake Forest, North Carolina

17

89

89

CUT

Jordan Gozelski

Simpsonville, South Carolina

18

90

90

CUT

Zachary Murrow

Gastonia, North Carolina

18

90

90

CUT

Drew Coppin

Denver, North Carolina

19

91

91

CUT

Tanner Huff

Pinehurst, North Carolina

19

91

91

CUT

William Weibley

Pittsboro, North Carolina

21

93

93

CUT

James Kirkpatrick

Greensboro, North Carolina

23

95

95

CUT

Jorge Fernandez Gallardo

Durham, North Carolina

25

97

97

NC

Connor Leonard

Raleigh, North Carolina

-

NC

NC

CUT

Nabil Verjee

Charlotte, North Carolina

-

DNF

DNF

CUT

Davis Womble

Winston-salem, North Carolina

-

DNF

DNF

CUT

Ross Corday

Waxhaw, North Carolina

-

DNF

DNF

NS

Keegan Vaugh

Myrtle Beach, South Carolina

-

NS

NS

NS

Kyle Moffett

Snow Camp, North Carolina

-

NS

NS

NS

Fletcher Bolda

Alpena, Michigan

-

NS

NS