Risner Claims NC Match Play, Second CGA Title Under a Month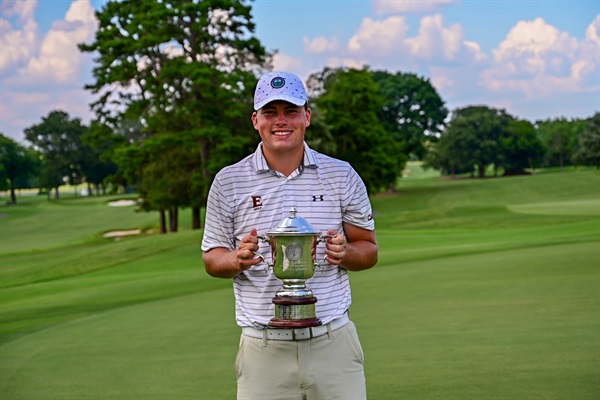 Event: 14th North Carolina Amateur Match Play
Host Site: Cedarwood Country Club, Charlotte, N.C.
Playing Dates: August 2-5, 2023
Social Media: @CGAgolf1909
Related: Championship Website | Scoring | History | Photos
LOCATION – Charlotte, N.C.
Garrett Risner of Holly Springs, N.C., takes home additional CGA hardware, winning the 14th North Carolina Amateur Match Play Championship at Cedarwood Country Club in Charlotte, N.C. Risner won the Championship Match 1 up over Cyrus Stewart of Raleigh, N.C.
This popular event began with 64 players, separated into foursomes, to compete in Group Play, a new format this year. The third and final round on Thursday, followed two rounds of Group Play on Wednesday. After Thursday's play, the field was cut to 16 players, with the top player in each Group Play foursome advancing to Bracket Play beginning Friday.
Risner and Stewart made for an exciting match in the Championship Match on Saturday afternoon as they went back and forth throughout the entire round, leaving it to the 18th hole to determine the champion. Risner was up for the entire front nine until Stewart won holes 8 and 9 with strong putting to tie the match as they made the turn. Like a dramatic heavyweight fight, the players then began going punch for punch. Stewart went on to win hole 11 and go 1 up, but Risner came back to win hole 13 to tie things up again. Then it was back to Risner with a birdie on 14 to go 1 up, followed by Stewart winning the 15th hole with a clutch par putt to tie the match again after a poorly played hole by both. Risner would go 1 up after winning hole 16 with a nice ten-foot putt to take the lead once and for all, staying strong through the last two holes of play. Finally, on the 18th, Risner would make a vital twelve-foot birdie putt to secure the victory.
The match had a large gallery behind the 18th green watching the two hit their approach shots and putting the pressure on their final putts. Risner sank his putt for birdie, gave the crowd a big fist pump, and sealed the 14th North Carolina Amateur Match Play Championship in dramatic fashion.
His victory comes just a few weeks after his monumental win at the 109th Carolinas Amateur Championship on July 15th at Pine Needles. Risner, a standout player at Elon University, was a 2023 All-CAA Second Team recipient.
"I think I played better in this one (compared to the Carolinas Amateur), I made a lot more birdies, and I think I played very well," said a relieved Risner following his win.
The road to get to the trophy in this format is always challenging. Earlier in the morning on Saturday, Risner went up against James Rico of Cary, N.C. Risner always kept Rico from getting the lead in this Semifinal Match. After tying the first two holes, Risner birdied hole 3 to go 1 up and then birdied hole 5 to go 2 up. Risner was 2 up at the turn, but Rico battled to shrink Risner's lead and tie the match through 13. Risner was 1 up through 17 and won the 18th hole to win the match 2 up.
For Stewart to get to the Championship Match, he had to defeat Landson Robbins of Davidson, N.C. In this Semifinal Match, Robbins led through five holes, but Stewart managed to tie the match and go 1 up before making the turn. Stewart remained up throughout the entire back nine. He was 1 up through 15, even as Robbins continued battling with Stewart to the 18th hole. After sinking a crucial putt on the eighteenth, Stewart earned a spot in the Championship Match by winning 1 up.
Risner recorded a decisive win over Alex Heffner of Harrisburg, N.C., in the Quarterfinals, by winning the match 5 & 4. Stewart beat Harrison Wierse of Wilmington, N.C., in his Quarterfinals 3 & 2.
When asked about the grind of Match Play, Risner said, "I started well (the final match), but I was feeling it, I was tired, but I knew if I could get into it, kinda get the adrenaline going, it would go away."
Both my (final two) matches were really good, James played really well this morning, ...and Cyrus hung around and even took the lead at the start of the back nine, and I had to grind my way back to get control of it", added Risner.
The Carolinas Golf Association would like to thank Course Superintendent Kyle Manus, Head Golf Professional Adam Szoke, General Manager/Director of Golf Maury Clodfelter, Assistant General Manager Brandon Robertson, and the rest of the staff at Cedarwood Country Club for helping us to host an incredible tournament for our players.
About the Carolinas Golf Association (CGA)
The CGA is a 501(c)(3) not-for-profit educational organization founded in 1909 to promote and protect the game of golf in the Carolinas by providing competitions, education, support, and benefits to golf clubs and golfers. The CGA is the second largest golf association in the country, with over 700 member clubs represented by nearly 150,000 individuals.
The CGA annually conducts 48 championships and five team match competitions for men, women, juniors, and seniors. It also runs over 150 One-Day (net and gross) events and qualifying for USGA national championships. The CGA serves golf in the Carolinas with numerous programs such as: the USGA Handicap System; tournament management software and support; course measuring and course/slope ratings; agronomy consultation; answers about the Rules of Golf, Rules of Amateur Status, and Handicapping; Carolinas Golf Magazine; Interclub series; Tarheel Youth Golf Association; Carolinas Golf Hall of Fame; expense assistance for USGA Junior and Girls' Junior qualifiers from the Carolinas; and the Carolinas Golf Foundation (CGF). The CGF has distributed nearly $2,000,000 since 1977 to benefit Carolinas' golf initiatives, including junior and women's programs.
For more information about the Carolinas Golf Association, follow @cgagolf1909 on Instagram, Twitter, Facebook, and TikTok or visit our website www.carolinasgolf.org/
#30#