US Senor Amateur Qualifying - High Point CC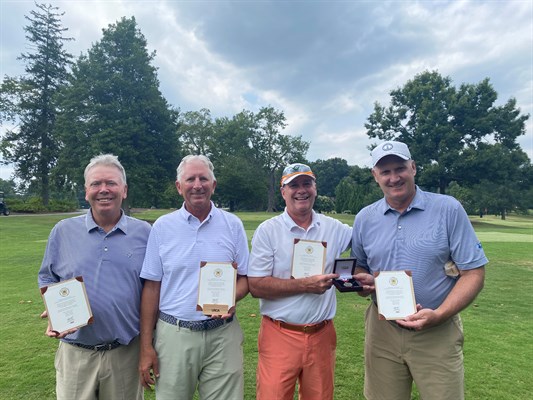 HIGH POINT, N.C. (August 2, 2023) -- Final results from U.S. Senior Amateur Qualifying at High Point Country Club's Willow Creek course in High Point, N.C. on Wednesday, August 2, 2023. (6,747 yards, par 72).
Four qualifying spots and two alternate spots were available at this qualifying site.
Jeff Jamieson of Cary N.C. and Joe Jaspers of Huntersville, N.C. shared medalist honors after shooting rounds of three-under-par 69. L D Simmons of Charlotte, N.C. and James Pearson of Charlotte, N.C. both finished at two-under-par 70 to claim the third and fourth qualifying positons. Three players finished at one-under-par 71, so a playoff was needed to determine the alternate positons. Buck Brittain of Tazewell, VA will be the first alternate and Paige Hood of Atlanta, GA will be the second alternate.
The qualifiers will advance to play in the championship at Martis Camp Club in Truckee, California from August 26-31.
Hole-by-hole scoring can be viewed here.
US Senior Amateur Qualifying Results
High Point Country Club (Willow Creek), High Point, N.C.
August 2, 2023
Pos.

Player

Hometown

To Par

Total Score

Details

T1

Jeff Jamieson

Cary, North Carolina

-3

69

T1

Joe Jaspers

Huntersville, North Carolina

-3

69

T3

L D Simmons

Charlotte, North Carolina

-2

70

T3

James Pearson

Charlotte, North Carolina

-2

70

The following players did not make the cut

CUT

Buck Brittain

Tazewell, Virginia

-1

71

First Alternate

CUT

Paige Hood

Atlanta, Georgia

-1

71

Second Alternate

CUT

Steven Mann

Franklin, Tennessee

-1

71

CUT

Duff Wagner

Taylors, South Carolina

E

72

CUT

Robin Perkins

Sanford, North Carolina

E

72

CUT

Pat Thompson

Asheville, North Carolina

E

72

CUT

Gary Robinson

Spring Lake, North Carolina

E

72

CUT

Chris Holland

Fayetteville, North Carolina

E

72

CUT

Daniel Neveu

Pinehurst, North Carolina

E

72

CUT

Rick Cloninger

Rock Hill, South Carolina

1

73

CUT

Bubba Aughtry

Concord, North Carolina

1

73

CUT

Todd Hendley

Columbus, North Carolina

1

73

CUT

Scott Reid

Cary, North Carolina

1

73

CUT

George Harris

Cornelius, North Carolina

1

73

CUT

Russ Perry

Winston Salem, North Carolina

1

73

CUT

Ron Kirkpatrick

Charlotte, North Carolina

1

73

CUT

Dale Bouguennec

Pinehurst, North Carolina

1

73

CUT

Barry Fabyan

Charlotte, North Carolina

2

74

CUT

Dale Fuller

Raleigh, North Carolina

2

74

CUT

Evan Dewulf

Waxhaw, North Carolina

2

74

CUT

Scott Powers

Denver, North Carolina

3

75

CUT

William Hanna

Jackson Springs, North Carolina

3

75

CUT

Joseph Sadowski

Hickory, North Carolina

3

75

CUT

Paul Slomkowski

Colfax, North Carolina

4

76

CUT

Walker Taylor

Wrightsville Beach, North Carolina

4

76

CUT

Christopher O'connor

Pinehurst, North Carolina

4

76

CUT

Robby Kirby

Charlotte, North Carolina

4

76

CUT

Charles Reynolds

Asheville, North Carolina

4

76

CUT

John Olsen

Mooresville, North Carolina

4

76

CUT

Todd Brown

Winston Salem, North Carolina

5

77

CUT

Dara O'neill

Wilmington, North Carolina

5

77

CUT

Gray Tuttle

Pinehurst, North Carolina

5

77

CUT

Macon Moye

Southern Pines, North Carolina

5

77

CUT

Nolan Mills

Charlotte, North Carolina

5

77

CUT

Keith Waters

Raleigh, North Carolina

5

77

CUT

Stephen Fox

Pinehurst, North Carolina

5

77

CUT

Jose Alvarez

Greenville, South Carolina

6

78

CUT

Matthew Avril

Vero Beach, Florida

6

78

CUT

Dean Channell

Pinehurst, North Carolina

6

78

CUT

Evan Long

Charlotte, North Carolina

6

78

CUT

Neal Morrison

Charlotte, North Carolina

6

78

CUT

John Kennedy

Bermuda Run, North Carolina

7

79

CUT

Elton Trent

Pinehurst, North Carolina

7

79

CUT

Thomas Coughlin

Winston Salem, North Carolina

7

79

CUT

Brooks Carey

Charlotte, North Carolina

7

79

CUT

Jeffrey Wells

Southern Pines, North Carolina

7

79

CUT

Steve Saye

Pinehurst, North Carolina

7

79

CUT

Preston Edmondson

Morrisville, North Carolina

9

81

CUT

Phil Bland

Sherrills Ford, North Carolina

9

81

CUT

Richard Ferguson

Waxhaw, North Carolina

10

82

CUT

Mike Arnold

Mooresville, North Carolina

11

83

CUT

Joe Hinton

Eden, North Carolina

12

84

CUT

David Brown

Conover, North Carolina

12

84

CUT

Abdelhadi Rachid Lahbabi

Charlotte, North Carolina

12

84

CUT

Victor Ruotolo

Charlotte, North Carolina

12

84

CUT

Marc Cox

Greensboro, North Carolina

13

85

CUT

Kyle Klawetter

High Point, North Carolina

13

85

CUT

Todd Hagstrom

Cary, North Carolina

13

85

CUT

James Walker

Southern Pines, North Carolina

14

86

CUT

Jeff Fiebelkorn

Moseley, Virginia

14

86

CUT

Joe Nevins

Kiawah Island, South Carolina

15

87

CUT

James Popp

Mooresville, North Carolina

16

88

CUT

Brian Burdette

Apex, North Carolina

17

89

CUT

Stacey Anfindsen

Apex, North Carolina

18

90

CUT

Chip Hunter

Winston Salem, North Carolina

19

91

CUT

Robert Ilowite

Branchburg, New Jersey

31

103

CUT

Marcus Gray

Colfax, North Carolina

-

DNF

CUT

Steven Wheeler

Fayetteville, North Carolina

-

DNF