US Mid-Am Qualifying - Benvenue CC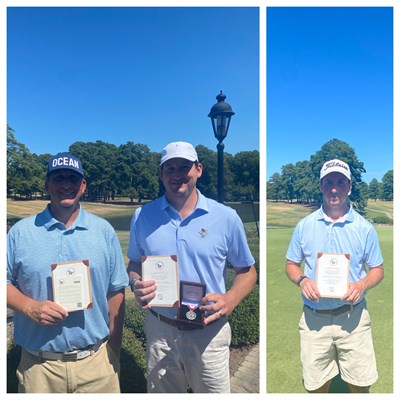 ROCKY MOUNT, N.C. (August 13, 2023) -- Final results from U.S. Mid-Amateur Qualifying at Benvenue Country Club in Rocky Mount, N.C. on Sunday, August 13, 2023. (6,525 yards, par 72).
Three qualifying spots and two alternate spots were available at this qualifying site.
James Bass of Asheboro, N.C. won medalist honors with a round of four-under-par 68. Sumner Alford of Fuquay-Varina, N.C. shot two-under-par 70 to claim the second qualifying position. Three players finished at one-under-par 71 and went to a playoff to determine the final qualifying position and alternate positions. Patrick Stephenson of Columbia, S.C. won the playoff to claim the third qualifying spot. John Pitt of Raleigh, N.C. will be the first alternate and Jerell Fields of Fort Mill, S.C. will be the second alternate.
The qualifiers will advance to play in the championship at Sleepy Hollow Country Club in Scarborough, New York from September 9-14.
Hole-by-hole scoring can be viewed here.
US Mid-Amateur Qualifying Results
Benvenue Country Club, Rocky Mount, N.C.
August 13, 2023
Pos.

Player

Hometown

To Par

Total Score

Details

1

James Bass

Asheboro, North Carolina

-4

68

2

Sumner Alford

Fuquay-Varina, North Carolina

-2

70

3

Patrick Stephenson

Columbia, South Carolina

-1

71

The following players did not make the cut

CUT

John Pitt

Raleigh, North Carolina

-1

71

First Alternate

CUT

Jerell Fields

Fort Mill, South Carolina

-1

71

Second Alternate

CUT

Tommy Miller

Blowing Rock, North Carolina

E

72

CUT

William Martin

Raleigh, North Carolina

E

72

CUT

Zachary Herold

Gilbert, South Carolina

1

73

CUT

Bryce Aronson

Raleigh, North Carolina

1

73

CUT

William Mitchell

Hurdle Mills, North Carolina

2

74

CUT

Joe Kastelic

Newton, North Carolina

2

74

CUT

Paul Huber

Charlotte, North Carolina

2

74

CUT

Kevin Vandenberg

Pulaski, New York

2

74

CUT

Chris Cox

Greensboro, North Carolina

2

74

CUT

Matthew Mcintyre

Garner, North Carolina

2

74

CUT

Harrison Rhoades

Raleigh, North Carolina

2

74

CUT

Ward Minton

Raleigh, North Carolina

3

75

CUT

Wesley Ballance

Rocky Mount, North Carolina

3

75

CUT

David Yowell

Charlotte, North Carolina

4

76

CUT

Alex Burris

Conover, North Carolina

4

76

CUT

Jd Mcneill

Raleigh, North Carolina

4

76

CUT

David Cook

Cape Carteret, North Carolina

4

76

CUT

Adam Rhodes

Cary, North Carolina

5

77

CUT

Nolan Mills

Raleigh, North Carolina

5

77

CUT

James Bohn

Cary, North Carolina

5

77

CUT

Blake Hartford

Zanesville, Ohio

5

77

CUT

Tim Prey

Nashville, Tennessee

6

78

CUT

Kevin Stallings

Greenville, North Carolina

6

78

CUT

Chris Cassetta

High Point, North Carolina

6

78

CUT

Evan Boyer

Morrisville, North Carolina

6

78

CUT

Bryan Willis

Charleston, South Carolina

6

78

CUT

Michael Oliverio

Charlotte, North Carolina

6

78

CUT

Josh Nichols

Morrisville, North Carolina

6

78

CUT

Matthew Younts

Summerfield, North Carolina

6

78

CUT

James Jackson

Wake Forest, North Carolina

6

78

CUT

Chris Finn

Wake Forest, North Carolina

6

78

CUT

Grayson Cheek

Wilkesboro, North Carolina

6

78

CUT

Bill Marlowe

Raleigh, North Carolina

6

78

CUT

Charlie May

Charlotte, North Carolina

7

79

CUT

Stephen Harward

Durham, North Carolina

7

79

CUT

Justin Curis

Charlotte, North Carolina

7

79

CUT

James Harris

Lillington, North Carolina

7

79

CUT

Patrick Smith

Raleigh, North Carolina

8

80

CUT

Raymond J Reyes

Fuquay Varina, North Carolina

8

80

CUT

Bern Gregory

Mooresville, North Carolina

8

80

CUT

Kristopher Hopkins

Fort Mill, South Carolina

8

80

CUT

Alexander Hall

Durham, North Carolina

8

80

CUT

Will Dull

Charlotte, North Carolina

8

80

CUT

Anthony Conn

Raleigh, North Carolina

8

80

CUT

Alex Durham

Rocky Mount, North Carolina

8

80

CUT

Shawn Will

Raleigh, North Carolina

9

81

CUT

Chris Batchelor

Durham, North Carolina

9

81

CUT

Jason Sacks

Cary, North Carolina

10

82

CUT

Kevin Stimberis

Mooresville, North Carolina

10

82

CUT

John Costa

Raleigh, North Carolina

10

82

CUT

Bill Brewster

Rocky Mount, North Carolina

10

82

CUT

Tj Wagner

Charlotte, North Carolina

10

82

CUT

Michael Swiger

Raleigh, North Carolina

10

82

CUT

Russell Burke

Raleigh, North Carolina

10

82

CUT

Eli Kennedy

Clemmons, North Carolina

10

82

CUT

Kyle Austin

Mebane, North Carolina

11

83

CUT

Matt Phillips

Clayton, North Carolina

11

83

CUT

Daniel Walsh

North Wilkesboro, North Carolina

11

83

CUT

Simon Boteler

Raleigh, North Carolina

11

83

CUT

Jayson Jennings

Fuquay-varina, North Carolina

11

83

CUT

Travis Lloyd

Wilmington, North Carolina

11

83

CUT

Tim Washburn

Raleigh, North Carolina

12

84

CUT

Charles Castellano

Miami, Florida

14

86

CUT

Daniel Sumerel

Williamston, North Carolina

14

86

CUT

Quinn Gruber

Raleigh, North Carolina

17

89

CUT

Drew Alford

Zebulon, North Carolina

20

92

CUT

John Tudor

Apex, North Carolina

-

DNF

DQ

Ilan Szulik

Durham, North Carolina

-

DQ