US Mid-Am Qualifying - Carolina CC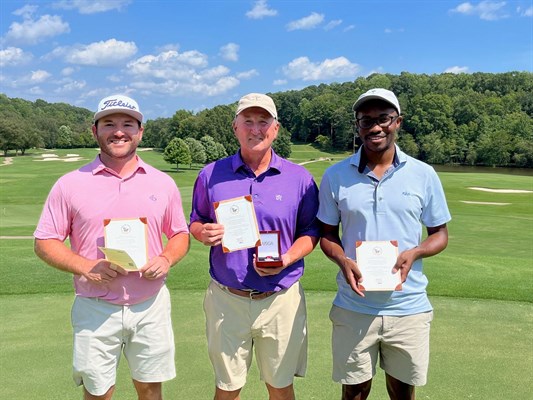 SPARTANBURG, S.C. (August 14, 2023) -- Final results from U.S. Mid-Amateur Qualifying at The Carolina Country Club in Spartanburg, S.C. on Monday, August 14, 2023. (6,824 yards, par 72).
Three qualifying spots and two alternate spots were available at this qualifying site.
Todd White of Spartanburg, S.C. won medalist honors with a round of four-under-par 68. Keith Early of Charlotte, N.C. and Chris Blackburn of Evans, GA both shot rounds of two-under-par 70 to claim the second and third qualifying positons. Five players finished at one-under-par 71 and a playoff was needed to determine the alternates. Nathan Mallonee of Charlotte, N.C. won the first alternate positon and Chris Eassy of Simpsonville, S.C. will be the second alternate.
The qualifiers will advance to play in the championship at Sleepy Hollow Country Club in Scarborough, New York from September 9-14.
Hole-by-hole scoring can be viewed here.
US Mid-Amateur Qualifying Results
The Carolina Country Club, Spartanburg, S.C.
August 14, 2023
Pos.

Player

Hometown

To Par

Total Score

Details

1

Todd White

Spartanburg, South Carolina

-4

68

T2

Keith Early

Charlotte, North Carolina

-2

70

T2

Chris Blackburn

Evans, Georgia

-2

70

The following players did not make the cut

CUT

Nathan Mallonee

Charlotte, North Carolina

-1

71

First Alternate

CUT

Chris Eassy

Simpsonville, South Carolina

-1

71

Second Alternate

CUT

Jason Dallas

Greenville, South Carolina

-1

71

CUT

William Harwood

Greenville, South Carolina

-1

71

CUT

Jordan Sease

Columbia, South Carolina

-1

71

CUT

Nelson Dickson

Simpsonville, South Carolina

E

72

CUT

Michael Pearson

Atlanta, Georgia

E

72

CUT

Parker Mills

Greenville, South Carolina

E

72

CUT

Chad Siefert

Greenville, South Carolina

E

72

CUT

Jeffrey Pearce

Matthews, North Carolina

1

73

CUT

Brad Sill

Spartanburg, South Carolina

1

73

CUT

Mark Stahlhuth

Charleston, South Carolina

1

73

CUT

Timothy Walter

Mount Pleasant, South Carolina

1

73

CUT

Robbie Biershenk

Boiling Springs, South Carolina

1

73

CUT

Matthew Hayes

Marietta, Georgia

2

74

CUT

Drew Lindsey

Huntersville, North Carolina

3

75

CUT

John Eades

Charlotte, North Carolina

3

75

CUT

Robert Lutomski

Simpsonville, South Carolina

3

75

CUT

Robert Wyrick Ii

Guyton, Georgia

3

75

CUT

Dane Burkhart

Aiken, South Carolina

3

75

CUT

Matt Wilson

Spartanburg, South Carolina

3

75

CUT

Brad Thorne

Spartanburg, South Carolina

3

75

CUT

Justin Connelly

Mcdonough, Georgia

4

76

CUT

James Lightsey

Indian Land, South Carolina

4

76

CUT

Jose Tomas Bull Soruco

Simpsonville, South Carolina

4

76

CUT

Toby Harrell

Cumming, Georgia

4

76

CUT

Charles Griffin

Asheville, North Carolina

4

76

CUT

Trey Taylor

Gaffney, South Carolina

4

76

CUT

John Varol

Charlotte, North Carolina

4

76

CUT

Nathan Stamey

Candler, North Carolina

5

77

CUT

Mayson Petty

Charlotte, North Carolina

5

77

CUT

Thomas Belk Iv

Myrtle Beach, South Carolina

5

77

CUT

Douglas Walker

Greer, South Carolina

5

77

CUT

Greg Harrold

York, South Carolina

6

78

CUT

Dan Constantino

Greer, South Carolina

6

78

CUT

Aaron Klimchuk

Asheville, North Carolina

6

78

CUT

Chris Wojdyla

Greenville, South Carolina

6

78

CUT

Michael Hamilton

Fountain Inn, South Carolina

7

79

CUT

Josh Binford

Charlotte, North Carolina

7

79

CUT

Ben Harris

Acworth, Georgia

7

79

CUT

Scott Tarcy

Charlotte, North Carolina

7

79

CUT

Carter Davis

Inman, South Carolina

7

79

CUT

Hunter Parks

Spartanburg, South Carolina

7

79

CUT

Jon Weiss Jr.

Florence, South Carolina

8

80

CUT

Trey Norton

Matthews, North Carolina

8

80

CUT

Brad Mangum

Iron Station, North Carolina

8

80

CUT

Will Hollenbach

Greenville, South Carolina

8

80

CUT

Kyle Stiles

Athens, Georgia

8

80

CUT

Nick Russell

Hilton Head Island, South Carolina

8

80

CUT

Mitchell Paige

Charleston, South Carolina

8

80

CUT

Steven Johnson

Charlotte, North Carolina

8

80

CUT

Jonathan Ryan

Greenville, South Carolina

9

81

CUT

Ray Grant

Gastonia, North Carolina

11

83

CUT

Garrett Cox

Charlotte

11

83

CUT

Daniel Mcclain

Columbia, South Carolina

11

83

CUT

Trent Roach

Huntersville, North Carolina

12

84

CUT

Wes Pope

Pineville, North Carolina

12

84

CUT

Steven Arnall

Statham, Georgia

13

85

CUT

Brandon Muir

Charleston, South Carolina

16

88

CUT

Jack Banda

Greenville, South Carolina

17

89

CUT

Steven Dellinger

Gastonia, North Carolina

-

DNF

CUT

Tyler Shuler

Bryson City, North Carolina

-

DNF

CUT

Joe Brooks

Franklin, North Carolina

-

DNF

CUT

Adam Mitchell

Atlanta, Georgia

-

DNF

NS

Douglas Stephens

Houston, Texas

-

NS