Jim & Smith Knaffle Capture the Carolinas Mixed Team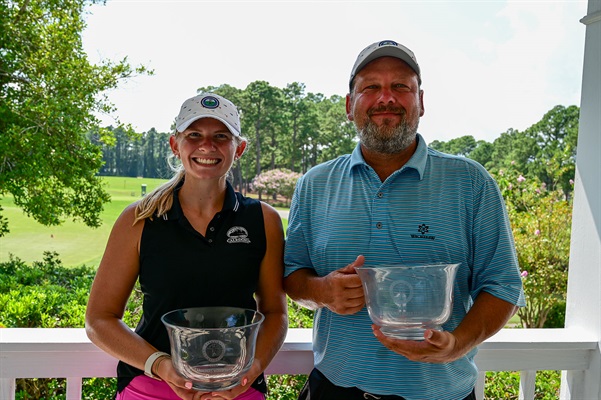 Event: 18th Carolinas Mixed Team Championship
Host Site: Sandpiper Bay Golf and Country Club, Sunset Beach, N.C.
Playing Dates: August 19-20, 2023
Social Media: @CGAgolf1909
SUNSET BEACH, N.C. (August 20, 2023) -- Final round results of the 18th Carolinas Mixed Team Championship at Sandpiper Bay Golf and Country Club in Sunset Beach, N.C. on August 20, 2023 (SAND to PIPER ROUTING). The Championship Men's Division played the black tees (6,504 yards), the Tournament, Senior, and Super Senior Men's Divisions, and the Championship Women's Division played the yellow tees (5,633 yards). The Tournament, Senior and Super Senior Women's Division played the red tees (4,668 yards) (35-36--71).
Jim Knaffle and his daughter Smith Knaffle (Murrells Inlet, SC) came into today's final round of the 18th Carolinas Mixed Team Championship with a two-stroke lead. They left Sandpiper Bay Golf and Country Club at the end of the day with new trophies and a great father/daughter experience.
Teams are comprised of a male amateur golfer and a female amateur golfer. There was a Championship Division, Tournament Division (shorter course), Senior Division (ages 55+ for males, ages 50+ for females), and a Super Senior Division (ages 65+ for males and females). Teams can choose to compete in any division in which they are eligible. Round 1 on Saturday was Four-Ball Stroke Play, and Round 2 on Sunday saw Modified Alternate Shot Stroke Play.
"It was just good teamwork overall, we ham-and-egged it really well. We weren't birdieing the same hole at the same time," Smith said. "And a few times, we did get out of position, which you're always going to do, but we seemed to make that key putt to save that par," added Jim.
They got off to a hot start making four birdies on their front nine, including three-in-a-row on 7, 8, and 9. They finished -12 for the championship after two strong rounds of 64 and 66 (130 total).
"He's been my coach for as long as I can remember, I played college golf at College of Charleston, and he's been there every step of the way," exclaimed a happy Smith, mentioning she finished second last year playing with her fiancé.
Alex Burris + Patricia Thompson (Conover, NC, Lenoir, NC) finished in second after both days with a -6 (66 - 70 = 136 total). A three-way tie for third at -5 (137 total) saw Lea Venable + Tommy Venable (Simpsonville, SC, Clinton, SC), Allie Bates + Lauren Dunbar (Columbia, SC), and Joliana Hodges + Thomas Hodges (Fort Mill, SC, Charlotte, NC) all square.
Frank Rutan + Kerry Rutan (Daniel Island, SC) took home the Senior Division Championship with a solid 65 - 66 =131 total, including seven birdies on their card today. That makes it three years in a row for the dynamic duo, who's -11 score this weekend was untouchable.
"We've been doing this and Mother's Day and Father's Day alternate shots, so we've been doing this awhile, but it took us a while to get in sync this weekend," mentioned Kerry. "She hits a good drive, and I hit my pitching wedge into greens ten times so that helps," added Frank.
Behind them in second was Danny Stubbs + Natalie Huff (Columbia, SC, Elgin, SC) at -4 and Charlie Hall + Niza Hall (Hilton Head Island, SC) another stroke back at -3.
David Beaver + Murrie Ives (Pinehurst, NC) won the Super Senior Division with a steady 1-over par, 143 finish. The runner-ups last year secured their top spot with Murrie making an ace on the eight (their 17th) hole of the day, her second career hole-in-one. Bruce Kline + Sue Kline (Bluffton, SC) five strokes back to earn runner-up at 6-over-par, 148.
"We met at a couples tournament ten years ago, and we've been playing together ever since," remarked Murrie. Today my caddie (David) called the right club, and I made the hole-in-one. We're just happy we finished and didn't kill each other, and we're still married," joked Murrie.
Mark DeBusk + Samantha DeBusk (Lexington, NC) cliched the Tournament Division on the first playoff hole over Eric Parziale + Laura Parziale (Southern Pines, NC, Pinehurst, NC). The duo birdied 18 to get into the playoff and won the division a hole later on some steady play for a tap-in par. Both teams finished -7 (135 total) for the tournament.
"Exciting beating the team we finished behind last year. Going back to 18 I made a nice 8-footer birdie just to get into the playoff. In the playoff, he (Mark) made a good chip and knocked it in close so I could tap in for par," said Samantha.
The Carolinas Golf Association would like to thank General Manager Tim Tilma, Head Golf Professional Richard Kascsak, and the rest of the Sandpiper Bay Golf and Country Club staff for helping us host an incredibly enjoyable tournament for all our players.

About the Carolinas Golf Association (CGA)
The CGA is a 501(c)(3) not-for-profit educational organization founded in 1909 to promote and protect the game of golf in the Carolinas by providing competitions, education, support, and benefits to golf clubs and golfers. The CGA is the second largest golf association in the country, with over 700 member clubs represented by nearly 150,000 individuals.
The CGA annually conducts 48 championships and five team match competitions for men, women, juniors, and seniors. It also runs over 150 One-Day (net and gross) events and qualifying for USGA national championships. The CGA serves golf in the Carolinas with numerous programs such as: the USGA Handicap System; tournament management software and support; course measuring and course/slope ratings; agronomy consultation; answers about the Rules of Golf, Rules of Amateur Status, and Handicapping; Carolinas Golf Magazine; Interclub series; Tarheel Youth Golf Association; Carolinas Golf Hall of Fame; expense assistance for USGA Junior and Girls' Junior qualifiers from the Carolinas; and the Carolinas Golf Foundation (CGF). The CGF has distributed nearly $2,000,000 since 1977 to benefit Carolinas' golf initiatives, including junior and women's programs.
For more information about the Carolinas Golf Association, follow @cgagolf1909 on Instagram, Twitter, Facebook, and TikTok or visit our website www.carolinasgolf.org/
#30#