Prestonwood CC to Host 11th Dogwood State Junior Championship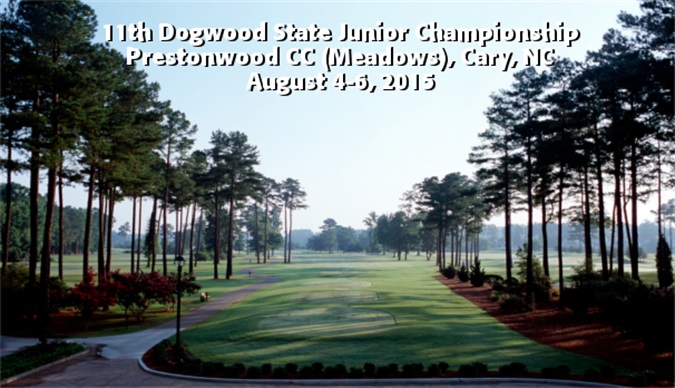 FOR IMMEDIATE RELEASE
April 29, 2015
C. Jason Cox
Phone: 910-673-1000
Email: jason.cox@carolinasgolf.org
PRESTONWOOD CC TO HOST
11TH DOGWOOD STATE JUNIOR CHAMPIONSHIP
Southern Pines, NC – The Carolinas Golf Association has announced that Prestonwood CC in Cary, NC will host the 11th Dogwood State Junior Championship on August 4-6, 2015. An anticipated field of 144 golfers both boys and girls will compete on the Tom Jackson designed Meadows course at Prestonwood CC.
The Meadows course, at more than 7,000 yards, is a championship layout that provides a challenging round to golfers of all skill levels. In fact, a combination of Meadows holes are used annually as the back nine for the SAS Championship, a PGA TOUR Champions Tour event. The Meadows course was recently ranked the best course in Cary and within the top-50 in North Carolina by The North Carolina Golf Panel.
Registration opens on June 15 at 8 pm.
DATES
August 4-6, 2015

FORMAT
The championship format is 54 holes of stroke play. There will be a cut after the first 36 holes.
YARDAGES
Boys will compete at approximately 7,100 yards, par 72(74.6/138)
Girls will compete at approximately 5,700 yards, par 72 (73.3/134)
AGE DIVISIONS
Boys will compete in one division. There are no age divisions.
Girls will compete in one division. There are no age divisions.
ELIGIBILITY
Entry is open to any male or female amateur golfer ages 18 under as of August 6, 2015, who has not started college, is a legal resident of North Carolina, is a member in good standing of a club which is a member of the Carolinas Golf Association (CGA) and has a current USGA Handicap Index® at a CGA member club that does not exceed 18.4.
PRIZES
Trophies are awarded to the top 5 finishers in both divisions.
EXEMPTIONS
Exemptions into the championship will be awarded based on performance in 12 different tournaments leading up to the championship and the NC junior boys' rankings as of June 15, 2015.
SECTIONAL QUALIFYING
Those not included in any of the exemption categories have the opportunity to qualify on August 3rd at Lochmere GC in Cary, NC. A minimum of ten spots will be available.
PRESTONWOOD CC INFORMATION
GENERAL MANAGER: Matt Massei
DIRECTOR OF GOLF: Larry Conner
COURSE SUPERINTENDENT: David Dalton
TOURNAMENT DIRECTOR: Jason Cox
ARCHITECT: Tom Jackson
YARDAGE/PAR: Boys 7,108, par 72 (73.6/138) Girls 5,700, par 72 (73.3/134)
FAIRWAYS & TEES: Bermuda grass
GREENS:Bent grass
##30##