Preview: 49th Carolinas Father-Son
Preview: 49th Carolinas Father-Son Championship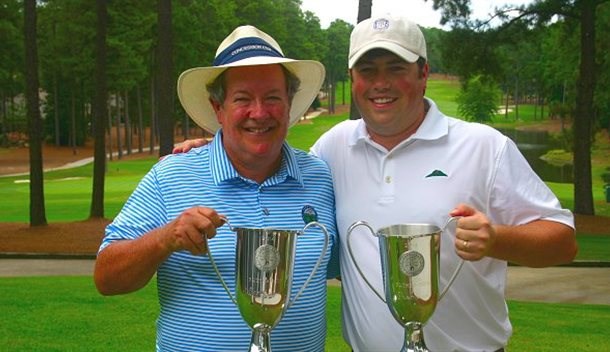 Two-time defending Father-Son champions
Paul & Phillip Simson of Raleigh, NC [+] Enlarge
On Friday, July 24, 256 teams are competing in 15 divisions based on handicap index and age at four championship sites, with Division A playing at Legacy Golf Links in Aberdeen, NC. Other host clubs are the Country Club of Whispering Pines (Pines) in Whispering Pines, Foxfire Resort & Golf (Red Fox) in Foxfire Village, and Pinewild Country Club (Magnolia) in Pinehurst.
With another win this year, two-time defending Division A champions, Paul Simson and Phillip Simson of Raleigh, N.C. would become the first team to win three consecutive titles. While Phillip's three CGA victories have come in this event (2002, '13, '14), Paul will be looking to claim his 30th overall CGA championship.
The team that lost to the Simson's in a playoff last year, Tim Hudgins and Joshua Hudgins of Greensboro, N.C., will be in the field trying to dethrone the champions. Other notable Division A teams are:
2006 and 2010 champs Steve Wilkinson and Neil Wilkinson of Wilmington, N.C.

2012 champs Walter Todd Sr. and Walt Todd Jr. of Laurens, S.C.

1981 Carolinas Amateur champion Nolan Mills and Nolan Mills IV of Charlotte, N.C.

2015 ACC Men's Golf co-champion Trevor Cone and Tom Cone of Concord, N.C.
The format is 18 holes of modified alternate shot. Playing in two-person teams, both team members hit from the tee, select one ball to be played, then play alternate shot until the ball is holed.
Entry is open to any team comprised of a father and son, stepfather and stepson, father-in-law and son-in-law or grandfather and grandson. At least one member of each team must be a legal resident of one of the Carolinas, be a member in good standing of a club which is a member of the Carolinas Golf Association, have a current USGA Handicap Index® at a CGA member club or is a golf professional employed at a CGA member club.
The CGA will post any tournament delays or cancellations via our Twitter account.
Follow us on Twitter, Facebook and Instagram. Search: cgagolf1909.
About the Carolinas Golf Association (CGA)
The CGA is a 501(c)(3) not-for-profit educational organization that was founded in 1909 to promote and to protect the game of golf in the Carolinas by providing competitions, education, support and benefits to golf clubs and golfers. The CGA is the second largest golf association in the country with over 700 member clubs represented by nearly 150,000 individuals.
Now in its 106th year, the CGA annually conducts 43 championships and five team match competitions for men, women, juniors, and seniors. It also runs over 140 One-Day (net and gross) events and qualifying for USGA national championships. The CGA serves golf in the Carolinas with numerous programs such as: the USGA Handicap System; tournament management software and support; course measuring and course/slope ratings; agronomy consultation; answers about the Rules of Golf, Rules of Amateur Status, and Handicapping; Carolinas Golf Magazine; Interclub series; Tarheel Youth Golf Association; Carolinas Golf Hall of Fame; expense assistance for USGA Junior and Girls' Junior qualifiers from the Carolinas; and the Carolinas Golf Foundation (CGF). The CGF has distributed more than $1,500,000 since 1977 to benefit Carolinas' golf initiatives including junior and women's programs.
For more information about the CGA, visit www.carolinasgolf.org.
##30##