Greg Earnhardt Wins N.C. Mid-Amateur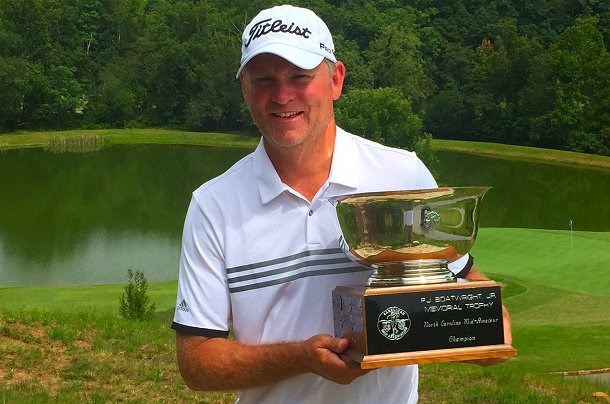 Greg Earnhardt with P.J. Boatwright Jr. Trophy
MILL SPRING, NC - Final results of the 22nd North Carolina Mid-Amateur Championship of the Carolinas Golf Association hosted by Bright's Creek Golf Club in Mill Spring, NC on Sunday, August 30, 2015 (7019 yards, par 36-36—72, 73.2/142).
Greg Earnhardt of Greensboro fired a tournament low round of six-under 66 to finish at nine-under 207 and win his first CGA championship title by four strokes over Matthew Crenshaw of Burlington. Earnhardt's victory caps off a memorable year as he finished runner-up at the inaugural U.S. Amateur Four-Ball Championship in May.
"I've been trying for 20 plus years", Earnhardt said about chasing his first CGA title. "If I didn't win one when it was all said and done it would have been a disappointment".
Crenshaw held a three-shot 36-hole lead but a double bogey on the first hole coupled with a birdie by Earnhardt quickly turned the championship into a tie. From there Crenshaw would make 16 pars and one birdie while Earnhardt following a bogey on the par three third hole made birdies on six of the next 11 holes to take and stretch his lead. Playing with Earnhardt and Crenshaw, defending champion Joe Jaspers of Huntersville kept pace with an opening two-under 34 on the front nine but an inward one-over 37 dropped him into a tie for third with Steven Brame of Henderson.
Only five players were able to break par on the Tom Fazio design for the championship. Top 30 and ties are exempt into the 2016 North Carolina Mid-Amateur Championship.
North Carolina Mid-Amateur Championship is open to any male amateur golfer who has reached his 30th birthday, is a legal resident of North Carolina, is a member in good standing of a club which is a member of the Carolinas Golf Association (CGA) and has an active GHIN® USGA Handicap Index® at a CGA member club that does not exceed 5.4.
For more information on the North Carolina Mid-Amateur Championship including hole-by-hole scoring please visit: https://www.carolinasgolf.org/championship/home/15ncmidam/year/2015#
Final Results
| | | | |
| --- | --- | --- | --- |
| Place | Competitor | Score | Amt Won |
| 1 | Greg Earnhardt, Greensboro, N.C. | 73-68-66--207 (-9) | $650.00 |
| 2 | Matthew Crenshaw, Burlington, N.C. | 70-68-73--211 (-5) | $400.00 |
| T3 | Joe Jaspers, Huntersville, N.C. | 69-72-71--212 (-4) | $362.50 |
| T3 | Steven Brame, Henderson, N.C. | 73-69-70--212 (-4) | $362.50 |
| 5 | Paul Tucker, Waxhaw, N.C. | 73-70-72--215 (-1) | $325.00 |
| T6 | Chris Cassetta, Winston-Salem, N.C. | 77-72-67--216 (Even) | $270.00 |
| T6 | Sherrill Britt, West End, N.C. | 73-71-72--216 (Even) | $270.00 |
| T6 | Robert Hukill III, Raleigh, N.C. | 70-74-72--216 (Even) | $270.00 |
| T6 | Brent Landry, Charlotte, N.C. | 73-72-71--216 (Even) | $270.00 |
| T10 | Dean Channell, Cary, N.C. | 73-72-72--217 (+1) | $203.33 |
| T10 | Daniel Neveu, Pinehurst, N.C. | 71-73-73--217 (+1) | $203.33 |
| T10 | Tommy Miller, Boone, N.C. | 74-71-72--217 (+1) | $203.33 |
| T13 | Ron Kirkpatrick, Charlotte, N.C. | 74-71-73--218 (+2) | $170.00 |
| T13 | Patrick Waters, Rutherfordton, N.C. | 74-71-73--218 (+2) | $170.00 |
| T13 | Shane Thompson, Canton, N.C. | 72-72-74--218 (+2) | $170.00 |
| T16 | Lionel Sutton, La Grange, N.C. | 73-73-73--219 (+3) | $147.50 |
| T16 | David Eaker, Forest City, N.C. | 75-70-74--219 (+3) | $147.50 |
| T18 | Brandon Reece, Rolesville, N.C. | 74-76-70--220 (+4) | $137.50 |
| T18 | Brady Eckard, Hickory, N.C. | 77-70-73--220 (+4) | $137.50 |
| T20 | Bubba Aughtry, Concord, N.C. | 75-73-73--221 (+5) | $127.50 |
| T20 | Jonathan Jackson, Chapel Hill, N.C. | 73-74-74--221 (+5) | $127.50 |
| T22 | Scott Park, Charlotte, N.C. | 74-75-73--222 (+6) | $112.50 |
| T22 | William Rocchi, Pinehurst, N.C. | 73-72-77--222 (+6) | $112.50 |
| T22 | Dwayne Simpson, Charlotte, N.C. | 78-72-72--222 (+6) | $112.50 |
| T22 | Brant Stovall, Asheboro, N.C. | 72-75-75--222 (+6) | $112.50 |
| T26 | Rick Marion, Mount Airy, N.C. | 74-70-79--223 (+7) | $100.00 |
| T26 | Jim Murray, Taylorsville, N.C. | 76-73-74--223 (+7) | $100.00 |
| T26 | Blair Bowland, Burlington, N.C. | 74-72-77--223 (+7) | $100.00 |
| T26 | Bryan Belter, Winston-Salem, N.C. | 75-72-76--223 (+7) | $100.00 |
| T30 | Aaron York, Durham, N.C. | 74-76-74--224 (+8) | $14.29 |
| T30 | Chris Buffaloe, Raleigh, N.C. | 73-73-78--224 (+8) | $14.29 |
| T30 | Justin Livonius, Charlotte, N.C. | 74-74-76--224 (+8) | $14.29 |
| T30 | Jonathan Callahan, Denver, N.C. | 74-75-75--224 (+8) | $14.29 |
| T30 | Banks Wood Jr., Charlotte, N.C. | 78-74-72--224 (+8) | $14.29 |
| T30 | Justin Pennell, Lenoir, N.C. | 75-73-76--224 (+8) | $14.29 |
| T30 | Mark Hodges, Belmont, N.C. | 78-71-75--224 (+8) | $14.29 |
| T37 | Kevin Atamian, Raleigh, N.C. | 76-74-75--225 (+9) | |
| T37 | Dustin Moore, Greensboro, N.C. | 77-75-73--225 (+9) | |
| T39 | John Nieters, Clemmons, N.C. | 76-75-76--227 (+11) | |
| T39 | Paul Clark, Charlotte, N.C. | 81-73-73--227 (+11) | |
| T39 | Dirk Fennie, Greensboro, N.C. | 73-78-76--227 (+11) | |
| T39 | Kevin Knox, Wake Forest, N.C. | 76-75-76--227 (+11) | |
| T43 | Ken Bass, Pinehurst, N.C. | 79-74-75--228 (+12) | |
| T43 | Richard Taylor, Charlotte, N.C. | 78-74-76--228 (+12) | |
| T45 | Kenny Flynn, Winston Salem, N.C. | 75-78-77--230 (+14) | |
| T45 | Kevin Coggins, Apex, N.C. | 76-78-76--230 (+14) | |
| T45 | Mike Gentry, Indian Trail, N.C. | 76-79-75--230 (+14) | |
| T45 | Anderson Marlowe III, Raleigh, N.C. | 80-72-78--230 (+14) | |
| T45 | Steve Patterson, Charlotte, N.C. | 83-73-74--230 (+14) | |
| T50 | Brandon Buchanan, Kernersville, N.C. | 74-77-81--232 (+16) | |
| T50 | Scott Patnode, Belmont, N.C. | 79-74-79--232 (+16) | |
| T50 | Michael G Swiger, Raleigh, N.C. | 72-77-83--232 (+16) | |
| T50 | Chris Blankenship, Clemmons, N.C. | 75-76-81--232 (+16) | |
| T54 | Brad Clark, Chapel Hill, N.C. | 77-77-79--233 (+17) | |
| T54 | David Strickland, Charlotte, N.C. | 78-75-80--233 (+17) | |
| T54 | Scott Pritchard, Asheville, N.C. | 76-76-81--233 (+17) | |
| 57 | Kelby Rouse, Wake Forest, N.C. | 75-80-79--234 (+18) | |
| T58 | Brandon Miller, Winston-Salem, N.C. | 78-75-82--235 (+19) | |
| T58 | John Marshall, Kinston, N.C. | 79-77-79--235 (+19) | |
| T60 | Rick Riddle, Charlotte, N.C. | 77-78-81--236 (+20) | |
| T60 | Nick Brown, Lenoir, N.C. | 76-77-83--236 (+20) | |
| 62 | Mark Kozel, Chapel Hill , N.C. | 79-77-83--239 (+23) | |
| | Failed to Qualify for Final Round | | |
| T63 | Steve Wilson, Wilmington, N.C. | 81-76 (+13) | |
| T63 | Brad Dawson, Mebane, N.C. | 79-78 (+13) | |
| T63 | David Brown, Conover, N.C. | 81-76 (+13) | |
| T63 | Paul Slomkowski, Colfax, N.C. | 79-78 (+13) | |
| T63 | Todd Chadwick, Winston-Salem, N.C. | 78-79 (+13) | |
| T63 | Warren Thornton, Clinton, N.C. | 83-74 (+13) | |
| T69 | Shawn Heinchon, Greenville, N.C. | 82-76 (+14) | |
| T69 | Aaron Babson, Holly Springs, N.C. | 84-74 (+14) | |
| T69 | Brian Peterson, Charlotte, N.C. | 80-78 (+14) | |
| T72 | Chris Tanner, Kinston, N.C. | 82-77 (+15) | |
| T72 | Jim Bohn III, Cary, N.C. | 79-80 (+15) | |
| T72 | Daniel Welborn, Charlotte, N.C. | 81-78 (+15) | |
| T72 | Andrew Morgan, China Grove, N.C. | 86-73 (+15) | |
| T72 | Mark Nieters, Clemmons, N.C. | 79-80 (+15) | |
| T72 | Jason West, Charlotte, N.C. | 82-77 (+15) | |
| T78 | Jarrod Hamilton, Holly Springs, N.C. | 78-82 (+16) | |
| T78 | Zach Barrier, Greensboro, N.C. | 80-80 (+16) | |
| T80 | John Berger, Charlotte, N.C. | 84-77 (+17) | |
| T80 | Josh Carpenter, Arden, N.C. | 81-80 (+17) | |
| T82 | Joe Decosta, Asheville, N.C. | 79-83 (+18) | |
| T82 | Jeremy Hooks, Raleigh, N.C. | 82-80 (+18) | |
| T82 | Mike Simmons Jr., Winston-Salem, N.C. | 82-80 (+18) | |
| T82 | Curtis Stiles, Hampstead, N.C. | 78-84 (+18) | |
| T86 | Kevin Rodriguez, Fayetteville, N.C. | 80-83 (+19) | |
| T86 | Morris Marshburn, Vass, N.C. | 79-84 (+19) | |
| T86 | Thomas Chambers, Waxhaw, N.C. | 85-78 (+19) | |
| T86 | Darryl Deitsch, Greensboro, N.C. | 83-80 (+19) | |
| 90 | Trent Vaden, Charlotte, N.C. | 82-83 (+21) | |
| 91 | Jeff Manley, Raleigh, N.C. | 83-83 (+22) | |
| T92 | Mike Crawford, Summerfield, N.C. | 82-85 (+23) | |
| T92 | Gregory Kastendike, Sanford, N.C. | 83-84 (+23) | |
| T92 | Ryan Greene, Holly Springs, N.C. | 76-91 (+23) | |
| T92 | Peter Melvin, Charlotte, N.C. | 87-80 (+23) | |
| 96 | Mac McClure, Elizabethtown, N.C. | 88-80 (+24) | |
| T97 | Rachid Lahbabi, Charlotte, N.C. | 89-80 (+25) | |
| T97 | John Beatty Jr., Matthews, N.C. | 85-84 (+25) | |
| 99 | James Eanes, Mooresville, N.C. | 80-90 (+26) | |
| 100 | Jason Fulp, Germanton, N.C. | 80-91 (+27) | |
| 101 | Travis Hall, Mount Airy, N.C. | 85-87 (+28) | |
| 102 | Edward Heim, Tryon, N.C. | 85-88 (+29) | |
| T103 | Ray Casey, Garner, N.C. | 88-88 (+32) | |
| T103 | Kenneth Kavanaugh Jr, Statesville, N.C. | 82-94 (+32) | |
| 105 | Phillip Smoak, Garland, N.C. | 84-94 (+34) | |
| 106 | Robert Semler, Raleigh, N.C. | 91-88 (+35) | |
| 107 | Brian Westveer, Charlotte, N.C. | 71-WD (WD) | |