Leaderboard Tight at NC Super Senior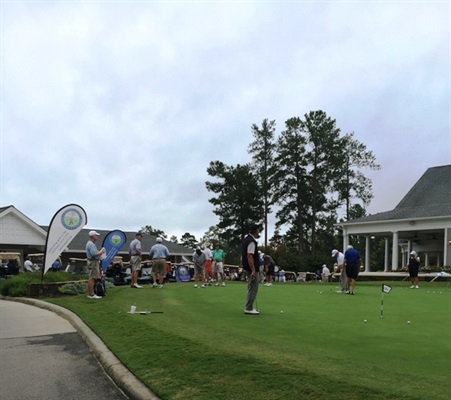 CHAPEL HILL, NC – First round results of the 8th North Carolina Super Senior Championship of the Carolinas Golf Association hosted by Chapel Hill Country Club in Chapel Hill, N.C. on Monday, September 28, 2015 (6,100 yards, par 36-36—72, 69.9/125).
Four players sit tied atop the leaderboard after the first round at one-under par 71. Rick Luzar from Pinehurst, Bob Yow from Clinton, Charlie Parks from Asheboro, and Robert Desjardins from Matthews all hold a piece of the lead heading into the final round. Defending champion Ron Carpenter from Creedmoor posted an three-over par round of 75 and is tied for 17th. 22 players sit within four shots of the four-way lead.
The final round is set for a 10:00am shotgun start on Tuesday, September 29. Final round hole assignments can be found here: https://www.ghintpp.com/carolinasgolf/TPPOnlineScoring/Pairings.aspx?id=1226
Entry is open to any male amateur golfer who has reached his 65th birthday by September 28, 2015 is a legal resident of North Carolina, is a member in good standing of a club which is a member of the Carolinas Golf Association and has an active USGA Handicap Index® at a CGA member club that does not exceed 15.4.
Hole-by-Hole Scoring: https://www.ghintpp.com/carolinasgolf/TPPOnlineScoring/ResultsStroke.aspx?id=1226
Championship Website: https://www.carolinasgolf.org/championship/home/15ncsupersenior/year/2015
First Round Results
Place

Competitor

Score

T1

Robert Desjardins, Matthews, N.C.

35-36--71 (-1)

T1

Bob Yow, Clinton, N.C.

35-36--71 (-1)

T1

Rick Luzar, Pinehurst, N.C.

35-36--71 (-1)

T1

Charlie Parks, Asheboro, N.C.

34-37--71 (-1)

T5

Bob Norman, Rocky Mount, N.C.

36-36--72 (Even)

T5

Bill Boles Jr., Wilson, N.C.

36-36--72 (Even)

T7

George Leight Jr., Apex, N.C.

36-37--73 (+1)

T7

Charles Debnam Jr., Cary, N.C.

36-37--73 (+1)

T7

Rick LaFata, Raleigh, N.C.

35-38--73 (+1)

T7

Edward Mills, Fairview, N.C.

36-37--73 (+1)

T7

Larry Boswell, Jamestown, N.C.

37-36--73 (+1)

T7

Spike Smith, Pinehurst, N.C.

37-36--73 (+1)

T7

Peter Allen, Southport, N.C.

36-37--73 (+1)

T7

Gary Strickfaden, Southern Pines, N.C.

36-37--73 (+1)

T15

Bill Shake, Charlotte, N.C.

37-37--74 (+2)

T15

Don Slater, Durham, N.C.

36-38--74 (+2)

T17

Chuck Wunsch, Pinehurst, N.C.

36-39--75 (+3)

T17

Mike Sprouts, Newton, N.C.

38-37--75 (+3)

T17

Hal Dugenske, Whispering Pines, N.C.

39-36--75 (+3)

T17

Ron Carpenter, Creedmoor, N.C.

36-39--75 (+3)

T17

Jd Lawson, Greensboro, N.C.

36-39--75 (+3)

T17

Jack Blankenhorn, Raleigh, N.C.

36-39--75 (+3)

T23

Gus Neville, Chapel Hill, N.C.

37-39--76 (+4)

T23

Greg Powell, Charlotte, N.C.

39-37--76 (+4)

T23

Roger Taylor, Conover, N.C.

39-37--76 (+4)

T23

George Kennon, Greensboro, N.C.

39-37--76 (+4)

T23

Arlis Pike, Kernersville, N.C.

37-39--76 (+4)

T23

John DeLuise, Raleigh, N.C.

38-38--76 (+4)

T23

Dan Anderson, Lenoir, N.C.

38-38--76 (+4)

T23

Terry Collins, Pinehurst, N.C.

39-37--76 (+4)

T23

Jeff Hamilton, Wilmington, N.C.

41-35--76 (+4)

T23

Pat Brugh, Charlotte, N.C.

35-41--76 (+4)

T33

Gene Grubb, Greensboro, N.C.

37-40--77 (+5)

T33

Cliff Seastrunk, Raleigh, N.C.

38-39--77 (+5)

T33

Bill Burling, Greensboro, N.C.

37-40--77 (+5)

T33

Barry DeLapp, Hendersonville , N.C.

40-37--77 (+5)

T33

John Walters, Charlotte, N.C.

36-41--77 (+5)

T33

Terry Barker, Chapel Hill, N.C.

38-39--77 (+5)

T33

Jim Pridgen, Jamestown, N.C.

38-39--77 (+5)

T33

Ernie Newton, Winston Salem, N.C.

38-39--77 (+5)

T33

Steve Spiegler, Charlotte, N.C.

40-37--77 (+5)

T33

Bob Beasley, Greensboro, N.C.

42-35--77 (+5)

T33

Garrett Garland, Huntersville, N.C.

41-36--77 (+5)

T33

Bill Eskridge, Cary, N.C.

37-40--77 (+5)

T45

Wiley Barrett, Southern Pines, N.C.

40-38--78 (+6)

T45

Russ McLauchlan, Fuquay-Varina, N.C.

38-40--78 (+6)

T45

Norman Davis Jr, Charlotte, N.C.

38-40--78 (+6)

T45

Rick Kline, Davidson, N.C.

40-38--78 (+6)

T45

Gary Pettit, Greensboro, N.C.

39-39--78 (+6)

T50

Barry Farnsworth, Rocky Mount, N.C.

40-39--79 (+7)

T50

Bill Beal, Matthews, N.C.

39-40--79 (+7)

T50

Charles Daley, Whispering Pines, N.C.

41-38--79 (+7)

T50

Brodie Baker, Bermuda Run, N.C.

41-38--79 (+7)

T50

Rick Finnin, Pinehurst, N.C.

40-39--79 (+7)

T50

Ray Jackson, Rocky Mount, N.C.

38-41--79 (+7)

T56

Dennis Toothman, Raleigh, N.C.

40-40--80 (+8)

T56

Bob Olsen, Monroe, N.C.

39-41--80 (+8)

T56

Drayton Stott, Greensboro, N.C.

42-38--80 (+8)

T56

Dave Moser, Charlotte, N.C.

40-40--80 (+8)

T56

Robert Crawford, Winston-Salem, N.C.

42-38--80 (+8)

T56

Gus Andrews, Salisbury, N.C.

43-37--80 (+8)

T56

Frederick Renk, Raleigh, N.C.

41-39--80 (+8)

T56

Patrick Smith, Nashville, N.C.

38-42--80 (+8)

T64

David Watterworth, Charlotte, N.C.

43-38--81 (+9)

T64

Herb Conway, Whispering Pines, N.C.

40-41--81 (+9)

T64

Bill Martinson, Chapel Hill, N.C.

41-40--81 (+9)

T67

Ray Miranda, Fayetteville, N.C.

43-39--82 (+10)

T67

David Williams, Cary, N.C.

40-42--82 (+10)

T67

Bob McQueen, Fayetteville, N.C.

43-39--82 (+10)

T67

Bob Klug, Pinehurst, N.C.

39-43--82 (+10)

T67

Jack Gordon, New Bern, N.C.

42-40--82 (+10)

T67

Raymond Davis, Apex, N.C.

41-41--82 (+10)

T67

Tom Ross, Chocowinity, N.C.

36-46--82 (+10)

T67

Joe Nevins, Chapel Hill, N.C.

43-39--82 (+10)

T75

Larry Cowman, Charlotte, N.C.

43-40--83 (+11)

T75

Al Makila, Raleigh, N.C.

41-42--83 (+11)

T75

Rick Zwicknagel, Charlotte, N.C.

41-42--83 (+11)

T75

Dink Andrews, Durham, N.C.

43-40--83 (+11)

T75

Ron Ragsdale, Wake Forest, N.C.

42-41--83 (+11)

T80

Steve Smith, Pinehurst, N.C.

42-43--85 (+13)

T80

Larry Smothers, Wilmington, N.C.

42-43--85 (+13)

T82

Charles Lee Sr, Clayton, N.C.

47-39--86 (+14)

T82

Jody Huneycutt, Albemarle, N.C.

46-40--86 (+14)

T82

Jay Fields, Asheville, N.C.

41-45--86 (+14)

T82

Gene Rapelye, Mooresville, N.C.

45-41--86 (+14)

T82

Donald Rutledge, Durham, N.C.

44-42--86 (+14)

T82

Charles Kassay, New Bern, N.C.

44-42--86 (+14)

T82

Roger James, Wilmington, N.C.

45-41--86 (+14)

T89

Grady Strickland, Chapel Hill, N.C.

46-42--88 (+16)

T89

Dennis McNames, Winston Salem, N.C.

44-44--88 (+16)

T91

Russ Priddy, Salisbury, N.C.

43-46--89 (+17)

T91

Andy Schleifstein, Chocowinity, N.C.

43-46--89 (+17)

T91

Charles Smith, Durham, N.C.

46-43--89 (+17)

T94

Gene Konczal, Statesville, N.C.

43-47--90 (+18)

T94

William Smith, Chapel Hill, N.C.

47-43--90 (+18)

96

George Kress, Southern Pines, N.C.

47-56--103 (+31)