Arlis Pike Three-Peats at Super Senior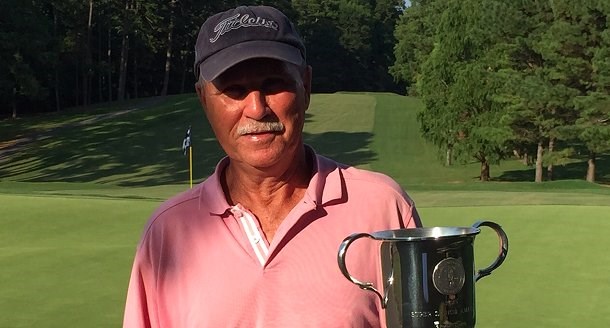 Arlis Pike of Kernersville, NC, Three-Time Carolinas Super Senior Champion
SPARTANBURG, SC - Final round results of the 7th Carolinas Super Senior Amateur Championship of the Carolinas Golf Association hosted by the Country Club of Spartanburg in Spartanburg, SC on Wednesday, July 22, 2015 (6068 yards, par 35-37—72, 69.4/122).
Two-time defending champion Arlis Pike of Kernersville, NC fired a final round three-under par 69 to match his winning score from last year's championship of 135 to win his third consecutive Carolinas Super Senior title. The 67-year-old Pike edged round one leader Rick Luzar of Pinehurst, NC by two strokes.
There was excitement down to the finish. Luzar was trailing by two strokes with four holes to play but quickly closed that gap with consecutive birdies on 15 and 16 to tie for the lead. Pike then birdied the par-5 17th hole to take a one shot advantage. Luzar was unable to hole a chip-in birdie attempt on the final hole leading to a bogey and sealing a two-stroke victory for Pike.
Carolinas Super Senior Amateur Championship is open to any male amateur golfer who has reached his 65th birthday, is a legal resident of North Carolina or South Carolina, is a member in good standing of a club which is a member of the Carolinas Golf Association (CGA) and has an active GHIN® USGA Handicap Index® at a CGA member club that does not exceed 15.4.
For more information on the Carolinas Super Senior Amateur Championship including hole-by-hole scoring please visit: https://www.carolinasgolf.org/championship/home/15supersenior/year/2015
Final Scores
| | | | |
| --- | --- | --- | --- |
| Place | Competitor | Score | |
| 1 | Arlis Pike, Kernersville, NC | 66-69---135 (-9) | $400.00 |
| 2 | Rick Luzar, Pinehurst, NC | 65-72---137 (-7) | $250.00 |
| 3 | Robert Desjardins, Matthews, NC | 69-70---139 (-5) | $225.00 |
| 4 | Ron Carpenter, Creedmoor, NC | 70-71---141 (-3) | $200.00 |
| 5 | Steve Wright, Deep Gap, NC | 71-71---142 (-2) | $175.00 |
| T6 | Bob Yow, Clinton, NC | 73-70---143 (-1) | $167.50 |
| T6 | Lynn Martin, Travelers Rest, SC | 73-70---143 (-1) | $167.50 |
| T8 | Ernie Newton, Winston Salem, NC | 76-68---144 (Even) | $155.00 |
| T8 | Spike Smith, Pinehurst, NC | 73-71---144 (Even) | $155.00 |
| T8 | Peter Allen, Southport, NC | 75-69---144 (Even) | $155.00 |
| T11 | Mike Sprouts, Newton, NC | 75-70---145 (+1) | $140.00 |
| T11 | Steve Spiegler, Charlotte, NC | 70-75---145 (+1) | $140.00 |
| T11 | Dave Moser, Charlotte, NC | 71-74---145 (+1) | $140.00 |
| T14 | George Leight Jr., Apex, NC | 73-73---146 (+2) | $120.00 |
| T14 | Gene Grubb, Greensboro, NC | 72-74---146 (+2) | $120.00 |
| T14 | Nick Avery, Goose Creek, SC | 76-70---146 (+2) | $120.00 |
| T14 | Terry Rathman, Gastonia, NC | 74-72---146 (+2) | $120.00 |
| T14 | Bob Varn, Orangeburg, SC | 73-73---146 (+2) | $120.00 |
| 19 | Garrett Garland, Huntersville, NC | 74-73---147 (+3) | $105.00 |
| T20 | Bill Shake, Charlotte, NC | 75-73---148 (+4) | $90.00 |
| T20 | Bill Smunk, Kingstree, SC | 74-74---148 (+4) | $90.00 |
| T20 | Wayne Rogers, Easley, SC | 75-73---148 (+4) | $90.00 |
| T20 | Mo York, Mt Pleasant, SC | 74-74---148 (+4) | $90.00 |
| T20 | Gil Happel, Oak Ridge, NC | 73-75---148 (+4) | $90.00 |
| T25 | Bob Norman, Rocky Mount, NC | 73-76---149 (+5) | $72.50 |
| T25 | Dan Anderson, Lenoir, NC | 75-74---149 (+5) | $72.50 |
| T27 | Larry Cowman, Charlotte, NC | 77-73---150 (+6) | $16.43 |
| T27 | Greg Powell, Charlotte, NC | 78-72---150 (+6) | $16.43 |
| T27 | Henry Essey, Chapel Hill, NC | 77-73---150 (+6) | $16.43 |
| T27 | John Walters, Charlotte, NC | 72-78---150 (+6) | $16.43 |
| T27 | Bob Van Norden, Greenville, SC | 77-73---150 (+6) | $16.43 |
| T27 | Terry Barker, Chapel Hill, NC | 77-73---150 (+6) | $16.43 |
| T27 | Doug Tooke, Greenville, SC | 74-76---150 (+6) | $16.43 |
| T27 | Charlie Parks, Asheboro, NC | 79-71---150 (+6) | $16.43 |
| T27 | Edward Mills, Fairview, NC | 75-75---150 (+6) | $16.43 |
| T27 | Randy Allen, Myrtle Beach, SC | 74-76---150 (+6) | $16.43 |
| T27 | Gary Strickfaden, Southern Pines, NC | 75-75---150 (+6) | $16.43 |
| T27 | Linnwood Edwards, Spartanburg, SC | 72-78---150 (+6) | $16.43 |
| T27 | Bill Martinson, Chapel Hill, NC | 78-72---150 (+6) | $16.43 |
| T27 | John Franklin, Saint Helena Island, SC | 79-71---150 (+6) | $16.43 |
| T41 | Michael McDowell, Charlotte, N.C. | 79-72--151 (+7) | |
| T41 | Dennis Brunelle, Concord, N.C. | 75-76--151 (+7) | |
| T41 | Dennis Slezak, Mount Pleasant, S.C. | 74-77--151 (+7) | |
| T44 | Greg Schachner, Elgin, S.C. | 82-70--152 (+8) | |
| T44 | David Millis, High Point, N.C. | 74-78--152 (+8) | |
| T46 | Bob Potter, N Charleston, S.C. | 76-77--153 (+9) | |
| T46 | Bill Burling, Greensboro, N.C. | 75-78--153 (+9) | |
| T46 | Barry DeLapp, Hendersonville , N.C. | 79-74--153 (+9) | |
| T46 | Duane Bausman, Awendaw, S.C. | 77-76--153 (+9) | |
| T46 | Jim Deal, Boone, N.C. | 80-73--153 (+9) | |
| T46 | Steve Pachol, Columbia, S.C. | 78-75--153 (+9) | |
| T52 | Bob Hammersla, Greenville, S.C. | 76-78--154 (+10) | |
| T52 | Roger Taylor, Conover, N.C. | 80-74--154 (+10) | |
| T52 | Dink Andrews, Durham, N.C. | 77-77--154 (+10) | |
| T52 | John Dennis III, Greenville, S.C. | 77-77--154 (+10) | |
| T56 | Frank Wrenn III, Greenville, S.C. | 76-79--155 (+11) | |
| T56 | Jim Hamilton, Jr., Aiken, S.C. | 78-77--155 (+11) | |
| T58 | Jon Biggs, Blythewood, S.C. | 78-78--156 (+12) | |
| T58 | Ed Gregor, Indian Land, S.C. | 79-77--156 (+12) | |
| T58 | Vance Whicker, Summerfield, N.C. | 77-79--156 (+12) | |
| T58 | Pat Brugh, Charlotte, N.C. | 80-76--156 (+12) | |
| T62 | Ted Coia, Simpsonville, S.C. | 79-78--157 (+13) | |
| T62 | Jared Long, Aiken, S.C. | 79-78--157 (+13) | |
| T62 | Denny Sherrill, Isle of Palms, S.C. | 82-75--157 (+13) | |
| T65 | Skip McPhail, Gastonia, N.C. | 81-77--158 (+14) | |
| T65 | Frank Wilson, Inman, S.C. | 84-74--158 (+14) | |
| T67 | Gary Schatz, Fort Mill, S.C. | 78-81--159 (+15) | |
| T67 | Jerry Woodruff, Greenville, S.C. | 78-81--159 (+15) | |
| T67 | Ray Novicki, Southern Pines, N.C. | 81-78--159 (+15) | |
| T67 | Joe Garnot, Murrells Inlet, S.C. | 80-79--159 (+15) | |
| T71 | Chuck Wunsch, Pinehurst, N.C. | 81-79--160 (+16) | |
| T71 | Bob Beasley, Greensboro, N.C. | 81-79--160 (+16) | |
| T71 | Rick Kline, Davidson, N.C. | 80-80--160 (+16) | |
| T74 | Bill Beal, Matthews, N.C. | 79-82--161 (+17) | |
| T74 | Thad Roberts, Landrum, S.C. | 79-82--161 (+17) | |
| T74 | Gene Konczal, Statesville, N.C. | 81-80--161 (+17) | |
| T74 | Chris McNutt, Boiling Springs, S.C. | 78-83--161 (+17) | |
| T74 | Mike Ridgeway, Inman, S.C. | 83-78--161 (+17) | |
| T74 | Smitty File, Anderson, S.C. | 79-82--161 (+17) | |
| T80 | James Brown, High Point, N.C. | 82-80--162 (+18) | |
| T80 | Larry Smothers, Wilmington, N.C. | 85-77--162 (+18) | |
| T80 | Dean Gosnell, Greenville, S.C. | 77-85--162 (+18) | |
| T80 | Gary Pettit, Greensboro, N.C. | 77-85--162 (+18) | |
| T80 | Gerald Keown, Moore, S.C. | 83-79--162 (+18) | |
| 85 | David Riley, Greenville, S.C. | 77-86--163 (+19) | |
| T86 | Wiley Barrett, Southern Pines, N.C. | 80-84--164 (+20) | |
| T86 | George Ackerman Jr, Charleston, S.C. | 80-84--164 (+20) | |
| T88 | Scott Talley, Greenville, S.C. | 79-86--165 (+21) | |
| T88 | Tom Ross, Chocowinity, N.C. | 83-82--165 (+21) | |
| T90 | Robert Carpenter, Taylors, S.C. | 80-86--166 (+22) | |
| T90 | Bob Adams, Asheville, N.C. | 82-84--166 (+22) | |
| T92 | Julius Aiken, Greenville, S.C. | 85-82--167 (+23) | |
| T92 | Tony Hagwood, Okatie, S.C. | 82-85--167 (+23) | |
| T94 | Kent Weymouth, Fort Mill, S.C. | 84-84--168 (+24) | |
| T94 | Eric Muller, Pawleys Island, S.C. | 83-85--168 (+24) | |
| T94 | Tony Parente, Raleigh, N.C. | 88-80--168 (+24) | |
| T97 | Gabe Hill III, Charlotte, N.C. | 83-86--169 (+25) | |
| T97 | Mike Lavine, Rock Hill, S.C. | 83-86--169 (+25) | |
| 99 | Marshall Stuart, Easley, S.C. | 84-88--172 (+28) | |
| 100 | Mickey Waters, Forest City, N.C. | 86-87--173 (+29) | |
| 101 | Francis Spadola, Pittsboro, N.C. | 88-87--175 (+31) | |
| 102 | Thomas Barreca, Hilton Head Island, S.C. | 87-94--181 (+37) | |
| 103 | John Tannehill, Clyde, N.C. | 90-95--185 (+41) | |
| 104 | Brad Godfrey, Highlands, N.C. | 95-93--188 (+44) | |
| T105 | Gus Neville, Chapel Hill, N.C. | 75-WD--WD (WD) | |
| T105 | Hal Dugenske, Whispering Pines, N.C. | 77-WD--WD (WD) | |
| T105 | Bob Olsen, Monroe, N.C. | 78-WD--WD (WD) | |
| T105 | Russ McLauchlan, Fuquay-Varina, N.C. | 81-WD--WD (WD) | |
| T105 | Herb Conway, Whispering Pines, N.C. | 78-WD--WD (WD) | |
| T105 | Steve Joyce, Denver, N.C. | 79-WD--WD (WD) | |
| T105 | Charlie Thompson, Hendersonville, N.C. | 85-WD--WD (WD) | |
| T112 | Doug McKeever, Ocean Isle Beach, N.C. | WD (WD) | |
| T112 | Allen Prichard, Charlotte, N.C. | WD (WD) | |
| T112 | Jamie Frazier, Winnsboro, S.C. | WD (WD) | |
| T112 | Lea Couch, Bahama, N.C. | WD (WD) | |
| T112 | Buck Leigh, Columbia , S.C. | WD (WD) | |
| T112 | Bruce Beck, Myrtle Beach, S.C. | WD (WD) | |
| T112 | Joe Nevins, Chapel Hill, N.C. | WD (WD) | |
| T112 | Randolph Hayes, Anderson, S.C. | WD (WD) | |
| T112 | Bill Eskridge, Cary, N.C. | WD (WD) | |