Car. Super Sr. 4-Ball 1st Round Results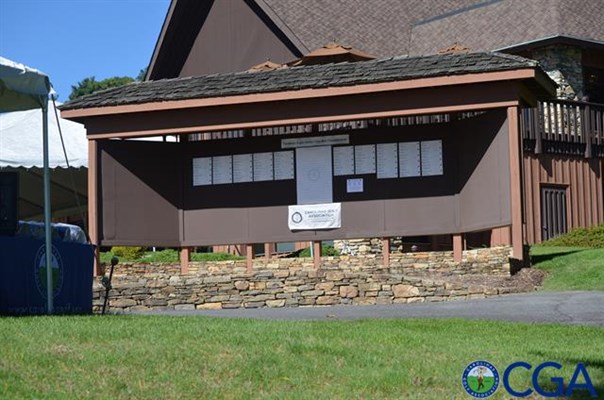 HENDERSONVILLE, NC – First round results of the 4th Carolinas Super Senior Four-Ball Championship of the Carolinas Golf Association hosted by Hendersonville Country Club in Hendersonville, N.C. on Wednesday, October 14, 2015 (6050 yards, par 35-35—70, 69.9/124).
Partners Roger Taylor of Conover, N.C. and Bob Yow of Clinton, N.C. are one shot clear of the field after firing a first round score of six-under par 64. Taylor and Yow carded seven birdies to go along with one bogey on the day. Defending champions, and the only team to ever win the Carolinas Super Senior Four-Ball Championship, partners Jim Pridgen of Jamestown, N.C. and Ernie Newton of Winston-Salem, N.C. sit one shot back of the lead after firing a five-under par 65. 17 teams finished the day in red numbers, and are all within 5 shots of the lead.
The final round is set for a 9:00am shotgun start. Final round hole assignments can be found here: https://www.ghintpp.com/carolinasgolf/TPPOnlineScoring/Pairings.aspx?id=1228&round=2059
Entry is open to any male amateur golfer who has reached his 65th birthday by October 14, is a legal resident of North Carolina or South Carolina, is a member in good standing of a club which is a member of the Carolinas Golf Association and has an active USGA Handicap Index® at a CGA member club.
Hole-by-Hole Scoring: https://www.ghintpp.com/carolinasgolf/TPPOnlineScoring/ResultsStroke.aspx?ID=1228
Championship Website: https://www.carolinasgolf.org/championship/home/15supersenior4ball/year/2015
First Round Results
Place

Team

Score

1

Roger Taylor, Conover, N.C. - Bob Yow, Clinton, N.C.

31-33--64 (-6)

T2

Robert Desjardins, Matthews, N.C. - Bill Boles Jr., Wilson, N.C.

33-32--65 (-5)

T2

Jim Pridgen, Jamestown, N.C. - Ernie Newton, Winston Salem, N.C.

32-33--65 (-5)

T2

Charlie Parks, Asheboro, N.C. - Arlis Pike, Kernersville, N.C.

34-31--65 (-5)

T5

Doug Tooke, Greenville, S.C. - Wayne Rogers, Easley, S.C.

34-32--66 (-4)

T5

James Brown, High Point, N.C. - David Millis, High Point, N.C.

33-33--66 (-4)

T5

Bill Kerns, Tryon, N.C. - Jim Stone, Mill Spring, N.C.

32-34--66 (-4)

T5

Edward Mills, Fairview, N.C. - Cliff Seastrunk, Raleigh, N.C.

32-34--66 (-4)

9

Mike Sprouts, Newton, N.C. - John Green, Wallace, N.C.

32-35--67 (-3)

T10

Bill Shake, Charlotte, N.C. - Dave Moser, Charlotte, N.C.

34-34--68 (-2)

T10

Joe Hackler, Myrtle Beach, S.C. - Peter Allen, Southport, N.C.

34-34--68 (-2)

T10

Dave Owens, Hendersonville, N.C. - Charlie Thompson, Hendersonville, N.C.

32-36--68 (-2)

T10

Michael Dingus, Bluffton, S.C. - Jeff Grime, Bluffton, S.C.

34-34--68 (-2)

T10

Ron Carpenter, Creedmoor, N.C. - Frank Wrenn III, Greenville, S.C.

35-33--68 (-2)

T15

John Laehn, Aiken, S.C. - Patrick Luskey, Aiken, S.C.

33-36--69 (-1)

T15

Greg Powell, Charlotte, N.C. - David Watterworth, Charlotte, N.C.

34-35--69 (-1)

T15

Robert Crawford, Winston-Salem, N.C. - Dan Anderson, Lenoir, N.C.

34-35--69 (-1)

T18

Eugene Spencer Jr, Blythewood, S.C. - George Ackerman Jr, Charleston, S.C.

35-35--70 (Even)

T18

Steve Spiegler, Charlotte, N.C. - Bill Lee, Charlotte, N.C.

35-35--70 (Even)

T18

Bill Beal, Matthews, N.C. - Bob Olsen, Monroe, N.C.

34-36--70 (Even)

T18

Wayne Godwin, Charlotte, N.C. - Larry Cowman, Charlotte, N.C.

35-35--70 (Even)

T18

Kevin Reid, Simpsonville, S.C. - Dean Gosnell, Greenville, S.C.

37-33--70 (Even)

T23

Jim Deal, Boone, N.C. - Bob Kaylor, Raleigh, N.C.

34-37--71 (+1)

T23

Gene Grubb, Greensboro, N.C. - Rick Wesley, Winston Salem, N.C.

36-35--71 (+1)

T23

Paul Manikowski, Boiling Springs, S.C. - Sam Herb, Taylors, S.C.

36-35--71 (+1)

T26

Barry DeLapp, Hendersonville , N.C. - Jim Hickman, Maiden, N.C.

35-37--72 (+2)

T26

George Leight Jr., Apex, N.C. - Dick Hogan, Burlington, N.C.

34-38--72 (+2)

T26

Ted Coia, Simpsonville, S.C. - Bob Smith, Greer, S.C.

35-37--72 (+2)

T26

Chris McNutt, Boiling Springs, S.C. - Frank Wilson, Inman, S.C.

33-39--72 (+2)

T26

Tom Thorpe, Clemmons, N.C. - Jim Gress, Clemmons, N.C.

37-35--72 (+2)

T26

David Riley, Greenville, S.C. - Robert Carpenter, Taylors, S.C.

35-37--72 (+2)

T32

Gary Schatz, Fort Mill, S.C. - John Walters, Charlotte, N.C.

37-36--73 (+3)

T32

Tom Hadley, Hendersonville, N.C. - Johnny Johnston, Hendersonville, N.C.

35-38--73 (+3)

T32

Ray Novicki, Southern Pines, N.C. - Mike Novicki, Kinston, N.C.

34-39--73 (+3)

T32

Steve Dauber, Simpsonville, S.C. - Voit Hurst, Greer, S.C.

36-37--73 (+3)

T32

Paul Spengler, Charlotte, N.C. - David Fairley, Charlotte, N.C.

38-35--73 (+3)

T32

Lanny Correll Sr, Pawleys Island, S.C. - Jamie Frazier, Winnsboro, S.C.

35-38--73 (+3)

T32

Bill Norris, Spruce Pine, N.C. - Rama Tahiri, Newland, N.C.

38-35--73 (+3)

T39

William M Pankhurst, Hendersonville, N.C. - Greg Kilpatrick, Hendersonville, N.C.

36-38--74 (+4)

T39

Julius Aiken, Greenville, S.C. - Jerry Sherman, Travelers Rest, S.C.

36-38--74 (+4)

T39

Phil Thingstad, West End, N.C. - Dale Andress, Foxfire Village, N.C.

39-35--74 (+4)

T42

Jerry Woodruff, Greenville, S.C. - Bill Eisenman, Hilton Head, S.C.

38-37--75 (+5)

T42

Chip Stone, Raleigh, N.C. - Cliff Butler, Chapel Hill, N.C.

37-38--75 (+5)

T44

Marion King, Edgemoor, S.C. - Don King, Rock Hill, S.C.

38-38--76 (+6)

T44

Barry Lynch, Greenville, S.C. - Dan White, Greenville, S.C.

40-36--76 (+6)

T46

Marshall Stuart, Easley, S.C. - Tim McFall, Westminster, S.C.

39-38--77 (+7)

T46

Austin Adams, Charlotte, N.C. - Peter Loper, Blythewood, S.C.

41-36--77 (+7)

48

Jack Blankenhorn, Raleigh, N.C. - Robert Orr, Raleigh, N.C.

40-38--78 (+8)

T49

Terry Daugherty, Bluffton, S.C. - Lou Miller, Bluffton, S.C.

39-40--79 (+9)

T49

David Wyscarver, Forest City, N.C. - Lang Foster, Greenwood, S.C.

37-42--79 (+9)

T49

Larry Stallcup, Greenville, S.C. - John Blalock, Greenville, S.C.

40-39--79 (+9)

52

Steve Doan, Apex, N.C. - John Morgan, Cary, N.C.

41-43--84 (+14)

53

Joseph Boyd, Spring Lake, N.C. - Flash Gordon, Vass, N.C.

42-44--86 (+16)