Curtis in command at Anderson Girls'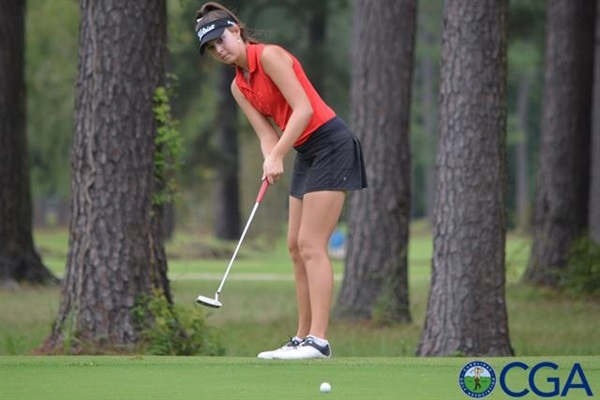 After the first round of the Jimmy Anderson Girls' Invitational, Caroline Curtis of Richmond, VA sits atop of the leader board with a round of three under par 69. Curtis, who is making her first appearance in the Anderson Girls' got off to a solid start with four straight pars and then birdied the par five fifth hole and made the turn at one under par 34. On the back nine, Curtis birdied holes 10, 14 and 18 along with the only bogey of the day on the par three twelfth hole for a two under par 35 for a three under par round of 69. Curtis, a high school sophomore, leads high school senior Natalie Petersen of Holly Springs, NC by one and Bailey Davis, an eight grader, of White Plains, MD by two shots. 2015 co-winner Anna MacDonald of Hickory, NC sits tied for eleventh place after a round of three over par 75.
The Jimmy Anderson Girls' Invitational is conducted in honor Mr. Jimmy Anderson for his service as golf professional at Jacksonville Country Club and his dedication and support of junior golf. Jimmy Anderson was the head golf professional at Jacksonville Country Club for over 25 years. Each Saturday morning, he conducted a junior golf clinic to help spread the game of golf to the next generation. During his tenure at Jacksonville CC, he taught many juniors including Mallory Miller, the 1987 N.C. Junior Champion and numerous future collegiate and golf professionals. Not only did he teach the game of golf, but was always there with a helpful word of encouragement to any young golfer.
A record field of 54 junior girl golfers from six different states are competing on the George Cobb designed course that opened for play in 1954 and has hosted numerous tournaments, including the Carolinas Golf Association's 2007 North Carolina Mid-Amateur. This year's event will be conducted jointly by the Carolinas Golf Association and the Peggy Kirk Bell Girls' Golf Tour.
Anderson Girls' (5714 yards, par 72, 73.5/123)

Place

Name

Score

1

Caroline Curtis (2019), Richmond, VA

34-35--69

2

Natalie Petersen (2017), Holly Springs, NC

33-37--70

3

Bailey Davis (2021), White Plains, MD

35-36--71

T4

Emily Hawkins (2018), Lexington, NC

36-36--72

Jayla Rogers (2019), Wilmington, NC

36-36--72

Kayla Smith (2019), Burlington, NC

36-36--72

T7

Alyssa Campbell (2018), Lake Wylie, SC

36-37--73

Hailey Joy (2018), Reidsville , NC

35-38--73

T9

Amy Wooten (2018), Clinton, NC

37-37--74

Muskan Uppal (2019), Cornelius, NC

37-37--74

T11

Anna McDonald (2019), Hickory, NC

35-40--75

Caroline Crumrine (2020), Wilmington, NC

38-37--75

Rachael Mast (2017), Lexington, NC

38-37--75

14

Elena Jacoby (2019), Huntersville, NC

37-39--76

T15

Cynthia Tu (2019), Vienna, VA

37-40--77

Emelia Pack (2019), Browns Summit, NC

37-40--77

Kendall Turner (2019), Chesapeake, VA

37-40--77

Naomi Mitchell (2018), Norfolk, VA

37-40--77

Parker Melting (2018), Mint Hill, NC

37-40--77

Sarah Funderburg (2018), Wilmington, NC

38-39--77

T21

Alexia Siehl (2022), Fort Mill, SC

39-39--78

Hailey Freedman (2018), Chapel Hill, NC

39-39--78

Lotte Fox (2020), Raleigh, NC

40-38--78

Mallory Fobes (2019), East Bend, NC

38-40--78

Mogie Adamchik (2017), Raleigh, NC

41-37--78

Nicole Adam (2020), Pinehurst, NC

37-41--78

Nicole Kramer (2018), Charlotte, NC

38-40--78

Ryann Sinclair (2019), Mooresville, NC

42-36--78

T29

Alexis Jarrell (2018), Davidson, NC

39-40--79

Mackenzie Battle (2018), Aberdeen, NC

38-41--79

31

Hailey Pendleton (2020), Waxhaw, NC

40-40--80

32

Michelle Harn (2019), Charlotte, NC

40-41--81

T33

Camryn Fletcher (2019), Raleigh, NC

38-45--83

Hannah Rose Bruxvoort (2018), Chapel Hill, NC

42-41--83

Kelly Strickland (2018), Alpharetta, GA

41-42--83

T36

Emilee Wenmoth (2017), Clemmons, NC

41-43--84

Grace M Holcomb (2021), Wilmington, NC

44-40--84

Paris Fieldings (2022), Suffolk, VA

42-42--84

39

Madilyn Newman (2021), Knoxville, TN

45-40--85

40

Siana Wong (2020), Summerfield, NC

44-42--86

T41

Katelyn Kenthack (2020), Pinehurst, NC

45-42--87

Kelley Topiwala (2020), Matthews, NC

45-42--87

Michaela Cox (2017), Greensboro, NC

40-47--87

T44

Mara Hirtle (2020), Pinehurst, NC

43-46--89

Trinity Ahing (2019), New Bern, NC

41-48--89

46

Kate Hawkins (2018), Littleton, NC

47-43--90

T47

Julie Fiedler (2021), New Bern, NC

46-45--91

Sarah Hardin (2017), West Jefferson, NC

40-51--91

49

Shalie Williams (2018), Shawboro, NC

46-46--92

T50

Kayla Dowell (2021), Mebane, NC

48-45--93

Laney Wessels (2021), Sophia, NC

50-43--93

52

Caroline Bryant (2018), New Bern, NC

52-45--97

53

Evin Flinchum (2018), Summerfield, NC

50-56--106

54

Lauren Denhard (2019), Salisbury , NC

53-57--110