Two Horse Race at NC 4-Ball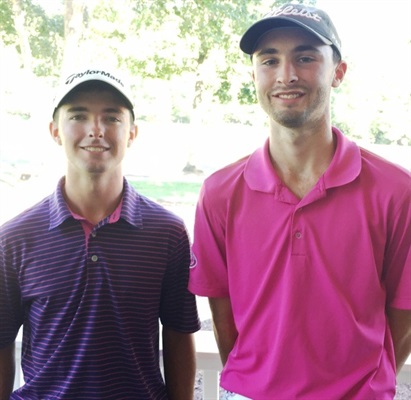 Justin Emmons and Nicholas Lyerly
MEBANE, NC (October 1, 2016) – Second round results of the 21st North Carolina Four-Ball Championship at Mill Creek Golf Club in Mebane, NC on Saturday, October 1, 2016.
Related: Tee Times & Pairings | Hole-by-hole Scoring | Photo Gallery
18 birdies in 36 holes is enough to give the team of Nicholas Lyerly from Salisbury, NC and Justin Emmons from Asheboro, NC the lead heading into the final round of the North Carolina Four-Ball Championship. In their first ever four-ball event, they have found a spark together. "I think it's awesome, I love it (four-ball)", Emmons said when asked about playing four-ball for the first time, "the second player can really take advantage if the first person is safe, it really makes you comfortable." The youngest team in the field has a one shot lead in what has turned into a two horse race.
One shot behind, is the veteran team of JD McNeill from Raleigh, NC and Jerry Richardson, Jr. from Cary, NC. Carding 15 birdies and 1 eagle over two days, doing almost all of their damage on the par 5s and par 3s. McNiell and Richardson were in the final group at last year's NC Four-Ball Championship, and finished in third place. They are hoping this year will have a different outcome.
The two teams are six shots clear of the rest of the field in what is sure to be a shootout Sunday at Mill Creek. The cut line fell at 5-under par 139. The leaders will tee off at 9:20am Sunday morning.
Second Round Results
Place

Team

Score

1

Justin Emmons, Asheboro, N.C. - Nicholas Lyerly, Salisbury, N.C.

64-62--126 (-18)

2

JD McNeill, Raleigh, N.C. - Jerry Richardson Jr, Cary, N.C.

65-62--127 (-17)

T3

Brian Gauley, Wake Forest, N.C. - Mark Gauley, Raleigh, N.C.

66-67--133 (-11)

T3

Dale Ring, Carthage, N.C. - Sherrill Britt, West End, N.C.

68-65--133 (-11)

T3

Gary Pugh, Asheboro, N.C. - Colton Sapp, Archdale, N.C.

68-65--133 (-11)

T6

Justin Harvey, Holly Springs, N.C. - Michael Swiger, Raleigh, N.C.

69-65--134 (-10)

T6

Matthew Crenshaw, Burlington, N.C. - Blair Bowland, Burlington, N.C.

65-69--134 (-10)

T8

Jacob Lowder, Greensboro, N.C. - Kyle Stockton, High Point, N.C.

69-66--135 (-9)

T8

Billy West, Fayetteville, N.C. - Chris Holland, Fayetteville, N.C.

69-66--135 (-9)

T8

James Bass Jr., Asheboro , N.C. - Nicholas Baker, Raleigh, N.C.

67-68--135 (-9)

T8

Joshua Hudgins, High Point, N.C. - Ben Nihart, Greensboro, N.C.

69-66--135 (-9)

T8

Jonathan Jackson, Chapel Hill, N.C. - Mark Kozel, Chapel Hill , N.C.

68-67--135 (-9)

T8

Dustin Moore, Greensboro, N.C. - Greg Earnhardt, Greensboro, N.C.

67-68--135 (-9)

T14

Whit Howard, Raleigh, N.C. - Reid Clark, Raleigh, N.C.

69-67--136 (-8)

T14

Mark Absher, Winston Salem, N.C. - Chris Cassetta, Winston-Salem, N.C.

68-68--136 (-8)

T14

Jack Keefe, Fayetteville, N.C. - William Kwasnick, Raleigh, N.C.

68-68--136 (-8)

T14

Phil Miller, China Grove, N.C. - Macon Moye, Pinehurst, N.C.

69-67--136 (-8)

T18

Jeff Allen, Jacksonville, N.C. - Eddie Connelly III, Jacksonville, N.C.

68-69--137 (-7)

T18

John Bauman, Cary, N.C. - Scott McClellan, Cary, N.C.

72-65--137 (-7)

T18

Marais Lombard, Charlotte, N.C. - David Reid, Matthews, N.C.

65-72--137 (-7)

T18

Park Williams, Kernersville, N.C. - Mr Tod Dauler, Summerfield, N.C.

67-70--137 (-7)

T18

Matthew Rogers, Huntersville, N.C. - Brett Waters, Taylorsville, N.C.

70-67--137 (-7)

T23

Rob Stover, Durham, N.C. - Chris O'Shea, Durham, N.C.

70-68--138 (-6)

T23

Joe Decosta, Asheville, N.C. - James Whitehouse, Asheville, N.C.

71-67--138 (-6)

T23

David Cook, Cedar Point, N.C. - Steven Pippin, Shannon, N.C.

66-72--138 (-6)

T23

Jeremy Ray, Pfafftown, N.C. - Kenny Flynn, Winston Salem, N.C.

71-67--138 (-6)

T23

Brad Mundy, Hickory, N.C. - Nathan Jessup, Hickory, N.C.

71-67--138 (-6)

T23

Ray Womack, Burlington, N.C. - Kevin Womack, Burlington, N.C.

71-67--138 (-6)

T29

Brant Stovall, Asheboro, N.C. - Josh Turner, Liberty, N.C.

70-69--139 (-5)

T29

Tony Byerly, Graham, N.C. - Scott Trent, Greensboro, N.C.

68-71--139 (-5)

T29

Eric Williams, Goldsboro, N.C. - Hayden Gardner, Goldsboro, N.C.

68-71--139 (-5)

T29

Nick Cromer, Archdale, N.C. - Luke Hollingsworth, Archdale, N.C.

68-71--139 (-5)

Failed to Qualify

33

Timothy Driver, Holly Springs, N.C. - Brian Urban, Holly Springs, N.C.

70-70--140 (-4)

T34

Gary Roberson, Burlington, N.C. - Robbie Ector, Burlington , N.C.

71-70--141 (-3)

T34

Brad Deal, Mebane, N.C. - Keith McDaniel, Haw River, N.C.

74-67--141 (-3)

T34

Bryon Ruben, Durham, N.C. - Bill Reduzzi, Raleigh, N.C.

73-68--141 (-3)

T34

Ricky Zachary, Thomasville, N.C. - Trey Mitchell, Jamestow, N.C.

73-68--141 (-3)

T34

Kevin Atamian, Raleigh, N.C. - Jay Clayton, Burlington, N.C.

67-74--141 (-3)

T34

Brandon Berrier, Kernersville, N.C. - Mr. Jason Wilkes, Kernersville, N.C.

75-66--141 (-3)

T34

Jason Wilburn, Hillsborough, N.C. - Nathan Young, Oak Ridge, N.C.

67-74--141 (-3)

T34

Phil Bland, Waynesville, N.C. - Kim Russell, Pinehurst, N.C.

72-69--141 (-3)

T42

Billy Andrews, Advance, N.C. - Santford Garner, Winston-Salem, N.C.

70-72--142 (-2)

T42

Patrick Cummings, Wilmington, N.C. - Erik Ehlert, Wrightsville Beach, N.C.

71-71--142 (-2)

T42

Dave Davis, Pinehurst, N.C. - Brad Fogleman, Liberty, N.C.

71-71--142 (-2)

T45

Jason Smith, Raleigh, N.C. - Billy Williford, Durham, N.C.

72-71--143 (-1)

T45

Jeff Burcham, Greensboro, N.C. - Jeff Guernier, Greensboro, N.C.

69-74--143 (-1)

T47

Jason Crowe, Hillsborough, N.C. - David Waggoner, Holly Ridge, N.C.

73-71--144 (Even)

T47

Jordan Ford, Cary, N.C. - Pete Luster, Chapel Hill, N.C.

73-71--144 (Even)

49

Hunter Freeman, Raleigh, N.C. - Steve Arrington, Wake Forest, N.C.

72-73--145 (+1)

50

Dean Norman Jr., Greensboro, N.C. - Dean Norman, Greensboro, N.C.

75-71--146 (+2)

T51

Joe Poole Jr., Southern Pines , N.C. - Pete Lineberger, Pinehurst, N.C.

72-75--147 (+3)

T51

Bob Ferrel Jr, Durham, N.C. - Matt Torri, Durham, N.C.

75-72--147 (+3)

53

Peter Michaels, Durham, N.C. - Bradley Strode, Durham, N.C.

77-71--148 (+4)

T54

Brad Gee, Siler City, N.C. - Randy Kivett, Bear Creek, N.C.

74-75--149 (+5)

T54

Drew Haywood, Chapel Hill, N.C. - Roy Andrews, Lenoir, N.C.

73-76--149 (+5)

56

Victor Ruotolo, Charlotte, N.C. - Jon Eichstaedt, Charlotte, N.C.

75-75--150 (+6)