Carolinas Super Sr. Four-Ball Preview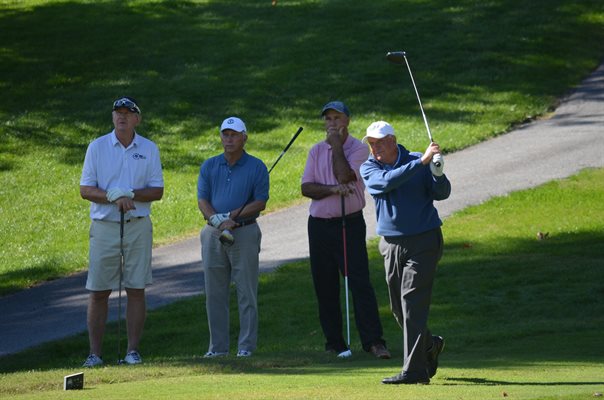 Ernie Newton (swinging) and Jim Pridgen (L) are the only team to have won the Carolinas Super Senior Four-Ball

SOUTHERN PINES, N.C. (October 5, 2016) -- The 5th Carolinas Super Senior Four-Ball Championship will be contested at Rock Hill Country Club in Rock Hill, S.C. from October 10-11, 2016. The Carolinas Super Senior Four-Ball Championship format is 36 holes of four-ball stroke play. Entry is open to any male amateur golfer who has reached his 65th birthday by October 10, 2016, is a legal resident of North Carolina or South Carolina, is a member in good standing of a club which is a member of the Carolinas Golf Association and has an active USGA Handicap Index®. A full field of 52 teams are registered to compete at Rock Hill Country Club. List of participants
Related: Tee Times & Pairings | Hole-by-hole Scoring | Championship History
The only players to ever win the Carolinas Super Senior Four-Ball, partners Jim Pridgen of Jamestown, N.C., and Ernie Newton of Wallburg, N.C., return for a chance at their fifth consecutive title. In last year's championship held at Hendersonville Country Club, Pridgen and Newton were neck and neck down the stretch with the team of Arlis Pike of Kernersville, N.C. and Charlie Parks of Asheboro, N.C. Pridgen and Newton held a three shot lead heading to the back nine, but had to birdie Nos. 15 and 16 and drain an eight-foot par putt on the final hole to secure their fourth Carolinas Super Senior Four-Ball Championship by one stroke.
In addition to Pike and Parks, other past runner-up teams looking to dethrone Pridgen and Newton are: 2014 co-runner-ups Barry DeLapp of Hendersonville, N.C. and Jim Hickman of Maiden, N.C. as well as Bob Yow of Clinton, N.C. and Roger Taylor of Conover, N.C.; and 2012 runner-up Mike Sprouts of Newton, N.C. and John Green of Southern Pines, N.C.
Scoring will be provided by the CGA throughout the championship, offering 9 and 18-hole updates. Live updates will also be available on the CGA's official Twitter account, @cgagolf1909. Continue to visit the CGA website throughout this championship and all year long for complete championship coverage including scores, interviews, photos, and recaps.
About the Carolinas Golf Association (CGA)
The CGA is a 501(c)(3) not-for-profit educational organization that was founded in 1909 to promote and to protect the game of golf in the Carolinas by providing competitions, education, support and benefits to golf clubs and golfers. The CGA is the second largest golf association in the country with over 700 member clubs represented by nearly 150,000 individuals.
The CGA annually conducts 43 championships and five team match competitions for men, women, juniors, and seniors. It also runs over 140 One-Day (net and gross) events and qualifying for USGA national championships. The CGA serves golf in the Carolinas with numerous programs such as: the USGA Handicap System; tournament management software and support; course measuring and course/slope ratings; agronomy consultation; answers about the Rules of Golf, Rules of Amateur Status, and Handicapping; Carolinas Golf Magazine; Interclub series; Tarheel Youth Golf Association; Carolinas Golf Hall of Fame; expense assistance for USGA Junior and Girls' Junior qualifiers from the Carolinas; and the Carolinas Golf Foundation (CGF). The CGF has distributed more than $1,500,000 since 1977 to benefit Carolinas' golf initiatives including junior and women's programs.
For more information about the CGA, visit www.carolinasgolf.org.
##30##