Perry-Stephens Win Super Sr. 4-Ball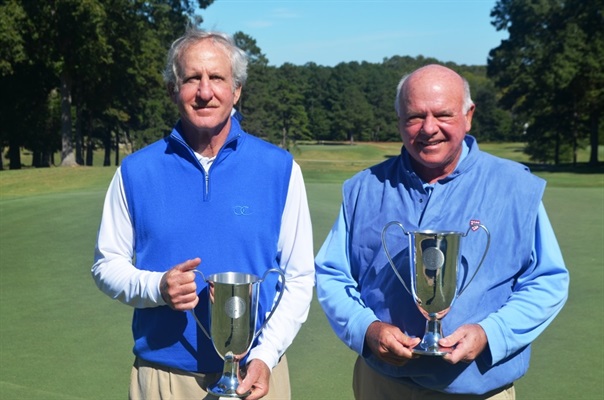 2016 Champions: Russ Perry & Mark Stephens
ROCK HILL, SC (October 11, 2016) – Final results of the 5th Carolinas Super Senior Four-Ball Championship at Rock Hill Country Club in Rock Hill, SC on Tuesday, October 11, 2016.
Related: Tee Times & Pairings | Hole-by-hole Scoring
Former North Carolina Senior Four-Ball champions Russ Perry from Winston-Salem, NC – Mark Stephens from Troutman, NC followed up their first round 69 with another three-under par 69 to win the 2016 Carolinas Super Senior Four-Ball Championship. The partners who play together often at their home course Old Town Golf Club won the championship by one stroke over first round co-leaders Charlie Parks of Asheboro, NC – Arlis Pike of Kernersville, NC. "We didn't know how we stood", Stephens said, all they knew was to "go as low as we can" Perry and Stephens said in unison. Perry birdied two of the last four holes and a clutch par save by Stephens on the last hole clinched the championship.
Fellow first round co-leaders Bob Desjardins of Matthews, NC – Bill Boles, Jr of Wilson, NC shot one-under par 71 in the final round and finished third. Prior to this year, the only champions of the Carolinas Super Senior Four-Ball were Jim Pridgen of Jamestown, N.C. and Ernie Newton of Winston-Salem, N.C. finished tied-10th after shooting matching rounds of even-par 72.
Entry is open to any male amateur golfer who has reached his 65th birthday by October 10, 2016 and is a legal resident of North Carolina or South Carolina, is a member in good standing of a club which is a member of the Carolinas Golf Association and has an active USGA Handicap Index® at a CGA member club.
Final Results
Place

Team

Score

1

Russ Perry, Winston Salem, N.C. - Mark Stephens, Troutman, N.C.

69-69--138 (-6)

2

Charlie Parks, Asheboro, N.C. - Arlis Pike, Kernersville, N.C.

69-70--139 (-5)

3

Robert Desjardins, Matthews, N.C. - Bill Boles Jr., Wilson, N.C.

69-72--141 (-3)

T4

Todd Turner, West End, N.C. - Dickie Brewer, Winston Salem, N.C.

73-69--142 (-2)

T4

Rick Luzar, Pinehurst, N.C. - Don Slater, Durham, N.C.

73-69--142 (-2)

T4

Ron Carpenter, Creedmoor, N.C. - Gary Brown, Charlotte, N.C.

70-72--142 (-2)

T7

Jimmy Stevenson, Fort Mill , S.C. - Bob Pitzer, Fort Mill, S.C.

71-72--143 (-1)

T7

George Leight Jr., Apex, N.C. - Dr. Dick Hogan, Burlington, N.C.

70-73--143 (-1)

T7

Tom Thorpe, Clemmons, N.C. - Jim Gress, Clemmons, N.C.

74-69--143 (-1)

T10

Jim Pridgen, Jamestown, N.C. - Ernie Newton, Winston Salem, N.C.

72-72--144 (Even)

T10

David Millis, High Point, N.C. - James Brown, High Point, N.C.

70-74--144 (Even)

T10

Bob Klug, Pinehurst, N.C. - Vance Whicker, Summerfield, N.C.

69-75--144 (Even)

T13

Arnold Edwards, Charlotte , N.C. - Al Edwards, North Myrtle Beach, S.C.

71-74--145 (+1)

T13

Frank Wrenn III, Greenville, S.C. - John Dennis III, Greenville, S.C.

70-75--145 (+1)

T15

Doug Buchanan, Charlotte, N.C. - Norman Davis Jr, Charlotte, N.C.

73-73--146 (+2)

T15

Mo York, Mt Pleasant, S.C. - Charles Hodges, Charlotte, N.C.

75-71--146 (+2)

T15

Gene Grubb, Greensboro, N.C. - JD Lawson, Greensboro, N.C.

72-74--146 (+2)

T18

Ted Coia, Simpsonville, S.C. - Bob Smith, Greer, S.C.

71-76--147 (+3)

T18

Vardaman Banks, Matthews, N.C. - Jerry Hartsell, Midland, N.C.

73-74--147 (+3)

T18

Don King, Rock Hill, S.C. - Marion King, Edgemoor, S.C.

73-74--147 (+3)

T18

Mike Ridgeway, Inman, S.C. - Frank Wilson, Inman, S.C.

74-73--147 (+3)

T18

Mike Forrest, Rock Hill, S.C. - Jerry Johnson, Rock Hill, S.C.

73-74--147 (+3)

23

Mike Weiner, Kiawah Island, S.C. - George Ackerman Jr, Charleston, S.C.

73-75--148 (+4)

T24

Mike Sprouts, Newton, N.C. - John Green, Southern Pines, N.C.

74-75--149 (+5)

T24

Greg Powell, Charlotte, N.C. - David Watterworth, Charlotte, N.C.

73-76--149 (+5)

T24

Paul Stroup, Charlotte, N.C. - David Brewer, Charlotte, N.C.

75-74--149 (+5)

T27

Roger Taylor, Conover, N.C. - Bob Yow, Clinton, N.C.

77-73--150 (+6)

T27

Vic Hannon, Columbia, S.C. - Bob Stringer, Blythewood, S.C.

77-73--150 (+6)

T27

Russ McLauchlan, Fuquay-Varina, N.C. - Terry Rathman, Gastonia, N.C.

74-76--150 (+6)

T27

Dennis Visich, Okatie, S.C. - Art Arns, Bluffton, S.C.

74-76--150 (+6)

T27

Bob Olsen, Monroe, N.C. - Bill Beal, Matthews, N.C.

75-75--150 (+6)

T32

Barry DeLapp, Hendersonville , N.C. - Jim Hickman, Maiden, N.C.

74-77--151 (+7)

T32

Dan Anderson, Lenoir, N.C. - Robert Crawford, Winston Salem, N.C.

72-79--151 (+7)

T32

Jamie Frazier, Winnsboro, S.C. - Lanny Correll Sr, Pawleys Island, S.C.

79-72--151 (+7)

T32

John Laehn, Aiken, S.C. - Patrick Luskey, Aiken, S.C.

74-77--151 (+7)

T32

Bob Beasley, Greensboro, N.C. - Wiley Barrett, Southern Pines, N.C.

74-77--151 (+7)

37

Brad Dorsett, Mount Airy, N.C. - George Snyder, Mount Airy, N.C.

76-76--152 (+8)

T38

Steve Spiegler, Charlotte, N.C. - Bill Lee, Charlotte, N.C.

75-78--153 (+9)

T38

Harold Fisher, Clover, S.C. - Tom Bookmiller, Lake Wylie, S.C.

75-78--153 (+9)

T38

Dr. W Lee Irving, Bluffton, S.C. - Al Thiess, Bluffton, S.C.

78-75--153 (+9)

T41

Gabe Hill III, Charlotte, N.C. - Edward Gregor, Indian Land, S.C.

79-75--154 (+10)

T41

Steve Pachol, Columbia, S.C. - Greg Schachner, Elgin, S.C.

76-78--154 (+10)

T43

Steve Preston, Charlotte, N.C. - Charles Wolff, Weddington, N.C.

79-78--157 (+13)

T43

Phillip Greene MD, Charlotte, N.C. - Xan Law Jr, Charlotte, N.C.

79-78--157 (+13)

45

Tom Carbone, Mooresville, N.C. - James Marshall, Davidson, N.C.

78-81--159 (+15)

46

Ray Novicki, Southern Pines, N.C. - Mike Novicki, Goldsboro, N.C.

82-82--164 (+20)

47

Jack Sommer, Cornelius, N.C. - Don Russell, Fort Mill , S.C.

84-85--169 (+25)