Jim Grainger No Longer a Stranger to the Winner's Circle at Carolinas Senior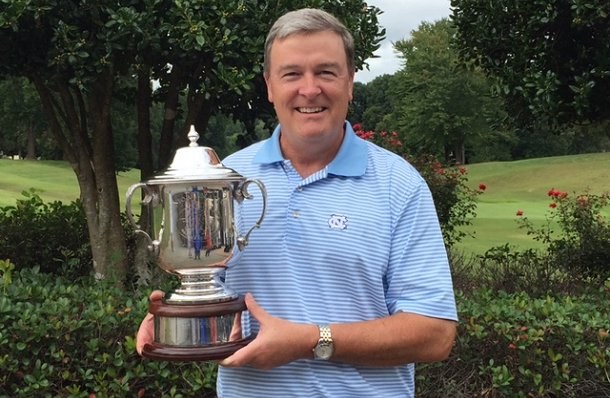 Jim Grainger
GREENSBORO, N.C. – Final round results of the 53rd Carolinas Senior Amateur Championship hosted by Sedgefield Country Club (Dye Course) in Greensboro, N.C. on Friday, September 26, 2014 (6350 yards, par 35-36—71, 71.7,136).
Playing in the next to last group of the day, Jim Grainger, 58, of Charlotte, N.C. fired a tournament-low round of five-under 66 to win the 53rd Carolinas Senior Amateur by one stroke. The win is Grainger's first CGA individual title but fourth in his career that includes the 1976 Carolinas Father-Son with his dad Ike Grainger, 1986 Carolinas Four-Ball with Bill Plyler and the 2012 North Carolina Senior Four-Ball with reigning North Carolina Senior Amateur champion Jim Pearson.
"I did not know how I stood until I finished the round," Grainger said. "It's as good as I could play and figured that it was good enough to be around the lead."
Grainger began his round with a birdie-birdie-birdie start to vault into the lead. Bogeys on holes 4 and 6 dropped him back into a tie for the lead. He then played bogey free the remainder of the round making four birdies on holes 7, 10, 14 and most importantly on the 188-yard par 3 16th hole to take a two shot lead at that time.
Playing behind Grainger in the last group was 36-hole leader Gary Robinson of Fayetteville, N.C., two-time defending champion Rick Cloninger of Rock Hill, S.C. and Richard Condrey of Nebo, N.C. Robinson faltered early with a four-over par 39 front nine but rallied with a four-under 32 on the back nine to finish at even par for the round and a tie for third place with Pat Thompson of Asheville, N.C. at one-under par 212. Condrey also fell out of contention on the front nine with an outward three-over par 38 and finished the round with a 75 and in a tie for seventh place at four-over par 217.
Cloninger on the other hand continued his hot play from Thursday's round and carded a three-under par 68 to finish alone in second place at 210. Cloninger birdied the 17th hole to climb within one shot of the lead. His birdie putt on the final hole just slid by securing the victory for Grainger.
A Charlotte Country Club member, Grainger has been in contention at CGA senior majors but has come up short twice by losing in playoffs at the 2012 North Carolina Senior Amateur to Paul Simson of Raleigh, N.C. and 2013 North Carolina Senior Amateur to Russ Perry of Winston-Salem, N.C.
"A friend of mine (Don Detweiler) told me that it was my time the other night at dinner. After making birdie on #7, I told myself that this was my time. I keep a pretty even head when playing and felt at peace for the most part today. I didn't let the nerves get to me and was able to hit good shots when I needed to."
With the win, Grainger receives possession of the permanent trophy for the ensuing year, an automatic spot on the Carolinas Senior Team and 10-year exemptions into the Carolinas Senior Amateur and North Carolina Senior Amateur.
The average score in round three was 75.8 and the total average score for the championship was 78.2. Four players finished under par for the championship on the Pete Dye designed layout.
The Carolinas Senior Amateur Championship is a 54-hole stroke play event open to any male amateur golfer who reached his 55th birthday by today, is a legal resident of North Carolina or South Carolina, is a member in good standing of a club which is a member of the Carolinas Golf Association and has an active USGA Handicap Index® at a CGA member club that does not exceed 10.4.
This event is one of 40 championships conducted annually by the Carolinas Golf Association, which is in its 105th year of serving amateur golf in the Carolinas.
For more information about the 53rd Carolinas Senior Amateur Championship of the Carolinas Golf Association, visit the Championship Home Page online at: https://www.carolinasgolf.org/championship/home/2014senior/year/2014
Hole-by-Hole Scoring: https://www.ghintpp.com/carolinasgolf/TPPOnlineScoring/ResultsStroke.aspx?id=549
Final Results
| | | | |
| --- | --- | --- | --- |
| Place | Competitor | Score | Amt. Won |
| 1 | Jim Grainger, Charlotte, N.C. | 70-73-66--209 (-4) | $600.00 |
| 2 | Rick Cloninger, Fort Mill, S.C. | 75-67-68--210 (-3) | $450.00 |
| T3 | Pat Thompson, Asheville, N.C. | 74-70-68--212 (-1) | $387.50 |
| T3 | Gary Robinson, Fayetteville, N.C. | 68-73-71--212 (-1) | $387.50 |
| T5 | Russ Perry, Winston Salem, N.C. | 75-72-69--216 (+3) | $337.50 |
| T5 | Steve Sharpe, Greensboro, N.C. | 75-72-69--216 (+3) | $337.50 |
| T7 | Jim Pearson, Charlotte, N.C. | 75-71-71--217 (+4) | $275.00 |
| T7 | Jim Gallagher, Charlotte, N.C. | 74-72-71--217 (+4) | $275.00 |
| T7 | Richard Condrey, Nebo, N.C. | 72-70-75--217 (+4) | $275.00 |
| 10 | Buck Hall, Thomasville, N.C. | 75-74-69--218 (+5) | $225.00 |
| 11 | Robert Vespa, Summerfield, N.C. | 71-73-75--219 (+6) | $200.00 |
| T12 | Bill Smunk, Kingstree, S.C. | 77-75-69--221 (+8) | $180.00 |
| T12 | Brad Buxton, Greensboro, N.C. | 76-73-72--221 (+8) | $180.00 |
| T12 | Preston Edmondson, Morrisville, N.C. | 72-76-73--221 (+8) | $180.00 |
| T15 | Wayne Rogers, Easley, S.C. | 72-77-74--223 (+10) | $151.67 |
| T15 | Keith Waters, Raleigh, N.C. | 75-75-73--223 (+10) | $151.67 |
| T15 | Ernie Newton, Wallburg, N.C. | 77-73-73--223 (+10) | $151.67 |
| T18 | Don Detweiler, Raleigh, N.C. | 80-73-72--225 (+12) | $132.50 |
| T18 | Greg Powell, Charlotte, N.C. | 75-80-70--225 (+12) | $132.50 |
| T18 | Dennis Helms, Monroe, N.C. | 79-71-75--225 (+12) | $132.50 |
| T18 | Frank Ford III, Charleston, S.C. | 76-74-75--225 (+12) | $132.50 |
| T22 | Bill Long, Ahoskie, N.C. | 73-78-75--226 (+13) | $115.00 |
| T22 | Garrett Garland, Huntersville, N.C. | 76-75-75--226 (+13) | $115.00 |
| T22 | Ed Byman, Raleigh, N.C. | 71-74-81--226 (+13) | $115.00 |
| 25 | Tim Teaster, Columbia, S.C. | 74-73-80--227 (+14) | $105.00 |
| T26 | Eric Ardery, Durham, N.C. | 77-74-77--228 (+15) | $100.00 |
| T26 | Rodney Jones, Apex, N.C. | 77-76-75--228 (+15) | $100.00 |
| T26 | Mike Arnold, Mooresville, N.C. | 75-79-74--228 (+15) | $100.00 |
| T29 | Hugh Quinn, Lewisville, N.C. | 81-74-74--229 (+16) | $50.00 |
| T29 | Ron Carpenter, Creedmoor, N.C. | 76-80-73--229 (+16) | $50.00 |
| T29 | Dave Davis, Greensboro, N.C. | 75-75-79--229 (+16) | $50.00 |
| T29 | Ben Whipple, Marietta, S.C. | 70-80-79--229 (+16) | $50.00 |
| T33 | Rick Luzar, Pinehurst, N.C. | 74-76-80--230 (+17) | |
| T33 | Arlis Pike, Kernersville, N.C. | 79-73-78--230 (+17) | |
| T33 | Bradford Kroll, Charlotte, N.C. | 79-74-77--230 (+17) | |
| T33 | Alan Dirk, Sanford, N.C. | 80-76-74--230 (+17) | |
| T37 | John Walters, Charlotte, N.C. | 74-80-77--231 (+18) | |
| T37 | Wesley Clark, Charlotte, N.C. | 75-79-77--231 (+18) | |
| T37 | Jim Wise, Columbia, S.C. | 81-74-76--231 (+18) | |
| T40 | John Rudolph, Charlotte, N.C. | 79-76-77--232 (+19) | |
| T40 | Sean McAvoy, Johns Island, S.C. | 79-73-80--232 (+19) | |
| 42 | Dick Hogan, Burlington, N.C. | 80-76-77--233 (+20) | |
| 43 | Jim Hunsuck, Troutman, N.C. | 75-78-81--234 (+21) | |
| T44 | Bill Baker, Raleigh, N.C. | 80-77-78--235 (+22) | |
| T44 | Bob Edens, Columbia, S.C. | 80-74-81--235 (+22) | |
| T46 | Tony Ingle, Greensboro, N.C. | 83-75-78--236 (+23) | |
| T46 | John Stratton, Greensboro, N.C. | 82-78-76--236 (+23) | |
| T46 | Kevin Green, Greensboro, N.C. | 79-78-79--236 (+23) | |
| T46 | Gary Pettit, Greensboro, N.C. | 78-80-78--236 (+23) | |
| T50 | Bob Yow, Clinton, N.C. | 78-78-81--237 (+24) | |
| T50 | David Millis, High Point, N.C. | 80-76-81--237 (+24) | |
| T50 | James Morgan, Greensboro, N.C. | 79-74-84--237 (+24) | |
| T53 | Gus Sylvan, Columbia, S.C. | 81-76-81--238 (+25) | |
| T53 | Tim Whitener, Hickory, N.C. | 78-77-83--238 (+25) | |
| T55 | Rick Hogan, Denton, N.C. | 78-80-83--241 (+28) | |
| T55 | Michael Egan, Wilmington, N.C. | 77-83-81--241 (+28) | |
| 57 | Chip Hunter, Winston Salem, N.C. | 85-75-84--244 (+31) | |
| T58 | Bob Olsen, Monroe, N.C. | 80-80-WD--WD (WD) | |
| T58 | Terry Rathman, Gastonia, N.C. | 80-76-WD--WD (WD) | |
| T58 | Kim Mansfield, High Point, N.C. | 82-75-WD--WD (WD) | |
| T58 | Jerry Horton, Wilmington, N.C. | 80-77-WD--WD (WD) | |
| T58 | Mitch Whitley, Zebulon, N.C. | 79-79-WD--WD (WD) | |
Failed to Qualify for Final Round
| | | |
| --- | --- | --- |
| T63 | Mike Sprouts, Newton, N.C. | 80-81--161 (+19) |
| T63 | George Kennon, Greensboro, N.C. | 80-81--161 (+19) |
| T63 | Jim Pridgen, Jamestown, N.C. | 81-80--161 (+19) |
| T63 | Mike Bivins, High Point, N.C. | 82-79--161 (+19) |
| T63 | Glen Subin, Pinehurst, N.C. | 79-82--161 (+19) |
| T63 | Joe Maher, Lake Wylie, S.C. | 80-81--161 (+19) |
| T63 | Steve Misenheimer, Huntersville, N.C. | 79-82--161 (+19) |
| T70 | Bill Burling, Greensboro, N.C. | 80-82--162 (+20) |
| T70 | Jimmy Hyams, Charleston, S.C. | 88-74--162 (+20) |
| T70 | Jim Gress, Clemmons, N.C. | 85-77--162 (+20) |
| T70 | Randy Allen, Myrtle Beach, S.C. | 80-82--162 (+20) |
| T70 | Stephen Glaser, Sanford, N.C. | 82-80--162 (+20) |
| T70 | Toby Tomberlin, Monroe, N.C. | 79-83--162 (+20) |
| T76 | Michael Christley Sr, Greensboro, N.C. | 82-81--163 (+21) |
| T76 | Duane Bausman, Awendaw, S.C. | 78-85--163 (+21) |
| T76 | Charlie Parks, Asheboro, N.C. | 84-79--163 (+21) |
| T76 | John Fritz, Mint Hill, N.C. | 84-79--163 (+21) |
| T76 | Jeff Jackson, Goldsboro, N.C. | 84-79--163 (+21) |
| T76 | Ken Powers, Concord, N.C. | 87-76--163 (+21) |
| T76 | Rusty Crutchfield, Fletcher, N.C. | 85-78--163 (+21) |
| T76 | Barry Mullinax, Travelers Rest, S.C. | 80-83--163 (+21) |
| T84 | Andy Burnette, Raleigh, N.C. | 86-78--164 (+22) |
| T84 | Jim Jamison, Charlotte, N.C. | 83-81--164 (+22) |
| T84 | Rodney Brecheisen, Pinehurst, N.C. | 84-80--164 (+22) |
| T84 | Chuck Parker, Raleigh, N.C. | 81-83--164 (+22) |
| T84 | David Blevins, Raleigh, N.C. | 87-77--164 (+22) |
| T89 | Jack Rector, Anderson, S.C. | 78-87--165 (+23) |
| T89 | Johnny Adams, Cary, N.C. | 82-83--165 (+23) |
| T89 | Trip Barclift, Raleigh, N.C. | 85-80--165 (+23) |
| T89 | Lennie Younce, Lenoir, N.C. | 86-79--165 (+23) |
| T89 | Joe Padgette, N. Charleston, S.C. | 84-81--165 (+23) |
| T89 | Terry Mills, Madison, N.C. | 84-81--165 (+23) |
| 95 | Larry Cowman, Charlotte, N.C. | 80-86--166 (+24) |
| 96 | Terry Collins, Pinehurst, N.C. | 81-86--167 (+25) |
| T97 | Larry Culler, Conover, N.C. | 88-81--169 (+27) |
| T97 | Bob Wansker, Charlotte, N.C. | 84-85--169 (+27) |
| T97 | Steven Fay, Durham, N.C. | 86-83--169 (+27) |
| T97 | Robert Kinsey, Murrells Inlet, S.C. | 86-83--169 (+27) |
| T101 | Bruce Beck, Myrtle Beach, S.C. | 87-83--170 (+28) |
| T101 | Barry Cheek, High Point, N.C. | 89-81--170 (+28) |
| 103 | Scotty Odell, Trinity, N.C. | 84-87--171 (+29) |
| 104 | Mo York, Mt Pleasant, S.C. | 88-87--175 (+33) |
| 105 | John Ervin, Hiddenite, N.C. | 94-93--187 (+45) |
| T106 | Robert Desjardins, Matthews, N.C. | 80-WD--WD (WD) |
| T106 | David Watterworth, Charlotte, N.C. | 82-WD--WD (WD) |
| T106 | Doug Glenn, Kannapolis, N.C. | 80-WD--WD (WD) |
| T106 | James Dill, Cary, N.C. | 78-WD--WD (WD) |
| T106 | Charley Hodges, Charlotte, N.C. | 86-WD--WD (WD) |
| T106 | Steve Lambert, Greensboro, N.C. | 87-WD--WD (WD) |
| T106 | Steve Crow, Monroe, N.C. | 87-WD--WD (WD) |
##30##