Carolinas Captain's Putter Team Roster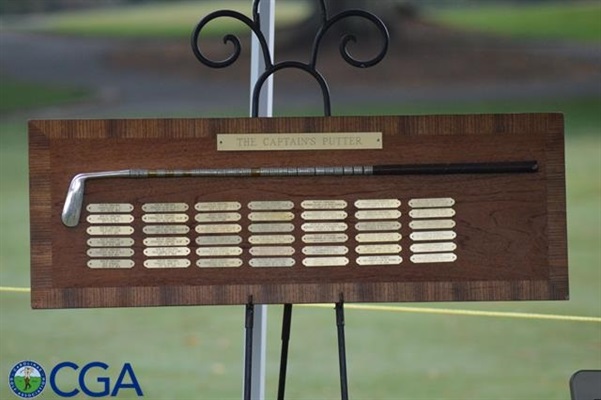 The Captain's Putter Trophy

SOUTHERN PINES, N.C. (October 9, 2016) – Top point-earners in the Carolinas Men's and Senior Men's amateur player rankings headline a contingent of 24 golfers who will represent the Carolinas team against their Virginias counterparts at the 71st Captain's Putter Matches, set for Friday-Saturday, Oct. 14-15 at Kinloch Golf Club in Manakin-Sabot, VA. Eleven players return from last year's Carolinas team.
With the teams tied at 12 points heading into last year's final day of singles matches at Old Town Club in Winston-Salem, N.C., the Carolinas team notched a five-point victory (26½-21½) at the 70th Captain's Putter Matches. The Carolinas reclaimed the Captain's Putter Trophy awarded to the champions and ended Virginias' four year win streak, which was a first in the history of the event for Virginias. The Carolinas team leads all-time 48-21-1.
The Captain's Putter Matches return to Kinloch Golf Club for the first time since 2006, when the Carolinas team won 27½-20½. Four current Carolinas team members were on that victorious team (Steve Harwell, Steve Liebler, Paul Simson, and Walter Todd, Sr.).
Since 2002, when the point system switched to one point per match, Paul Simson leads the Carolinas team with 27.5 points won. Walter Todd, Sr. and Scott Harvey are second with 15.
Carolinas Regular Team (years selected)
Matthew
Crenshaw
Burlington
N.C.
5
Parker
Dudley
Charleston
S.C.
1
David
Gies, II
Charlotte
N.C.
2
Jarrett
Grimes
Columbia
S.C.
6
Scott
Harvey
Greensboro
N.C.
9
Steve
Harwell
Mooresville
N.C.
10
Joe
Jaspers
Huntersville
N.C.
3
Tyler
Lucas
Rock Hill
S.C.
1
Nicholas
Lyerly
Salisbury
N.C.
1
Daniel
Neveu
Pinehurst
N.C.
2
Kevin
O'Connell
Raleigh
N.C.
1
Justin
Tereshko
Greensboro
N.C.
2
Paul
Tucker
Waxhaw
N.C.
3
Austin
Zoller
Summerville
S.C.
1

Carolinas Senior Team (years selected)

Preston
Edmondson
Morrisville
N.C.
4
Jim
Grainger
Charlotte
N.C.
6
Steve
Liebler
Irmo
S.C.
9
Jim
Pearson
Charlotte
N.C.
4
Gary
Robinson
Fayetteville
N.C.
7
Paul
Simson
Raleigh
N.C.
27
Pat
Thompson
Asheville
N.C.
4
Walter
Todd, Sr.
Laurens
S.C.
12
Carolinas Super Senior Team (years selected)
Ed
Byman
Raleigh
N.C.
1
Raymond
Davis
Apex
N.C.
1
Virginias Team Roster
Regular Team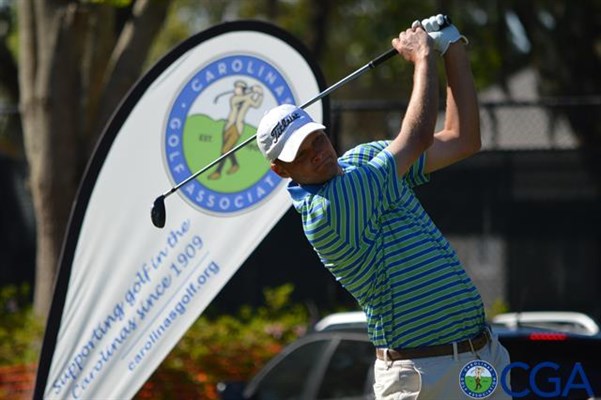 Scott Harvey of Greensboro, N.C.,
the #1 ranked amateur golfer in the Carolinas
Headlining the team is Scott Harvey, 38, of Greensboro, N.C., the #1 ranked amateur in the Carolinas. The five-time Carolinas Player of the Year won the 2016 Carolinas Mid-Amateur for his seventh CGA title. The 2014 U.S. Mid-Amateur champion, Harvey was a member of the 2015 USA Walker Cup Team. At this year's U.S. Mid-Amateur Harvey earned medalist honors for a record fourth time then finished runner-up, falling to Stewart Hagestad of NY in 37 holes.
Five players are making their first Captain's Putter appearance. In June, 17-year-old Nicholas Lyerly of Salisbury, N.C. became the youngest player to win the N.C. Amateur. Austin Zoller, 20, of Summerville, S.C. was a quarterfinalist at the 2016 S.C. Amateur Match Play and placed third at the Carolinas Amateur Championship. Parker Dudley, 26, of Charleston, S.C. was a semifinalist at the S.C. Amateur Match Play and finished third at the inaugural Carolinian Amateur. Tyler Lucas, 22, of Rock Hill, S.C. was runner-up at the 2016 N.C. Open. Kevin O'Connell, 28, of Raleigh, N.C. advanced through 2016 local U.S. Open qualifying and had top-20 finishes at both the Carolinas Amateur and North Carolina Amateur.
Justin Tereshko, 26, of Greensboro, N.C., recently finished third individually at the USGA Men's State Team. Tereshko, Harvey and David Gies, II, 27, of Charlotte placed third as a team representing North Carolina. In June Tereshko earned runner-up honors for the second consecutive year at the N.C. Amateur. Gies is making his first Captain's Putter Match appearance since 2012.
Matthew Crenshaw, 34, of Burlington, N.C., a six-time CGA champion, will be playing in his fifth Captain's Putter Matches. Paul Tucker, 38, of Waxhaw, N.C., a three-time CGA champ, finished T-3 at the 2016 N.C. Mid-Amateur. Jarrett Grimes, 44, of Columbia, S.C. advanced to the semifinals at both at the S.C. Amateur Match Play and Carolinas Four-Ball championships. Daniel Neveu, 49, of Pinehurst, N.C. is making his second Captain's Putter appearance after two top-20 finishes at the N.C. Amateur and N.C. Mid-Amateur. In August, Joe Jaspers, 50, of Huntersville, N.C. won his sixth Charlotte City Amateur. This is the tenth Captain's Putter selection for Steve Harwell, 53, of Mooresville, N.C., the most of Carolinas regular team players.
Senior/Super Senior Team:
In the eight-player senior portion, Paul Simson, 65, of Raleigh, N.C., will be playing in his 27th Captain's Putter Match, which ties him with Larry Boswell for the most all-time appearances by a Carolinas golfer. This year Simson, the No. 1 ranked Carolinas Senior golfer, defended his titles at both the NC Senior Amateur and the Senior Men's North & South Amateur. Now having CGA Super Senior status at age 65, Simson won the N.C. Super Senior for his 31st CGA championship. He also advanced to the Round of 16 at the U.S. Senior Amateur. In his career, Simson has won two U.S. Senior Amateurs (2010, '12) and claimed three Seniors Amateur titles (2006, '08, '10), conducted by The R&A.
The second ranked Carolinas senior, Gary Robinson of Fayetteville, N.C., turns 58 on the final day of this year's championship. A six-time CGA champ, Robinson won this year's Parent-Child Championship with daughter Lauren for a fourth time. 58-year-old Pat Thompson of Asheville, N.C., the third ranked senior, won the 2016 CPGA Senior Open. The 2015 Carolinas Senior Amateur champion, Thompson finished runner-up this year to Preston Edmondson of Morrisville, N.C. The win was 58-year-old Edmondson's second CGA title of the year, having won the N.C. Senior Four-Ball with 66-year-old Ed Byman of Raleigh, N.C. The duo finished runner-up at the Carolinas Senior Four-Ball to Charlotte, N.C. natives Jim Grainger, 60, and Jim Pearson, 61. Both Byman and Raymond Davis, 66, of Apex, N.C. are making their first appearance in the Captain's Putter Matches. Walter Todd, Sr., 56, of Laurens, S.C. makes his second consecutive appearance as a senior after ten appearances on the regular team. This year Todd won the SCGA Senior Four-Ball, SCGA Senior Better Ball, SCGA Father-Son and finished runner-up at the SCGA Senior Amateur. Steve Liebler, 57, of Irmo, S.C. finished runner-up in the Carolinas Mid-Amateur to Scott Harvey and advanced to the Round of 16 at the U.S. Senior Amateur.
The Carolinas team will be led by G. Jackson Hughes, Jr. (Greenville, S.C.). Hughes is the immediate past CGA president (2014-15).
About the Captain's Putter Team Matches
The Captain's Putter is an annual set of matches pitting top golfers from North and South Carolina against top players from Virginia and West Virginia (Virginia State Golf Association and West Virginia State Golf Association). The matches consist of two days of competition, with opening round four-ball and foursome matches (Friday, Oct. 14), followed by final-day singles matches (Saturday, Oct. 15). A victory in each match scores one point in the Ryder Cup-style format, and if a match goes 18 holes without a decision, one-half point is awarded to each side.

The CGA will post any tournament delays or cancellations via our Twitter account.
Follow us on Twitter, Facebook and Instagram. Search: cgagolf1909, #captainsputter
About the Carolinas Golf Association (CGA)
The CGA is a 501(c)(3) not-for-profit educational organization that was founded in 1909 to promote and to protect the game of golf in the Carolinas by providing competitions, education, support and benefits to golf clubs and golfers. The CGA is the second largest golf association in the country with over 700 member clubs represented by nearly 150,000 individuals.
The CGA annually conducts 43 championships and five team match competitions for men, women, juniors, and seniors. It also runs over 140 One-Day (net and gross) events and qualifying for USGA national championships. The CGA serves golf in the Carolinas with numerous programs such as: the USGA Handicap System; tournament management software and support; course measuring and course/slope ratings; agronomy consultation; answers about the Rules of Golf, Rules of Amateur Status, and Handicapping; Carolinas Golf Magazine; Interclub series; Tarheel Youth Golf Association; Carolinas Golf Hall of Fame; expense assistance for USGA Junior and Girls' Junior qualifiers from the Carolinas; and the Carolinas Golf Foundation (CGF). The CGF has distributed more than $1,500,000 since 1977 to benefit Carolinas' golf initiatives including junior and women's programs.
For more information about the CGA, visit www.carolinasgolf.org.
##30##