2017 U.S. Four-Ball Qualifier Results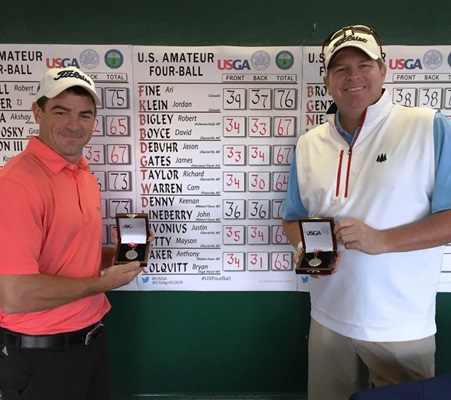 Cam Warren & Richard Taylor
CHARLOTTE, NC – Final results from U.S. Amateur Four-Ball Championship sectional qualifying hosted by Carolina Golf Club in Charlotte, NC on Monday, October 10, 2016 (6942 yards, par 36-35—71, Rating: 73.2/139).
The team of Richard Taylor from Charlotte, NC - Cam Warren from Pineville, NC earned medalist honors by shooting a seven-under-par 64. The final two positions were won in a sudden death playoff by the team of Anthony Baker from Walkertown,NC - Bryan Colquitt from High Point, NC and Akshay Bhatia from Wake Forest, NC and Grayson Wotnoskyfrom Wake Forest, NC.
Three qualifying spots and two alternate positions are available at this qualifying site. The three qualifying teams advance to the United States Amateur Four-Ball Championship at Pinehurst Country Club in Pinehurst, North Carolina from May 27-31, 2017.
Final Qualifying Results
Place

Team

Score

1

Richard Taylor, Charlotte, N.C. - Cam Warren, Pineville, N.C.

34-30--64 (-7)

2

Anthony Baker, Walkertown, N.C. - Bryan Colquitt, High Point, N.C.

34-31--65 (-6)

3

Akshay Bhatia, Wake Forest, N.C. - Grayson Wotnosky, Wake Forest, N.C.

33-32--65 (-6)

Failed to Qualify

4

Brent Delahoussaye, Greenville, S.C. - Stephen Poole Jr, Aiken, S.C.

33-32--65 (-6) 1st Alt

5

Justin Bondurant, Youngsville, N.C. - Steven Brame, Henderson, N.C.

34-32--66 (-5) 2nd Alt.

T6

Nicholas Brown, Lenoir, N.C. - Bern Gregory, Mooresville, N.C.

34-32--66 (-5)

T6

Bart Garrett, Charlotte, N.C. - Jason Wilburn, Hillsborough, N.C.

34-32--66 (-5)

T8

Brent Roof, Columbia, S.C. - Paul Tucker, Waxhaw, N.C.

34-33--67 (-4)

T8

Robert Bigley, Schenectady, N.Y. - Dave Boyce Jr, Charlotte, N.C.

34-33--67 (-4)

T8

Ryan Clapp, Raleigh, N.C. - Sam Sarris, Charlotte, N.C.

34-33--67 (-4)

T8

Jason Debuhr, Charlotte, N.C. - James Gates, Overland Park, Kan.

33-34--67 (-4)

T8

Hayes Brown, Charlotte, N.C. - Michael Brown, Atlanta, Ga.

33-34--67 (-4)

T8

Cliff Benson, Raleigh, N.C. - Korky Kemp, Greensboro, N.C.

34-33--67 (-4)

T8

Brett Boner, Charlotte, N.C. - Stephen Woodard, Charlotte, N.C.

35-32--67 (-4)

T15

Thomas Todd III, Laurens, S.C. - Matthew Wiggins, Laurens, S.C.

32-36--68 (-3)

T15

Graham Hill, Augusta, Ga. - Brandon Shaver, Charlotte, N.C.

34-34--68 (-3)

T15

Mark Donaldson, Charlotte, N.C. - Mike Groenewald, Durham, N.C.

32-36--68 (-3)

T15

Rob Beasley, Kernersville, N.C. - David Fowler, Winston-Salem, N.C.

34-34--68 (-3)

T19

Kerry Cooke, State Road, N.C. - Taylor Zimmerman, Thurmond, N.C.

34-35--69 (-2)

T19

Phil Miller, China Grove, N.C. - Andrew Morgan, China Grove, N.C.

34-35--69 (-2)

T19

Patrick Bailey, Charlotte, N.C. - Brian Geppi, Greenville, S.C.

34-35--69 (-2)

T19

Justin Livonius, Charlotte, N.C. - Mayson Petty, Charlotte, N.C.

35-34--69 (-2)

T19

Mark Absher, Winston Salem, N.C. - Daniel Welborn, Charlotte, N.C.

34-35--69 (-2)

T19

John Nieters, Clemmons, N.C. - Mark Nieters, Clemmons, N.C.

36-33--69 (-2)

T19

Daniel Jackson, Matthews, N.C. - Shawn Monroe, Charlotte, N.C.

37-32--69 (-2)

T19

Bobby Dean, Indian Trail, N.C. - Robert Preston, Matthews, N.C.

34-35--69 (-2)

T27

Hank Thompson, Pinehurst, N.C. - Robbie Zalzneck, Pinehurst, N.C.

36-34--70 (-1)

T27

Marais Lombard, Charlotte, N.C. - David Reid, Matthews, N.C.

36-34--70 (-1)

T27

Robert Burrow, Charlotte, N.C. - Andrew Singer, Long Island City, N.Y.

35-35--70 (-1)

T30

Kevin Atamian, Raleigh, N.C. - Dan Harding, Raleigh, N.C.

37-34--71 (Even)

T30

Nicholas Chauvenet, Arlington, Va. - Jeremy Ray, Pfafftown, N.C.

35-36--71 (Even)

T30

Keith Kepley, Charlotte, N.C. - Richard Lee, Charlotte, N.C.

37-34--71 (Even)

T30

Joe Burns, Fort Mill, S.C. - Devin Presnell, Charlotte, N.C.

35-36--71 (Even)

T30

Jordan Bilodeau, Charlotte, N.C. - Jake McLaren, Charlotte, N.C.

36-35--71 (Even)

T30

Ken Clarke, Cleveland, N.C. - Chris Owen, Mt. Ulla, N.C.

37-34--71 (Even)

T36

Colin Meulman, Pineville, N.C. - Michael Oliverio, Charlotte, N.C.

36-36--72 (+1)

T36

Chris O'Shea, Durham, N.C. - Rob Stover, Durham, N.C.

38-34--72 (+1)

T36

Keenan Denny, King, N.C. - Wesley Lineberry, Walnut Cove, N.C.

36-36--72 (+1)

T36

Jason Cogdill, Winston-Salem, N.C. - Jeremy Rudock, Winston Salem, N.C.

35-37--72 (+1)

T36

Chad Fultz, Charlotte, N.C. - Will Oldham, Charlotte, N.C.

36-36--72 (+1)

T36

Blair Bowland, Burlington, N.C. - Dustin Moore, Greensboro, N.C.

36-36--72 (+1)

T36

Jimmy Eggers, Advance, N.C. - Billy Foshee, Winston-Salem, N.C.

35-37--72 (+1)

T36

Ken Bass, Pinehurst, N.C. - Bill Rocchi, Pinehurst, N.C.

35-37--72 (+1)

T36

Scott Burnett, Matthews, N.C. - Dwayne Simpson, Charlotte, N.C.

37-35--72 (+1)

T36

Eric Clay, Gastonia, N.C. - Matt Poovey, Charlotte, N.C.

35-37--72 (+1)

T46

Thom Goeken, Charlotte, N.C. - James Herring, Charlotte , N.C.

36-37--73 (+2)

T46

John Beatty Jr., Matthews, N.C. - Michael Tulacz, Rock Hill, S.C.

37-36--73 (+2)

T46

Chris Estridge, Charlotte, N.C. - Will Thevaos, Indian Trail, N.C.

39-34--73 (+2)

49

Jesse Key, Evans, Ga. - Christopher Smith, Wilmington, N.C.

37-37--74 (+3)

T50

Mr. Robert Gefaell Jr., Charlotte, N.C. - Tj Wagner, Charlotte, N.C.

36-39--75 (+4)

T50

Todd Prichard, Holly Springs, N.C. - Brian Urban, Holly Springs, N.C.

37-38--75 (+4)

T50

Bret Boulware, Greenville, S.C. - Tyler Boulware, Morgantown, W.Va.

39-36--75 (+4)

T50

Bill Hyder, Charlotte, N.C. - Michael Meyer, Charlotte, N.C.

35-40--75 (+4)

T54

David Brown, Conover, N.C. - Mike Gentry, Indian Trail, N.C.

38-38--76 (+5)

T54

Hunter Shull, Charlotte, N.C. - Michael Teague, Charlotte, N.C.

38-38--76 (+5)

T54

Ari Fine, Toronto, ON - Jordan Klein, Toronto, ON

39-37--76 (+5)

T57

Joe Davis, Gastonia, N.C. - Tom Gray Jr, Gastonia, N.C.

40-37--77 (+6)

T57

Jackson Hughes III, Charlotte, N.C. - Marion Moore Jr., Georgetown, S.C.

41-36--77 (+6)

59

Tim Dean, Ocean Isle Beach, N.C. - Samuel Ring, Cathrage, N.C.

WD