Carolinas Trail Captain's Putter Matches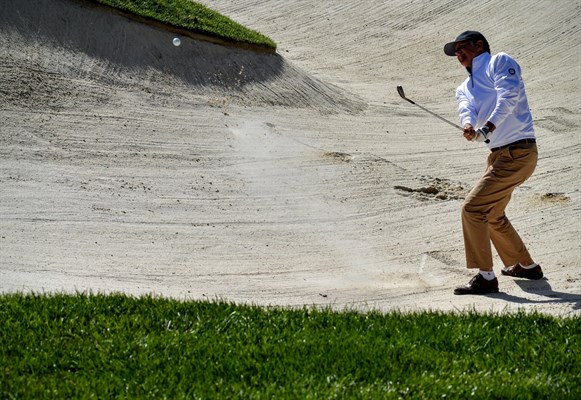 Walter Todd, Sr. of Laurens, S.C. earned 1½ points Friday (VSGA/Chris Lang)
MANAKIN-SABOT, Va. (October 14, 2016) – The 24 golfer Carolinas team trails their Virginias counterparts by three points after the first day of four-ball and foursomes competition at the 71st Captain's Putter Matches at Kinloch Golf Club in Manakin-Sabot, Va.
Related: Photo Gallery | Online Scoring | Preview
Heading into Saturday, the Carolinas look to surmount a 13½-10½ deficit and keep the Captain's Putter trophy awarded to the champions of the Ryder Cup-style competition. Team Carolinas need at least 13 points in Saturday's singles matches to retain the title. The Carolinas' last win on Virginia soil course came in 2010. The Virginias need 11 points to win the Captain's Putter for the fifth time in the past six years. The Carolinas lead all-time 48-21-1.
The Carolinas senior teams of Steve Liebler (Irmo, S.C.) - Walter Todd, Sr. (Laurens, S.C.) and Jim Grainger (Charlotte, N.C.) - Jim Pearson (Charlotte, N.C.) each tallied 1½ points Friday. A Captain's Putter rookie team of Nicholas Lyerly (Salisbury, N.C.) - Kevin O'Connell (Raleigh, N.C.) halved their morning four-ball match then held a three-up advantage halfway thru the afternoon foursomes match before their opponents birdied five of the final eight holes to steal the point. At 17-years-old, Lyerly is the youngest competitor in the field. Scott Shingler of Virginia, the No. 1 player in Virginia rankings, knew how much his match-clinching putt meant late Friday afternoon. "Every point is crucial, because the Carolinas, they're a great team," Shingler said. "They always put together a solid team. So you have the mindset that every point really is important."
The event concludes Saturday with 24 singles matches. Play begins at 8:30 a.m.
The Captain's Putter Matches return to Kinloch Golf Club for the first time since 2006, when the Carolinas team won 27½-20½. Four current Carolinas team members were on that victorious team (Steve Harwell, Steve Liebler, Paul Simson, and Walter Todd, Sr.). In last year's competition at Old Town Club in Winston-Salem, N.C., the Carolinas team notched a five-point victory (26½-21½) to end a four year reign by the Virginias.

71st Captain's Putter Matches
Kinloch Golf Club, Manakin-Sabot, Va.
Par 72, 7,304 yards

Morning four-ball results

Steve Harwell/Joe Jaspers (C) def. Keith Decker/Jon Hurst, 3 and 2

Buck Brittain/Matt Chandler (V) def. Parker Dudley/Daniel Neveu, 1 up

Jarrett Grimes/Austin Zoller (C) def. Phillip Reale/Tad Tomblin, 4 and 3

Kyle Bailey/Vincent Nadeau (V) def. Matthew Crenshaw/Paul Tucker, 1 up

Scott Shingler/Justin Young (V) def. Tyler Lucas/Justin Tereshko, 1 up

Nicholas Lyerly/Kevin O'Connell (C) vs. Pat Carter/Sam O'Dell, halved

Adam Horton/Jeffrey Long (V) def. David Gies II/Scott Harvey, 3 and 2

Steve Liebler/Walter Todd (C) vs. James Gallagher/Mike Krulich, halved

Dave Pulk/Leon Roday (V) def. Russ Perry/Pat Thompson, 3 and 2

Jim Grainger/Jim Pearson (C) def. Rick Moore/Harold Payne, 3 and 2

Matthew Sughrue/Patrick Tallent (V) def. Preston Edmondson/Paul Simson, 2 up

Ed Byman/Raymond Davis (C) def. Vinny Giles/Charles Green III, 2 and 1

Virginias leads 7-5 after four-ball matches



Afternoon foursome matches

Decker/Hurst (V) def. Dudley/Neveu, 1 up

Brittain/Chandler (V) def. Harwell/Jaspers, 2 and 1

Crenshaw/Tucker (C) def. Reale/Tomblin, 3 and 2

Bailey/Nadeau (V) def. Grimes/Zoller, 4 and 3

Shingler/Young (V) def. Lyerly/O'Connell, 2 and 1

Gies/Harvey (C) def. Carter/O'Dell, 2 and 1

Lucas/Tereshko (C) def. Horton/Long, 2 and 1

Gallagher/Krulich (V) def. Perry/Thompson, 6 and 5

Liebler/Todd (C) def. Pulk/Roday, 3 and 1

Edmondson/Simson (C) def. Moore/Payne, 5 and 4

Grainger/Pearson (C) vs. Sughrue/Tallent, halved

Giles/Green (V) def. Byman/Davis, 2 and 1

Virginias leads 13½-10½ after foursome matches



Saturday's singles matches

Carolinas player listed first

Tee #1

Tereshko vs. Bailey, 8:30 a.m.

Dudley vs. Horton, 8:38 a.m.

Zoller vs. Long, 8:46 a.m.

Grimes vs. Tomblin, 8:54 a.m.

Harvey vs. Chandler, 9:02 a.m.

Harwell vs. Reale, 9:10 a.m.

Lucas vs. Nadeau, 9:18 a.m.

Gies vs. Carter, 9:26 a.m.

Jaspers vs. Decker, 9:34 a.m.

Lyerly vs. O'Dell, 9:42 a.m.

O'Connell vs. Young, 9:50 a.m.

Neveu vs. Brittain, 9:58 a.m.

Tucker vs. Hurst, 10:06 a.m.

Crenshaw vs. Shingler, 10:14 a.m.

Tee #10

Simson vs. Pulk, 8:45 a.m.

Edmondson vs. Roday, 8:53 a.m.

Grainger vs. Moore, 9:01 a.m.

Pearson vs. Payne, 9:09 a.m.

Davis vs. Giles, 9:17 a.m.

Byman vs. Green, 9:25 a.m.

Perry vs. Krulich, 9:33 a.m.

Todd vs. Gallagher, 9:41 a.m.

Liebler vs. Sughrue, 9:49 a.m.

Thompson vs. Tallent, 9:57 a.m.
Thanks to the Virginia State Golf Association with their contribution to this release.
About the Captain's Putter Team Matches
The Captain's Putter is an annual set of matches pitting top golfers from North and South Carolina against top players from Virginia and West Virginia (Virginia State Golf Association and West Virginia State Golf Association). The matches consist of two days of competition, with opening round four-ball and foursome matches (Friday, Oct. 14), followed by final-day singles matches (Saturday, Oct. 15). A victory in each match scores one point in the Ryder Cup-style format, and if a match goes 18 holes without a decision, one-half point is awarded to each side.
About the Carolinas Golf Association (CGA)
The CGA is a 501(c)(3) not-for-profit educational organization that was founded in 1909 to promote and to protect the game of golf in the Carolinas by providing competitions, education, support and benefits to golf clubs and golfers. The CGA is the second largest golf association in the country with over 700 member clubs represented by nearly 150,000 individuals.
The CGA annually conducts 43 championships and five team match competitions for men, women, juniors, and seniors. It also runs over 140 One-Day (net and gross) events and qualifying for USGA national championships. The CGA serves golf in the Carolinas with numerous programs such as: the USGA Handicap System; tournament management software and support; course measuring and course/slope ratings; agronomy consultation; answers about the Rules of Golf, Rules of Amateur Status, and Handicapping; Carolinas Golf Magazine; Interclub series; Tarheel Youth Golf Association; Carolinas Golf Hall of Fame; expense assistance for USGA Junior and Girls' Junior qualifiers from the Carolinas; and the Carolinas Golf Foundation (CGF). The CGF has distributed more than $1,500,000 since 1977 to benefit Carolinas' golf initiatives including junior and women's programs.
For more information about the CGA, visit www.carolinasgolf.org.
##30##