Kim leads after round one of Anderson Boys'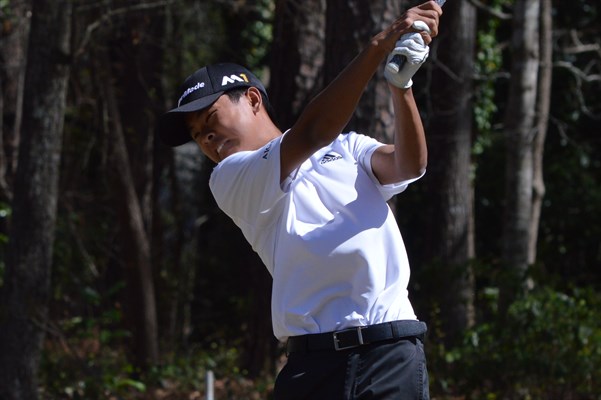 Chris Kim of Cary, N.C. took advantage of perfect playing conditions shooting a first round of four under par 68 to take the lead in the 9th Jimmy Anderson Boys' Invitational. Kim, a high school sophomore at Green Hope High School, got off to great start making birdies on the first two holes at Jacksonville CC in Jacksonville, N.C. "All my shots were good and my putting was great" said Kim. Kim also birdied the first two holes on his second nine and then closed with seven straight pars to finish off his round.
Logan McNeely of Conover, N.C. sits just one shot back after his opening round of 69. 2015 NC Junior Champion Jack Massei of Cary, NC and 2016 N.C. Men's Amateur champion Nicholas Lyerly of Salisbury, N.C. are tied for third place two shots back after rounds of 70. The final round begins Sunday morning at 8 am off #1 and #10 tees with the leaders going off at 10:06 am off #1.
This annual junior tournament was started by the alumni of the Jacksonville Country Club junior golf program in 2009 to honor their longtime teacher and friend Mr. Jimmy Anderson. Jimmy Anderson was the head golf professional at Jacksonville Country Club for over 25 years. Each Saturday morning, he conducted a junior golf clinic to help spread the game of golf to the next generation. During his tenure at Jacksonville CC, he taught many juniors including Mallory Miller, the 1987 N.C. Junior Champion and numerous future collegiate and golf professionals. Not only did he teach the game of golf, but was always there with a helpful word of encouragement to any young golfer. The tournament began as a boys and girls tournament, but due to the success of the event, the girls have been given their own tournament that is conducted each fall in October.
This annual junior golf tournament is conducted by the Carolinas Golf Association.
Overall (6,580 yards, par 72, 71.9/128)

Place

Name

Score

1

Chris Kim (2019), Cary, NC

34-34--68

2

Logan McNeely (2017), Conover, NC

34-35--69

T3

Jack Massei (2018), Cary, NC

35-35--70

Nicholas Lyerly (2017), Salisbury, NC

37-33--70

T5

Brandon Einstein (2018), Clemmons, NC

34-37--71

Jack Towarnicky (2019), New Bern, NC

36-35--71

Nathan Norfleet (2018), Chapel Hill, NC

34-37--71

T8

Daniel Azallion (2019), Hilton Head, SC

37-35--72

Jackson Van Paris (2021), Pinehurst, NC

37-35--72

T10

Nicholas Mayfield (2019), Rock Hill, SC

37-36--73

Rob Salisbury (2019), Winston-Salem, NC

35-38--73

Thomas Setzer (2018), Winston-Salem, NC

36-37--73

T13

Austin Bonfiglio (2017), Holly Springs, NC

36-38--74

Austin Duncan (2017), Bessemer City, NC

35-39--74

Brian Chen (2017), Cary, NC

39-35--74

Bryson Boyette (2017), Wilson, NC

35-39--74

Dalton Mauldin (2017), Sanford, NC

38-36--74

Jake Rutter (2017), Winston Salem, NC

37-37--74

Nicklaus Sutton (2019), Matthews , NC

36-38--74

Whit Edwards (2020), Greensboro, NC

34-40--74

T21

AJ Beechler (2018), Pinehurst, NC

36-39--75

Alex Huml (2019), Cary, NC

36-39--75

Chandler Perry (2018), Clinton, NC

37-38--75

Davis Gilmore (2018), Winston Salem, NC

38-37--75

Drew Weary (2018), Bluffton, SC

37-38--75

Jackson Tyler (2017), Wilmington, NC

37-38--75

Matias La Grutta (2020), Cary, NC

36-39--75

T28

Alex Goff (2018), Kings Mountain, NC

37-39--76

Attie Giles (2018), Pinehurst, NC

33-43--76

Brady Hooks (2019), Clayton, NC

36-40--76

Holden Grigg (2019), Myrtle Beach, SC

38-38--76

Jack Hart (2020), Charlotte, NC

40-36--76

Patrick Carlin (2018), Raleigh, NC

39-37--76

Thomas Eubanks (2019), Charlotte , NC

38-38--76

Will Lewis (2018), Raleigh, NC

36-40--76

Zach Brown (2019), Bermuda Run, NC

39-37--76

Zach Roberts (2020), Holly Springs, NC

36-40--76

T38

Ben Woodruff (2018), Huntersville, NC

39-38--77

Blake Brantley (2020), Winston-Salem, NC

37-40--77

Carter Cheek (2018), Cary, NC

39-38--77

Jack Marcotte (2019), Apex, NC

38-39--77

Jacob Lowe (2017), Angier, NC

38-39--77

Kevin Burris (2018), Conway, SC

37-40--77

Luke Hackworth (2019), Charlotte, NC

37-40--77

Mason Elmore (2017), Charlotte, NC

37-40--77

William Crook (2018), Sherrills Ford, NC

37-40--77

T47

Brandon McBride (2018), Bluffton, SC

38-40--78

Brantley Moore (2017), Wilmington, NC

40-38--78

Christian Jarrell (2020), Davidson, NC

39-39--78

Hank Pritchard (2019), Asheville, NC

39-39--78

Jackson Brimfield (2021), Chapel Hill, NC

39-39--78

Josh Lendach (2021), Raleigh, NC

39-39--78

Luke Gossert (2019), Matthews, NC

39-39--78

Nathan Franks (2021), Roebuck, SC

40-38--78

Peter Hinnant (2017), Raleigh, NC

39-39--78

Thomas Hill (2017), Wilmington , NC

40-38--78

T57

Alex Rubino (2019), Charlotte, NC

39-40--79

Cade Hancock (2019), Elizabethtown, NC

40-39--79

Carson Castelli (2018), Greensboro, NC

39-40--79

Jackson Cole (2018), Pawleys Island, SC

40-39--79

Manning Sloop (2020), Rock Hill, SC

41-38--79

T62

Avery Papalia (2017), Kernersville, NC

39-41--80

Benjamin Ramos (2018), Chapel Hill, NC

40-40--80

Drew Hackett (2019), Charlotte, NC

40-40--80

Michael Childress (2018), Salisbury, NC

42-38--80

Nicholas Stuedli (2018), Charlotte, NC

38-42--80

Sam McGee (2017), Charlotte, NC

40-40--80

T68

Cameron Akers (2020), Asheville, NC

41-40--81

Cole McCarthy (2018), Wilmington, NC

41-40--81

Evan Rhodes (2017), Hickory, NC

40-41--81

Garrett Risner (2020), Holly Springs, NC

43-38--81

Grant Sellers (2018), McBee, SC

40-41--81

James Carlin (2020), Raleigh, NC

43-38--81

Trey Pope (2018), Clinton, NC

39-42--81

Zane Sullivan (2019), Charlotte, NC

41-40--81

T76

Colin Wholey (2018), Charlotte, NC

43-39--82

Eric Xing (2020), Cary, NC

42-40--82

Justin Kristof (2018), Morrisville, NC

40-42--82

T79

Hugh Svendsen (2020), Charlotte, NC

43-40--83

Minor Hinson (2021), Charlotte, NC

40-43--83

Zach Pardoll (2019), Waxhaw, NC

42-41--83

T82

Harrison Wierse (2019), Wilmington, NC

42-42--84

Johnny Velasquez (2020), Mt. Pleasant, SC

43-41--84

Rex Brietz Jr. (2018), Charlotte, NC

42-42--84

85

Kayden Roberts (2019), Cary, NC

41-44--85

86

Nick Rubino (2021), Charlotte, NC

45-43--88

87

Nicholas Holanek (2017), Cary, NC

43-49--92
Boys' 16-18 (6,580 yards, par 72, 71.9/128)

Place

Name

Score

1

Logan McNeely (2017), Conover, NC

34-35--69

T2

Jack Massei (2018), Cary, NC

35-35--70

Nicholas Lyerly (2017), Salisbury, NC

37-33--70

T4

Brandon Einstein (2018), Clemmons, NC

34-37--71

Jack Towarnicky (2019), New Bern, NC

36-35--71

Nathan Norfleet (2018), Chapel Hill, NC

34-37--71

7

Daniel Azallion (2019), Hilton Head, SC

37-35--72

T8

Nicholas Mayfield (2019), Rock Hill, SC

37-36--73

Rob Salisbury (2019), Winston-Salem, NC

35-38--73

Thomas Setzer (2018), Winston-Salem, NC

36-37--73

T11

Austin Bonfiglio (2017), Holly Springs, NC

36-38--74

Austin Duncan (2017), Bessemer City, NC

35-39--74

Brian Chen (2017), Cary, NC

39-35--74

Bryson Boyette (2017), Wilson, NC

35-39--74

Dalton Mauldin (2017), Sanford, NC

38-36--74

Jake Rutter (2017), Winston Salem, NC

37-37--74

T17

AJ Beechler (2018), Pinehurst, NC

36-39--75

Alex Huml (2019), Cary, NC

36-39--75

Chandler Perry (2018), Clinton, NC

37-38--75

Davis Gilmore (2018), Winston Salem, NC

38-37--75

Drew Weary (2018), Bluffton, SC

37-38--75

Jackson Tyler (2017), Wilmington, NC

37-38--75

T23

Alex Goff (2018), Kings Mountain, NC

37-39--76

Attie Giles (2018), Pinehurst, NC

33-43--76

Brady Hooks (2019), Clayton, NC

36-40--76

Holden Grigg (2019), Myrtle Beach, SC

38-38--76

Patrick Carlin (2018), Raleigh, NC

39-37--76

Thomas Eubanks (2019), Charlotte , NC

38-38--76

Will Lewis (2018), Raleigh, NC

36-40--76

T30

Ben Woodruff (2018), Huntersville, NC

39-38--77

Carter Cheek (2018), Cary, NC

39-38--77

Jacob Lowe (2017), Angier, NC

38-39--77

Kevin Burris (2018), Conway, SC

37-40--77

Luke Hackworth (2019), Charlotte, NC

37-40--77

Mason Elmore (2017), Charlotte, NC

37-40--77

William Crook (2018), Sherrills Ford, NC

37-40--77

T37

Brandon McBride (2018), Bluffton, SC

38-40--78

Brantley Moore (2017), Wilmington, NC

40-38--78

Hank Pritchard (2019), Asheville, NC

39-39--78

Peter Hinnant (2017), Raleigh, NC

39-39--78

Thomas Hill (2017), Wilmington , NC

40-38--78

T42

Carson Castelli (2018), Greensboro, NC

39-40--79

Jackson Cole (2018), Pawleys Island, SC

40-39--79

T44

Avery Papalia (2017), Kernersville, NC

39-41--80

Benjamin Ramos (2018), Chapel Hill, NC

40-40--80

Drew Hackett (2019), Charlotte, NC

40-40--80

Michael Childress (2018), Salisbury, NC

42-38--80

Nicholas Stuedli (2018), Charlotte, NC

38-42--80

Sam McGee (2017), Charlotte, NC

40-40--80

T50

Cameron Akers (2020), Asheville, NC

41-40--81

Cole McCarthy (2018), Wilmington, NC

41-40--81

Evan Rhodes (2017), Hickory, NC

40-41--81

Grant Sellers (2018), McBee, SC

40-41--81

Trey Pope (2018), Clinton, NC

39-42--81

Zane Sullivan (2019), Charlotte, NC

41-40--81

T56

Colin Wholey (2018), Charlotte, NC

43-39--82

Justin Kristof (2018), Morrisville, NC

40-42--82

T58

Harrison Wierse (2019), Wilmington, NC

42-42--84

Rex Brietz Jr. (2018), Charlotte, NC

42-42--84

60

Kayden Roberts (2019), Cary, NC

41-44--85

61

Nicholas Holanek (2017), Cary, NC

43-49--92

Boys' 13-15 (6,580 yards, par 72, 71.9/128)

Place

Name

Score

1

Chris Kim (2019), Cary, NC

34-34--68

2

Jackson Van Paris (2021), Pinehurst, NC

37-35--72

T3

Nicklaus Sutton (2019), Matthews , NC

36-38--74

Whit Edwards (2020), Greensboro, NC

34-40--74

5

Matias La Grutta (2020), Cary, NC

36-39--75

T6

Jack Hart (2020), Charlotte, NC

40-36--76

Zach Brown (2019), Bermuda Run, NC

39-37--76

Zach Roberts (2020), Holly Springs, NC

36-40--76

T9

Blake Brantley (2020), Winston-Salem, NC

37-40--77

Jack Marcotte (2019), Apex, NC

38-39--77

T11

Christian Jarrell (2020), Davidson, NC

39-39--78

Jackson Brimfield (2021), Chapel Hill, NC

39-39--78

Josh Lendach (2021), Raleigh, NC

39-39--78

Luke Gossert (2019), Matthews, NC

39-39--78

Nathan Franks (2021), Roebuck, SC

40-38--78

T16

Alex Rubino (2019), Charlotte, NC

39-40--79

Cade Hancock (2019), Elizabethtown, NC

40-39--79

Manning Sloop (2020), Rock Hill, SC

41-38--79

T19

Garrett Risner (2020), Holly Springs, NC

43-38--81

James Carlin (2020), Raleigh, NC

43-38--81

21

Eric Xing (2020), Cary, NC

42-40--82

T22

Hugh Svendsen (2020), Charlotte, NC

43-40--83

Minor Hinson (2021), Charlotte, NC

40-43--83

Zach Pardoll (2019), Waxhaw, NC

42-41--83

25

Johnny Velasquez (2020), Mt. Pleasant, SC

43-41--84

26

Nick Rubino (2021), Charlotte, NC

45-43--88