Perry Leads Supers, Garland Leads 70+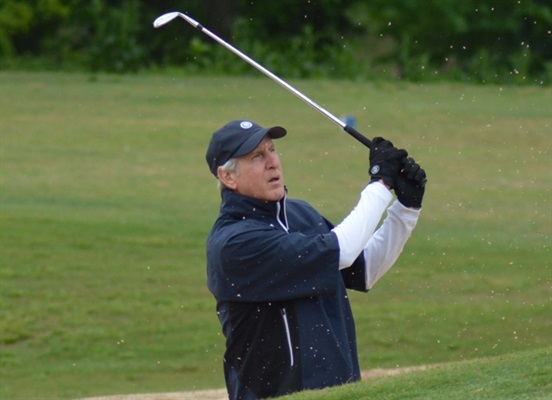 Russ Perry
Russ Perry of Winston-Salem, NC began his quest for a second CGA championship in the past month with a round of three under par 69 to lead the 9th Carolinas Super Senior by one shot heading into Thursday's final round. Perry used six birdies on the day to finish at three-under-par. Perry won the 1st NC Super Senior Four-Ball with partner Mark Stephens of Troutman, NC (currently in eighth place) three weeks ago. Evan Long of Charlotte, NC and Paul Simson of Raleigh, NC sit just one shot back with rounds of two under par 70. Charlie Parks of Asheboro, NC is alone in fourth place two shots back after his round of 71.
Related: Championship Web Site | Full Field of Players | History | Starting Times | Hole-by-hole scoring
Garrett Garland of Huntersville, NC shot a 69 to put him atop the leaderboard in the 70+ Divison. Garland had seven birdies on the day. He will head into the final round with a one-shot lead over Mark Weiner of Kiawah Island, SC.
Championship Division (6097 yards, par 72, 69.6/118)

Place

Name

Score

1

Russ Perry, Winston Salem, NC

36-33--69

T2

Evan Long, Charlotte, NC

34-36--70

Paul Simson, Raleigh, NC

35-35--70

4

Charlie Parks, Asheboro, NC

36-35--71

T5

Dee Blankenhorn, Raleigh, NC

35-37--72

Mark Wagner, Statesville, NC

37-35--72

Terry Rathman, Gastonia, NC

39-33--72

8

Mark Stephens, Troutman, NC

38-35--73

T9

Arlis Pike, Kernersville, NC

39-35--74

Bob Olsen, Monroe, NC

37-37--74

Cliff Seastrunk, Raleigh, NC

39-35--74

Edward Mills, Fairview, NC

39-35--74

Joe Robinson, Rock Hill, SC

38-36--74

Spike Smith, Pinehurst, NC

40-34--74

Wayne Pyrtle, Burlington, NC

37-37--74

T16

Chuck Wunsch, Pinehurst, NC

39-36--75

David Crocker, Bluffton, SC

39-36--75

Ed Byman, Raleigh, NC

41-34--75

George Leight Jr., Apex, NC

40-35--75

T20

Dennis Helms, Monroe, NC

38-38--76

Griggy Porter, Matthews, NC

36-40--76

James DeLeon Jr., Bluffton, SC

41-35--76

Jd Lawson, Greensboro, NC

38-38--76

Joe Hackler, Myrtle Beach, SC

39-37--76

Rick Kline, Davidson, NC

40-36--76

Thomas Mudaro, Wilmington, NC

39-37--76

T27

Bill Thaxton, Monroe, NC

38-39--77

Brad Burris, High Point, NC

37-40--77

David Watterworth, Charlotte, NC

39-38--77

Gene Grubb, Greensboro, NC

40-37--77

George Ackerman Jr, Charleston, SC

41-36--77

Greg Powell, Charlotte, NC

40-37--77

Raymond Davis, Apex, NC

42-35--77

T34

Dr. Dick Hogan, Burlington, NC

39-39--78

John DeLuise, Raleigh, NC

40-38--78

Larry Whitmore, Charlotte, NC

41-37--78

Robert Dail, Wendell, NC

38-40--78

Robert Surratt, Concord, NC

42-36--78

T39

Bruce Beck, Myrtle Beach, SC

42-37--79

Carey Hite, Columbia, SC

40-39--79

Chris Tucker, Hendersonville, NC

39-40--79

David Millis, High Point, NC

41-38--79

Don Slater, Durham, NC

41-38--79

Kenneth Eichele, Pinehurst, NC

40-39--79

Mike Lavine, Rock Hill, SC

38-41--79

Randy Allen, Tryon, NC

39-40--79

Ron Carpenter, Creedmoor, NC

40-39--79

T48

Bill James, Leland, NC

43-37--80

Bob Buie, Columbia, SC

42-38--80

Bob Pitzer, Fort Mill, SC

41-39--80

Dave Moser, Charlotte, NC

41-39--80

David Ohrn, Chocowinity, NC

41-39--80

James Hamilton, Aiken, SC

40-40--80

Larry Smothers, Wilmington, NC

41-39--80

Rick Aldous, Lexington, SC

39-41--80

T56

Billy Poteat, Hickory, NC

43-38--81

Dr. W Lee Irving, Bluffton, SC

42-39--81

John Fellenz, Mars Hill, NC

41-40--81

Norman Davis Jr, Charlotte, NC

41-40--81

Roger Taylor, Conover, NC

44-37--81

Terry Barker, Chapel Hill, NC

39-42--81

T62

Charles Hodges, Charlotte, NC

41-41--82

Chuck Latham, Vass, NC

42-40--82

Duane Bausman, Awendaw, SC

41-41--82

Wiley Barrett, Southern Pines, NC

44-38--82

T66

James Brown, High Point, NC

41-42--83

Jimmy Stevenson, Fort Mill , SC

41-42--83

Joe Nevins, Kiawah Island, SC

46-37--83

Rodney Brecheisen, Pinehurst, NC

41-42--83

Todd Turner, West End, NC

41-42--83

T71

David Williams, Cary, NC

42-42--84

Roger Page, Duncan, SC

42-42--84

T73

Garland Yates, Asheboro, NC

44-41--85

Julian Spratt, Charlotte, NC

43-42--85

T75

Barry DeLapp, Hendersonville , NC

48-38--86

Dan Beacham, Honea Path, SC

41-45--86

Tony Koechli, Greer, SC

45-41--86

78

Dave Bell, Bluffton, SC

42-45--87

T79

Don Lee, Waxhaw, NC

43-45--88

Paul Stroup, Charlotte, NC

46-42--88

81

Joseph DelMaster, Fort Mill, SC

53-47--100

70+ Age Division (5573 yards, par 72, 67.4/113)

Place

Name

Score

1

Garrett Garland, Huntersville, NC

36-33--69

2

Mike Weiner, Kiawah Island, SC

32-38--70

3

John Walters, Charlotte, NC

37-35--72

T4

Arnold Edwards, Charlotte , NC

37-36--73

Buck Leigh, Columbia , SC

37-36--73

Gary Schatz, Fort Mill, SC

36-37--73

Jack Marin, Durham, NC

38-35--73

Mo York, Mt Pleasant, SC

36-37--73

T9

Dan Anderson, Lenoir, NC

37-37--74

Jack Blankenhorn, Raleigh, NC

38-36--74

11

David Cox, Huntersville, NC

36-39--75

12

Mike Sprouts, Hickory, NC

38-38--76

T13

Brooks Carey, Charlotte, NC

41-36--77

Eugene Spencer Jr, Blythewood, SC

39-38--77

15

Nick Avery, Goose Creek, SC

43-35--78

T16

Frank Morris, Winston-Salem, NC

39-40--79

Jared Long, Aiken, SC

45-34--79

Ray Novicki, Southern Pines, NC

41-38--79

Scott Schwarz, Mt. Pleasant, SC

37-42--79

Tom Ross, Chocowinity, NC

40-39--79

T21

Bill Wolcott III, Asheville, NC

41-39--80

Gary Pettit, Greensboro, NC

42-38--80

King Carter, Charlotte, NC

38-42--80

Rick Luzar, Pinehurst, NC

43-37--80

T25

Bill Beal, Matthews, NC

40-41--81

Smitty File, Anderson, SC

41-40--81

T27

Al Edwards, North Myrtle Beach, SC

40-42--82

Albert Weymouth, Fort Mill, SC

41-41--82

Andy Schleifstein, Chocowinity, NC

42-40--82

Bill Shake, Charlotte, NC

42-40--82

David Fairley, Charlotte, NC

40-42--82

32

Rick Sears, Leland, NC

40-43--83

33

Bob Beasley, Greensboro, NC

41-44--85

34

Gene Lookabill, Sr., Charlotte, NC

41-45--86

T35

John Chesney, Beaufort, SC

47-42--89

Skip McPhail, Gastonia, NC

45-44--89

37

Marshall Stuart, Easley, SC

44-47--91