Simson Snags Super Senior, Garland Wins 70+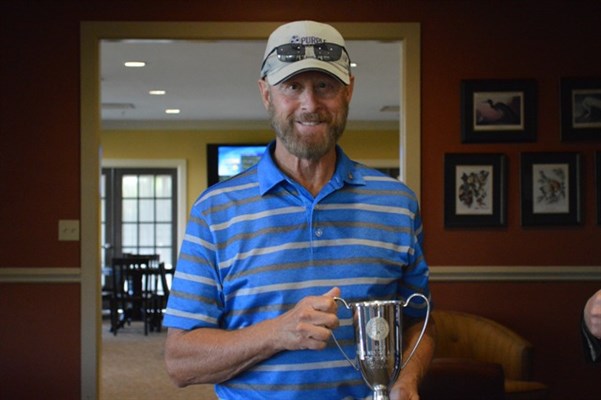 Garrette Garland of Huntersville, NC
9th Carolinas Super Senior Amateur Championship
Final Round Results

FORT MILL, S.C. (April 20, 2017) – Final Results of the 9th Carolinas Super Senior Championship at Fort Mill Golf Club in Fort Mill, S.C. on April 20, 2017.
Related: Championship Web Site | Full Field of Players | History | Starting Times | Hole-by-hole scoring
Paul Simson of Raleigh, NC added another trophy to his collection winning the 9th Carolinas Super Senior Championship hosted by Fort Mill Golf Club in Fort Mill, SC. Simson edged out Russ Perry of Winston-Salem, NC by a single shot after 36 holes of highly competitive golf. Simson and Perry were paired together in the first and second rounds. "It was a lot of fun the last two days with Russ, we went back and forth from the first starting time in the morning yesterday to the last starting time today," said the 65-year-old insurance agent. Simson battled back from one shot back going into today, shooting a three-under-par, 69. "Russ and I were never separated by more than two strokes the entire tournament, I just edged him out at the very end," said Simson. This is the first Carolinas Super Senior Championship for the Raleigh native and his 32nd CGA Championship.
Garrett Garland of Huntersville, NC won the 70+ division by four shots over Mark Weiner of Kiawah Island, SC. Garland won his first CGA Championship. "I really enjoyed playing with these guys. Everyone is really good out here and its fun to meet new players my age," said Garland.
Championship Division

Place

Name

Score

1

Paul Simson, Raleigh, NC

70-69--139

2

Russ Perry, Winston Salem, NC

69-71--140

3

Charlie Parks, Asheboro, NC

71-70--141

4

Dr. Evan Long, Charlotte, NC

70-72--142

5

Terry Rathman, Gastonia, NC

72-71--143

T6

Dee Blankenhorn, Raleigh, NC

72-74--146

T6

Joe Hackler, Myrtle Beach, SC

76-70--146

T6

Mark Wagner, Statesville, NC

72-74--146

9

Joe Robinson, Rock Hill, SC

74-73--147

T10

Arlis Pike, Kernersville, NC

74-74--148

T10

Chuck Wunsch, Pinehurst, NC

75-73--148

T10

Ed Byman, Raleigh, NC

75-73--148

T13

George Ackerman Jr, Charleston, SC

77-72--149

T13

Rick Kline, Davidson, NC

76-73--149

T15

Bill Thaxton, Monroe, NC

77-73--150

T15

Brad Burris, High Point, NC

77-73--150

T15

Edward Mills, Fairview, NC

74-76--150

T15

George Leight Jr., Apex, NC

75-75--150

T15

James DeLeon Jr., Bluffton, SC

76-74--150

T15

Wayne Pyrtle, Burlington, NC

74-76--150

T21

Gene Grubb, Greensboro, NC

77-74--151

T21

Greg Powell, Charlotte, NC

77-74--151

T23

Larry Whitmore, Charlotte, NC

78-74--152

T23

Mark Stephens, Troutman, NC

73-79--152

T25

Bob Olsen, Monroe, NC

74-79--153

T25

David Crocker, Bluffton, SC

75-78--153

T25

Jd Lawson, Greensboro, NC

76-77--153

T25

Spike Smith, Pinehurst, NC

74-79--153

T29

Bill James, Leland, NC

80-74--154

T29

Dennis Helms, Monroe, NC

76-78--154

T31

Cliff Seastrunk, Raleigh, NC

74-81--155

T31

Dave Moser, Charlotte, NC

80-75--155

T31

David Watterworth, Charlotte, NC

77-78--155

T31

Larry Smothers, Wilmington, NC

80-75--155

T31

Norman Davis Jr, Charlotte, NC

81-74--155

T31

Raymond Davis, Apex, NC

77-78--155

T31

Robert Dail, Wendell, NC

78-77--155

T38

David Millis, High Point, NC

79-77--156

T38

Jimmy Stevenson, Fort Mill, SC

83-73--156

T40

James Hamilton, Aiken, SC

80-77--157

T40

Mike Lavine, Rock Hill, SC

79-78--157

T40

Robert Surratt, Concord, NC

78-79--157

T40

Rodney Brecheisen, Pinehurst, NC

83-74--157

T44

Charles Hodges, Charlotte, NC

82-76--158

T44

Griggy Porter, Matthews, NC

76-82--158

T44

John Fellenz, Mars Hill, NC

81-77--158

T44

Kenneth Eichele, Pinehurst, NC

79-79--158

T44

Randy Allen, Tryon, NC

79-79--158

T49

Bruce Beck, Myrtle Beach, SC

79-80--159

T49

Carey Hite, Columbia, SC

79-80--159

T49

Chuck Latham, Vass, NC

82-77--159

T49

Terry Barker, Chapel Hill, NC

81-78--159

T53

David Ohrn, Chocowinity, NC

80-80--160

T53

Dr. W Lee Irving, Bluffton, SC

81-79--160

T53

John DeLuise, Raleigh, NC

78-82--160

T56

Rick Aldous, Lexington, SC

80-81--161

T56

Roger Page, Duncan, SC

84-77--161

T56

Roger Taylor, Conover, NC

81-80--161

T56

Wiley Barrett, Southern Pines, NC

82-79--161

T60

Bob Pitzer, Fort Mill, SC

80-82--162

T60

Garland Yates, Asheboro, NC

85-77--162

T60

Joe Nevins, Kiawah Island, SC

83-79--162

T60

Ron Carpenter, Creedmoor, NC

79-83--162

T60

Thomas Mudaro, Wilmington, NC

76-86--162

T65

Billy Poteat, Hickory, NC

81-82--163

T65

David Williams, Cary, NC

84-79--163

T67

Duane Bausman, Awendaw, SC

82-82--164

T67

James Brown, High Point, NC

83-81--164

T67

Paul Stroup, Charlotte, NC

88-76--164

T70

Barry DeLapp, Hendersonville, NC

86-79--165

T70

Todd Turner, West End, NC

83-82--165

72

Chris Tucker, Hendersonville, NC

79-87--166

73

Bob Buie, Columbia, SC

80-88--168

T74

Dave Bell, Bluffton, SC

87-83--170

T74

Julian Spratt, Charlotte, NC

85-85--170

76

Dan Beacham, Honea Path, SC

86-85--171

77

Don Lee, Waxhaw, NC

88-84--172

78

Tony Koechli, Greer, SC

86-91--177

79

Joseph DelMaster, Fort Mill, SC

100-91--191

T80

Don Slater, Durham, NC

79-WD--WD

T80

Dr. Dick Hogan, Burlington, NC

78-WD--WD

70+ Age Division

Place

Name

Score

1

Garrett Garland, Huntersville, NC

69-70--139

2

Mike Weiner, Kiawah Island, SC

70-73--143

3

Mo York, Mt Pleasant, SC

73-73--146

T4

Arnold Edwards, Charlotte, NC

73-74--147

T4

Buck Leigh, Columbia, SC

73-74--147

T6

Frank Morris, Winston-Salem, NC

79-69--148

T6

Gary Schatz, Fort Mill, SC

73-75--148

T8

Dan Anderson, Lenoir, NC

74-75--149

T8

Nick Avery, Goose Creek, SC

78-71--149

10

John Walters, Charlotte, NC

72-78--150

11

Mike Sprouts, Hickory, NC

76-75--151

12

Jack Marin, Durham, NC

73-79--152

T13

David Cox, Huntersville, NC

75-78--153

T13

Rick Luzar, Pinehurst, NC

80-73--153

T15

Bill Shake, Charlotte, NC

82-72--154

T15

Gary Pettit, Greensboro, NC

80-74--154

T17

Brooks Carey, Charlotte, NC

77-79--156

T17

Jack Blankenhorn, Raleigh, NC

74-82--156

T19

David Fairley, Charlotte, NC

82-75--157

T19

Eugene Spencer Jr, Blythewood, SC

77-80--157

T21

Al Edwards, North Myrtle Beach, SC

82-76--158

T21

Andy Schleifstein, Chocowinity, NC

82-76--158

T21

Jared Long, Aiken, SC

79-79--158

T24

Bill Wolcott III, Asheville, NC

80-79--159

T24

King Carter, Charlotte, NC

80-79--159

T26

Albert Weymouth, Fort Mill, SC

82-78--160

T26

Scott Schwarz, Mt. Pleasant, SC

79-81--160

T26

Tom Ross, Chocowinity, NC

79-81--160

29

Bill Beal, Matthews, NC

81-80--161

30

Smitty File, Anderson, SC

81-81--162

31

Bob Beasley, Greensboro, NC

85-78--163

32

Ray Novicki, Southern Pines, NC

79-85--164

33

Rick Sears, Leland, NC

83-83--166

34

Gene Lookabill, Sr., Charlotte, NC

86-81--167

35

Skip McPhail, Gastonia, NC

89-86--175

36

Marshall Stuart, Easley, SC

91-89--180

37

John Chesney, Beaufort, SC

89-99--188