Preview of 66th Carolinas Four-Ball at Camden CC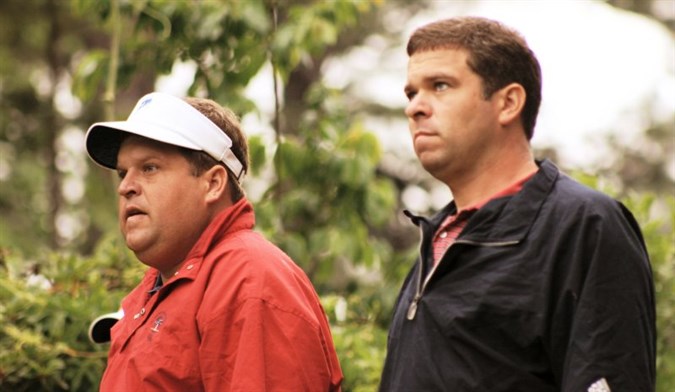 2006 champions, brothers Robert Jr. and David Dargan of Columbia, S.C.
SOUTHERN PINES, N.C. (April 28, 2017) -- The 66th Carolinas Four-Ball Championship will be played at Camden Country Club in Camden, S.C., from May 3-7.
Related: Championship Web Site | Full Field of Players | History | Starting Times | Hole-by-hole scoring
The Carolinas Four-Ball Championship could just as easily be called the "Camden Four-Ball Championship" or the "Camden Two-Man Invitational". That's because the popular, prestigious Carolinas Golf Association event has been held at historic Camden Country Club 61 of 66 times on the only 18-hole course in South Carolina designed by Donald Ross.
Past Champions Contending
2013 champions and two-time runner-up team of Paul Tucker from Waxhaw, N.C. and Brent Roof, from Columbia, S.C.

2006 champions, brothers Robert Dargan Jr. and David Dargan of Columbia, S.C.

2009 champion Walter Todd Sr. paired this year with son Walt Todd Jr. of Laurens, S.C.

Walter's Sr.'s nephew and partner from the 2009 championship, Thomas Todd, III and Thomas Addison of Laurens, S.C.

2014 champion Jonathan Jackson of Chapel Hill, N.C., teaming with Scott Patnode of Belmont, N.C.
Depth of Field
There is no shortage of accomplished players in the field, including:
Logan Harrell of Huntersville, N.C. - 2010 Carolinas Amateur champion; playing with his father, Neil Harrell.

Sherrill Britt of West End, N.C. - 2015 Carolinas Mid-Am champion, 2015 U.S. Amateur Four-Ball finalist; partnered with Daniel Neveu of Pinehurst, N.C.

Jack Parrott and Ryan Marter of Columbia, S.C. - currently the 13th and 3rd ranked junior boys golfers in South Carolina. Parrott won the 2014 South Carolina Junior Golf Championship.

Preston Edmondson of Morrisville, N.C. - broke through last year, capturing Carolinas Senior Amateur and North Carolina Senior Four-Ball titles; partnering with Tuck Burkinshaw of Cary, N.C.

Matthew Laydon of Charleston, S.C. - 2012 South Carolina Match Play champion; teamed with Chris Mitchell of Prosperity, S.C.
Format
The 2017 championship begins Wednesday May 3rd with the first round of a 36-hole qualifier. Players will be chasing the 18-hole record score of 59 shot in 1986 by the team of Bill Bowers and Jonny Banks from Columbia, S.C. The record 36-hole qualifying score of 124 shot on the par-70 layout was posted in 2010 by Michael Sims of West Columbia, S.C. and Jordan Byrd of Pendleton, S.C.
After the second round of four-ball stroke play qualifying on May 4th, the field will be cut to the low 32 teams for match play. The first two rounds of match play will commence on May 5th. After four rounds of match play over two days, the scheduled 18-hole championship match will be played on Sunday, May 7th.
Championship Schedule

Wednesday, May 3 Round 1 - Stroke Play Qualifying. Tee times off #1 and #10 (8:00am)
Thursday, May 4 Round 2 - Stroke Play Qualifying. Tee times off #1 and #10 (8:00am)
Field cut to low 32 teams for match play. Playoffs for medalist & last match play positions.
Friday, May 5 Round of 32 Match Play (18 Holes)
Round of 16 Match Play (18 Holes)
Saturday, May 6 Quarterfinals (18 Holes). AM Tee times off # 1 tee.
Semifinals (18 Holes). PM Tee times off # 1 tee.
Sunday, May 7 Championship Match (18 Holes) 8:00am off # 1 tee.
About the Carolinas Golf Association (CGA)
The CGA is a 501(c)(3) not-for-profit educational organization that was founded in 1909 to promote and to protect the game of golf in the Carolinas by providing competitions, education, support and benefits to golf clubs and golfers. The CGA is the second largest golf association in the country with over 700 member clubs represented by nearly 150,000 individuals.
The CGA annually conducts 48 championships and five team match competitions for men, women, juniors, and seniors. It also runs over 150 One-Day (net and gross) events as well as qualifying for USGA national championships. The CGA serves golf in the Carolinas with numerous programs such as: the USGA Handicap System; tournament management software and support; course measuring and course/slope ratings; agronomy consultation; answers about the Rules of Golf, Rules of Amateur Status, and Handicapping; Carolinas Golf Magazine; Interclub series; Tarheel Youth Golf Association; Carolinas Golf Hall of Fame; expense assistance for USGA Junior and Girls' Junior qualifiers from the Carolinas; and the Carolinas Golf Foundation (CGF). The CGF has distributed nearly $2,000,000 since 1977 to benefit Carolinas' golf initiatives including junior and women's programs.
For more information about the CGA, visit our website.
##30##