Get to Know the 2017 CGA Interns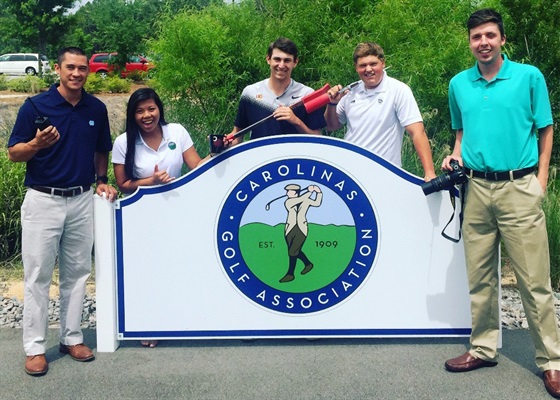 The 2017 CGA interns: Robert Reid, Marianne Ballou, Justin Westveer, Cameron Bullman, Aaron Perkins

Robert Reid (Operations)
I am from Fayetteville, North Carolina. In May I graduated from the University of North Carolina at Chapel Hill with a Bachelor's degree in Sport Administration and History.
While at Carolina, I worked in the golf shop at the UNC Finley Golf Course, home of the UNC Men's and Women's golf teams. Last summer I worked in Tournament Operations for the Hurricane Junior Golf Tour. That is when I fell in love with the tournament administration aspect of golf. My team traveled across the country organizing two-day amateur events. Previously, I have volunteered with the First Tee of the Triangle in Raleigh, North Carolina. Upon completion of this internship I am looking to advance my career in the golf industry.
In my free time I like to play golf, spend time with family and friends, and cheer for the Tar Heels. I would like to thank the Carolinas Golf Association for giving me this wonderful opportunity and I am extremely excited to get this summer started!
Marianne Ballou (Operations)
​Originally from Woodstock, Georgia, I have spent most of my life in Memphis, Tennessee. I am currently studying at the University of South Carolina. As part of USC's College of Hospitality, Retail and Sport Management, I am a junior with a major in Sport and Entertainment Management and a minor in Hospitality, Restaurant and Tourism Management.
Prior to college, I worked four years for a local catering company in my hometown, experiencing both the food service and events industry. Through catering for wedding receptions, corporate and private parties, and other special events, I discovered my love and enthusiasm for serving guests and ensuring that they have the best experience possible. USC has granted me the privilege of working at three Masters Golf Tournaments at Augusta National, the Wells Fargo Championship at Quail Hollow Club, and the FedEx St. Jude Classic at TPC Southwind. At each, I saw the club during a weeklong special event, and I was able to be part of a team creating the experience for not just patrons, but also for club members, golfers, and their guests. Since freshman year, being in those environments and learning about private clubs and golf tournaments in the classroom has fostered within me a love for golf culture. I have also had the opportunity to volunteer with Gamecock Athletics and assist in game day operations for track and field, sand volleyball, and Round One of the 2015 NCAA Women's Basketball Tournament, which has built on my knowledge of sport events.
Aside from my interests in the sport, entertainment, and hospitality industries, I also work with the literacy philanthropy Read > Lead > Achieve through my sorority, Pi Beta Phi. In addition to being an active member and leader in Shandon College Ministry, I serve my church as an 6th grade Sunday school teacher and serve my community as a Wyldlife leader for Columbia area middle school students through the parachurch ministry Young Life.
Justin Westveer (Operations)
I am a 20-year-old junior from Charlotte, North Carolina that currently plays golf for the University of Charleston and is a history/political science major at the university. I went to Cox Mill High School in Concord, North Carolina. Growing up I played every sport that I could so watching/playing those sports has always been a big passion of mine. Another hobby that I have besides playing golf is history. I especially love military history that has to deal with World War II.

Cameron Bullman (Operations)
I am currently 20 years old and am a sophomore at Liberty University majoring in Business Marketing. I started playing golf when I was a freshman in high school and fell in love with the game immediately. I am now the President of the club golf team at Liberty and help coach the golf team at my former high school. "This is a great opportunity to work in the golf industry which I love and I look forward to learn new things I can apply to the real world."
Aaron Perkins (Communications)
Originally from Monticello, Kentucky, I am a currently pursuing a master degree in Sports Administration at Eastern Kentucky University and will graduate on the completion of this internship. For the past two years, I have interned with EKU Athletics in their sports information office, helping with game day operations, social media, press releases, and photography. Prior to that, I spent two years writing blog-style post for Kentuckysportsradio.com, the largest independent sports blog in the entire country.
Sports have always been a part of my life and are something that I am very passionate about. Wanting to make them a career is ideal for me, because when you love what you do, you never work a day in your life. However, some of my other interests are hanging with friends, videogames, boating, and building an extensive shoe collection.
"I am very blessed and honored to be working for such a prestigious organization as the CGA. I looked forward to learning more about the ins and outs of golf, meeting new people and building lifelong friendships."
##30##