US Senior Open Qualifying Results from Starmount Forest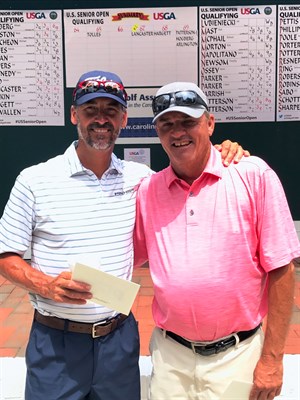 Qualifiers: Tommy Tolles and Neal Lancaster
GREENSBORO, N.C.– Final results from U.S. Senior Open Championship Sectional Qualifying hosted by Starmount Forest Country Club in Greensboro, NC on Monday, June 12, 2017 (6628 yards, par 35-36—71, Course/Slope Rating: 71.9/138).
Two qualifying spots and two alternate positions were available at this qualifying site.
Professional golfer Tommy Tolles of Hendersonville, NC earned medalist honors by shooting a six-under par 65 and earned the first qualifying spot. The second qualifying spot went to professional golfer Neal Lancaster of Smithfield, NC, who shot four-under par 67.
First alternate and low amateur honor went to Eddie Hargett of Blythewood, SC and second alternate position went to Mikael Hogberg of Greensboro, NC.
The 2017 U.S. Senior Open Championship will be played at Salem Country Club in Peabody, MA from June 29-July 2.
Hole-by-hole scoring can be viewed here: https://www.ghintpp.com/carolinasgolf/TPPOnlineScoring/ResultsStroke.aspx?id=2292. This qualifier was conducted by the Carolinas Golf Association on behalf of the United States Golf Association.
Qualifying Results
Place

Competitor

Score

1

Tommy Tolles, Hendersonville, N.C.

33-32--65 (-6)

2

Neal Lancaster, Smithfield, N.C.

35-32--67 (-4)

Failed to Qualify

3

Eddie Hargett, Blythewood, S.C. (a)

33-35--68 (-3)

4

Mikael Hogberg, Greensboro, N.C.

35-34--69 (-2)

T5

Jim Arlington, Apex, N.C. (a)

36-33--69 (-2)

T5

Jay Patterson, Hillsborough, N.C.

35-34--69 (-2)

7

Sherrill Britt, West End, N.C. (a)

35-35--70 (-1)

8

Jack Larkin, Atlanta, Ga. (a)

35-36--71 (Even)

T9

Steven Kidd, Liberty, N.C. (a)

34-38--72 (+1)

T9

Gustav Ulrich, Whispering Pines, N.C.

36-36--72 (+1)

T9

Greg Parker, Marion, N.C.

36-36--72 (+1)

T9

Ben Hargis, Alexandria, La. (a)

36-36--72 (+1)

T13

Gary Robinson, Fayetteville, N.C. (a)

36-37--73 (+2)

T13

Matt Pettis, Raleigh, N.C. (a)

38-35--73 (+2)

T13

Lee Porter, Greensboro, N.C.

38-35--73 (+2)

T13

George Carroll, Kinston, N.C.

37-36--73 (+2)

T13

Michael Hutcheon, High Point, N.C.

36-37--73 (+2)

T18

Joe Jaspers, Huntersville, N.C. (a)

38-36--74 (+3)

T18

Dean Channell, Cary, N.C. (a)

36-38--74 (+3)

T18

Keith Waters, Raleigh, N.C. (a)

37-37--74 (+3)

T18

Preston Edmondson, Morrisville, N.C. (a)

38-36--74 (+3)

T18

Mitch Adams, Asheboro, N.C.

40-34--74 (+3)

T23

Bradley Helms, Winston-Salem, N.C. (a)

37-38--75 (+4)

T23

Steve Harwell, Mooresville, N.C. (a)

37-38--75 (+4)

T23

Michael Donald, Ft Lauderdale, Fla.

38-37--75 (+4)

T26

Mike Crawford, Summerfield, N.C. (a)

39-37--76 (+5)

T26

Lionel Sutton, La Grange, North Caro (a)

39-37--76 (+5)

T26

Pat Thompson, Asheville, N.C. (a)

41-35--76 (+5)

T26

Andre Resner, Salisbury, N.C. (a)

38-38--76 (+5)

T26

Bill Bierman, Marvin, N.C. (a)

39-37--76 (+5)

T26

Mark Houston, Newport News, Va.

41-35--76 (+5)

T26

David Cauthen, Mount Holly, N.C.

40-36--76 (+5)

T26

Francis R Debois Jr, Spring Lake, N.C.

37-39--76 (+5)

T26

Dick Mast, Lynchburg, Va. (a)

38-38--76 (+5)

T35

Samuel Ring, Carthage, N.C. (a)

39-38--77 (+6)

T35

Mike Arnold, Mooresville, N.C. (a)

37-40--77 (+6)

T35

Stephen Patterson, Charlotte, N.C. (a)

42-35--77 (+6)

38

Patrick Hynes, Clemmons, N.C. (a)

37-41--78 (+7)

T39

J. Vann Parker, Emerald Isle, N.C. (a)

42-37--79 (+8)

T39

Mark Hodges, Belmont, N.C. (a)

38-41--79 (+8)

T39

Jeffrey Guernier, Greensboro, N.C. (a)

38-41--79 (+8)

T39

Doug Potter, Greensboro, N.C. (a)

40-39--79 (+8)

43

Stuart Sierra, Tampa, Fla. (a)

40-40--80 (+9)

T44

Gary Roberson, Burlington, N.C. (a)

44-39--83 (+12)

T44

Kevin Ossey, Greensboro, N.C. (a)

43-40--83 (+12)

T44

Tad Wood, Raleigh, N.C.

41-42--83 (+12)

T44

Melvin Barnes, Hillsborough, N.C. (a)

44-39--83 (+12)

T48

Bill Phillips, Charlotte, N.C. (a)

44-40--84 (+13)

T48

Samuel Leggett, Washington, N.C.

39-45--84 (+13)

T50

Steven Cox, Ramseur, N.C. (a)

45-42--87 (+16)

T50

Kent Shumate, East Bend, N.C.

45-42--87 (+16)

T52

Kenneth Poole II, Greensboro, N.C. (a)

42-46--88 (+17)

T52

Richard McPhail, Gastonia, N.C. (a)

44-44--88 (+17)

54

Todd Summers, Greensboro, N.C. (a)

43-46--89 (+18)

T55

Gerry Napolitano, Raleigh, N.C. (a)

46-44--90 (+19)

T55

Michael Stack, Winston-Salem, N.C.

43-47--90 (+19)

57

Buddy Parrish, Greensboro, N.C. (a)

50-42--92 (+21)

58

Gary Kennedy, Virginia Beach, Va.

47-49--96 (+25)

T59

Stephen Sharpe, Greensboro, N.C. (a)

WD-WD--WD (WD)

T59

Kevin Hester, Blythewood, S.C. (a)

WD-WD--WD (WD)

T59

Elton Trent, Reidsville, N.C. (a)

WD-WD--WD (WD)

T59

Jeffrey Todd, Pineville, N.C. (a)

WD-WD--WD (WD)

T59

Anthony Adams, Asheville, N.C. (a)

WD-WD--WD (WD)

T59

Kelly Stimart, Charlotte, N.C. (a)

WD-WD--WD (WD)

T59

Jerry Schott, Holly Springs, N.C. (a)

WD-WD--WD (WD)

T59

Rick Morton, Jacksonville, N.C.

WD-WD--WD (WD)

T59

Todd Deeds, Fort Mill, S.C.

WD-WD--WD (WD)

T59

Gary Battersby, Cocoa, Fla.

WD-WD--WD (WD)

T59

Timothy Newsom, Suffolk, Va.

WD-WD--WD (WD)

T59

ED Sabo, Pinehurst, N.C.

WD-WD--WD (WD)

T59

Jan Lubieniecki, Rzeszow

WD-WD--WD (WD)

T59

Rick Lewallen, Pinehurst, N.C. (a)

WD-WD--WD (WD)

T59

John Inman, Durham, N.C.

WD-WD--WD (WD)