Keur Wins SC Am Match Play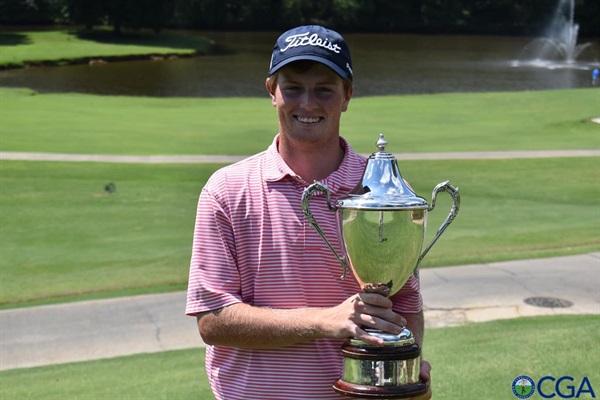 Julian Keur wins 4-and-3 over Todd White to claim the 45th South Carolina Amateur Match Play Championship
SPARTANBURG, S.C. (June 18, 2017) -- Final match play results of the 45th South Carolina Amateur Match Play Championship at The Carolina Country Club in Spartanburg, S.C. on Saturday, June 18th (7,069 yards, Par 36-36--72, Course Rating 74.5/139).
Related: Championship Website | Scoring | History | Match Play Bracket | Photos
Julian Keur of Summerville defeated medalist Todd White of Spartanburg 4-and-3 to claim the 45th South Carolina Amateur Match Play Championship at The Carolina Country Club in Spartanburg, S.C. "I knew coming into today that I was going to have a really good match with Mr. White," said Keur. "I have heard stories about how good he is, so I knew I needed to come out and play my best. All in all it has been an awesome last few days."
The match was all square heading to No. 4 green, when White chipped out of the left bunker up to five feet to putt for birdie and a one up advantage. Keur responded on No. 5, hitting it to three-feet for birdie, squaring up the match. From there, Keur began to pull away. A 12-foot birdie putt on No. 6 and a 40-foot birdie putt on No. 7 helped him go two up. "I had missed a few shots before that, so that lit a fire under me. After that, I just let my putter do all the work." Keur looked as if his lead would slip on No. 8 after hitting it into the front bunker, but he converted up and down from 20-feet to half the whole. Keur would par and birdie the next two holes to go four up.
As the pair headed to the par-5 13th, Keur was three up after White made par on the par-4 11th the claim the hole. As they each assessed their strategy for their best shot to get to the green, Keur faced 215 yards to the flag and pulled a 6-iron out of his bag as if he was giving chase. Seeing this, White laid-up about 20-feet from the water. Moments later, Keur reexamined the situation as if he was going to lay-up as well, knowing he had a sizable lead. Instead, he decided to go for it and was successful. He would then two-putt for birdie to get back to four up. "I knew if I got it to the green, the match would be in my hands. If I missed, I would still be two up and I was confident enough in the way I was playing to go for it."
Keur, a rising senior at the University of Alabama-Birmingham, was dormie as he faced a three-foot putt on the par-4 14th that eventually secured him the championship. "That was the most nervous I have ever been for a three-foot putt," joked Keur. With the win, Keur secured his first CGA championship. "To get my name on the trophy and be able to play Mr. White was an awesome experience. It is something that I will never forget."
The CGA would like to thank the members and staff of the The Carolina Country Club for their amazing hospitality in hosting the SC Amateur Match Play. A special gratitude is extended to head golf professional Luke Lovell and head superintendent Jeff Reynolds.
45th South Carolina Amateur Match Play Championship
The Carolina Country Club, Spartanburg, S.C.
Final Results
Julian Keur, Summerville, S.C. (2014) def. Todd White, Spartanburg, S.C. (), 4 and 3
Championship Facts
Event: 45th South Carolina Amateur Match Play Championship
Playing Dates: June-14-18
Host Site: The Carolina Country Club, Spartanburg, S.C.
7,069 yards, Par 36-36--72, Course Rating 74.5/139
Defending Champion: Connor Bruns, Duncan, S.C.
Format: 36 holes of stroke play to determine 32 qualifiers for match play.
Schedule of rounds:
Wednesday, June 14
First round of stroke play qualifying.

Thursday, June 15
Second round of stroke play qualifying.
Cut to low 32 players for match play.

Friday, June 16
First and second round of match play (18 holes each round).

Saturday, June 17
Quarterfinal and semifinal rounds of match play (18 holes each round).

Sunday, June 18
Championship match (18 holes).

About the Carolinas Golf Association (CGA)
The CGA is a 501(c)(3) not-for-profit educational organization that was founded in 1909 to promote and to protect the game of golf in the Carolinas by providing competitions, education, support and benefits to golf clubs and golfers. The CGA is the second largest golf association in the country with over 700 member clubs represented by nearly 150,000 individuals.
The CGA annually conducts 48 championships and five team match competitions for men, women, juniors, and seniors. It also runs over 150 One-Day (net and gross) events as well as qualifying for USGA national championships. The CGA serves golf in the Carolinas with numerous programs such as: the USGA Handicap System; tournament management software and support; course measuring and course/slope ratings; agronomy consultation; answers about the Rules of Golf, Rules of Amateur Status, and Handicapping; Carolinas Golf Magazine; Interclub series; Tarheel Youth Golf Association; Carolinas Golf Hall of Fame; expense assistance for USGA Junior and Girls' Junior qualifiers from the Carolinas; and the Carolinas Golf Foundation (CGF). The CGF has distributed nearly $2,000,000 since 1977 to benefit Carolinas' golf initiatives including junior and women's programs.
For more information about the CGA, visit our website.

##30##