Rawl Prevails at Carolinas Girls 15 & Under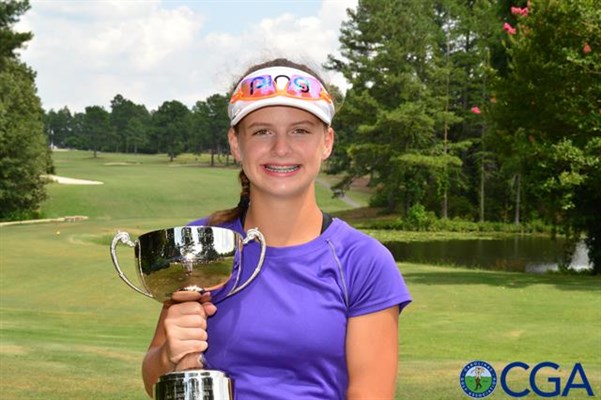 11th Carolinas Girls' 15 & Under Championship Final Round Results
Isabella Rawl prevails in playoff

SOUTHERN PINES, N.C. (July 11, 2017) -- Final round results from the 11th Carolinas Girls' 15 & Under Championship at Country Club of Whispering Pines' Pines Course in Whispering Pines, N.C. (Course Rating: 73.3,129, Yards: 5701, Par: 36-36--72)
Two players finished at the top of the leaderboard in the Championship Division of the Carolinas Girls' 15 & Under Championship on Tuesday. Isabella Rawl of Lexington, S.C. and Sasha Hayes of Winston Salem, N.C. each finished with a 6-over-par 150 two-day total. Rawl remained steady after an opening round of 3-over-par 75 on Monday and carded another 75 on Tuesday. In direct contrast, Hayes battled back and improved by 10 strokes between the first and final rounds (she finished with a 2-under-par 70 on Tuesday). Hayes was the only player in the field who finished a round in red numbers.
Hayes and Rawl proceeded to the first playoff hole on Country Club of Whispering Pines' Pines course. Hayes made a bogey on the Par-4 first and Rawl made a par to secure her place in Carolinas Girls' 15 & Under history. This is 13-year-old Rawl's first CGA victory.
In the Junior Division, Ella Kue of Kings Mountain, N.C. held on to her sizable lead and finished eight strokes clear of the next competitor. Megan Morris of Cary, N.C. improved eight shots from the first to final round which propelled her into second place. Finishing in third in the Junior Division was Mattie Padgett of Seneca, S.C.
Ella Stalvey of Elgin, S.C. was able to hold on to her lead and claimed the Sub-Junior Division championship. Camille Oliver of Cary, N.C. finished in second place and Mackenzie Crossman of Pittsboro, N.C. improved three strokes from the first round to finish in third place.
The CGA wishes to thank all the staff and members at Country Club of Whispering Pines for their hospitality and dedication to junior golf in the Carolinas.
11th Carolinas Girls' 15 & Under Championship
Country Club of Whispering Pines (Pines)
Whispering Pines, N.C.
Final Round Results
July 11, 2017
Championship
Place
Name
Score
T1
Isabella Rawl (2022), Lexington, SC
75-75--150
T1
Sasha Hayes (2020), Winston Salem, NC
80-70--150
3
Sophie Holland (2020), Cornelius, NC
76-75--151
T4
Kelley Topiwala (2020), Matthews, NC
73-82--155
T4
Mallory Fobes (2019), East Bend, NC
74-81--155
6
Mara Hirtle (2020), Pinehurst, NC
74-86--160
T7
Jaclyn Kenzel (2020), Southern Pines, NC
81-80--161
T7
Riley Hamilton (2020), Reidsville, NC
82-79--161
9
Maria Atwood (2022), Holly Springs, NC
81-81--162
10
Annabelle Millard (2022), Charlotte, NC
82-81--163
T11
Mary Kathryn Talledo (2021), Blythewood, SC
83-81--164
T11
Molly Hardwick (2022), Lexington, SC
81-83--164
13
Deborah Spair (2020), Raleigh, NC
81-84--165
T14
Grayson Warren (2021), Washington, NC
85-81--166
T14
Karlee Vardas (2020), Lexington, SC
88-78--166
16
Harper Shepherd (2021), Greensboro, NC
82-85--167
17
Sofia Carles (2021), Clinton, SC
85-85--170
18
Siana Wong (2020), Summerfield, NC
83-88--171
T19
Grace Holcomb (2021), Wilmington, NC
88-85--173
T19
Kayla Dowell (2021), Mebane, NC
89-84--173
T21
Becca Connolly (2020), Winston-Salem, NC
86-91--177
T21
Jasmine Donaghue (2020), Candler, NC
88-89--177
23
Anika Bhatnagar (2020), Cary, NC
82-97--179
24
Zoe Carles (2023), Clinton, SC
91-89--180
25
Victoria Cook (2020), Reidsville, NC
92-89--181
26
Chloe Crane (2020), Greensboro, NC
91-93--184
27
Annalise Dale (2020), Charlotte, NC
95-94--189
28
Katie Warner (2021), Rock Hill, SC
92-98--190
29
Shae Payne (2020), Rock Hill, SC
100-94--194
30
Shea Smith (2022), Charlotte, NC
94-102--196
31
Chloe Pittman (2020), Davidson, NC
103-95--198
T32
Emily Lang (2019), Charlotte, NC
104-95--199
T32
Kallie Pavlish (2020), Charlotte, NC
99-100--199
34
Elizabeth Ritchie (2019), Havelock, NC
99-101--200
35
Gabrielle Cacheris (2020), Charlotte, NC
118-99--217
36
Lauren Martin (2020), Mooresville, NC
87-WD--WD
Junior
Place
Name
Score
1
Ella Kue (2022), Kings Mountain, NC
83-81--164
2
Megan Morris (2021), Cary, NC
92-84--176
3
Mattie Padgett (2023), Seneca, SC
96-82--178
4
Toni Blackwell (2020), Fayetteville , NC
85-95--180
T5
Ayana Dailey (2023), Sneads Ferry , NC
95-92--187
T5
Bethany Welch (2022), Matthews, NC
92-95--187
7
Gaby Tucker (2021), Fayetteville, NC
101-99--200
8
Kaitlyn Rand (2022), Raleigh, NC
103-99--202
9
Catherine Vivongsy (2021), Wake Forest, NC
100-WD--WD
Sub-Junior (9 Holes)
Place
Name
Score
1
Ella Stalvey (2023), Elgin, SC
43-45--88
2
Camille Oliver (2022), Cary, NC
44-48--92
3
Mackenzie Crossman (2024), Pittsboro, NC
54-51--105
4
Gabi Carles (2025), Clinton, SC
55-52--107
5
Brooke Tyler (2025), Summerfield , NC
55-57--112
6
Alexandra Hirst (2024), Pinehurst, NC
66-55--121
7
Sydney Whitfield (2024), Wilmington, NC
65-65--130
About the Carolinas Golf Association (CGA)
The CGA is a 501(c)(3) not-for-profit educational organization that was founded in 1909 to promote and to protect the game of golf in the Carolinas by providing competitions, education, support and benefits to golf clubs and golfers. The CGA is the second largest golf association in the country with over 700 member clubs represented by nearly 150,000 individuals.
Tthe CGA annually conducts 43 championships and five team match competitions for men, women, juniors, and seniors. It also runs over 140 One-Day (net and gross) events and qualifying for USGA national championships. The CGA serves golf in the Carolinas with numerous programs such as: the USGA Handicap System; tournament management software and support; course measuring and course/slope ratings; agronomy consultation; answers about the Rules of Golf, Rules of Amateur Status, and Handicapping; Carolinas Golf Magazine; Interclub series; Tarheel Youth Golf Association; Carolinas Golf Hall of Fame; expense assistance for USGA Junior and Girls' Junior qualifiers from the Carolinas; and the Carolinas Golf Foundation (CGF). The CGF has distributed more than $1,500,000 since 1977 to benefit Carolinas' golf initiatives including junior and women's programs.
For more information about the CGA, visit www.carolinasgolf.org.
##30##