Herring wins NC Boys' 13 and Under Championship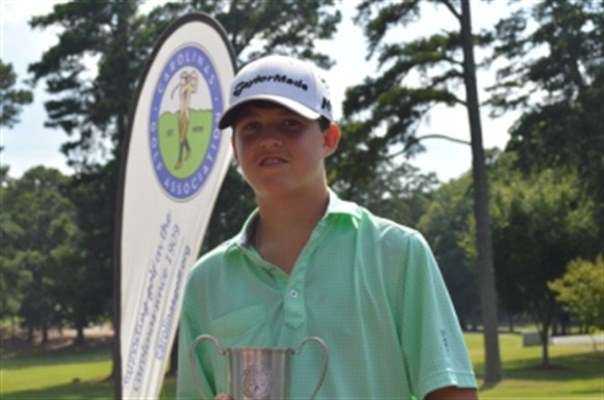 Final results from the 21st N.C. Junior Boys' 13 and Under Championship conducted at Asheboro city Golf Course in Asheboro, N.C. on Monday, July 10, 2017. (5,738 yards, par 35-35—70, Course/Slope Rating: 68.0/127).
Jake Herring of Wilson, N.C. defeated Davis Adams of Raleigh, N.C. 1 up in a very tight championship match to win the 21st N.C. Junior Boys' 13 and Under Championship at Asheboro City Golf Course in Asheboro, N.C. Herring, a rising high school freshman, made the turn in the final match one up and then won the next three holes to take a four up lead thru 12 holes. Adams, a rising eighth grader fought back with a birdie on the par five thirteenth to cut into Herring's lead. After halving the fourteenth, Adams won the fifetenth hole, halved Herring on the par three sixtenth and Herring was two up with two holes to play. On the par four seventeenth, Adams' short birdie putt was conceded after Herring failed to get up and down from over the green and Adams pulled within one with one to play. Herring and Adams both had birdie chances on the eighteenth hole; Adams from about 12 feet and Herring from 10 feet. Adams facing a tough downhill breaking putt just missed the birdie leaving Herring with two putts to win his first Carolinas Golf Association junior championship. Herring rolled his putt just missing the birdie and tapped in for the win.
In the other flights, Hampton Roberts of Cary, N.C. defeated Jackson Bode of Pinehurst 3 and 2 to win the first flight. James Hudson of Huntersville, N.C. won the second flight 2 and 1 over Tate Smith of Gastonia, N.C. Salisbury, N.C. junior Ben Childress defeated Max Cranford of Hickory, N.C. 1 up to win the third flight. Matthew McCarthy of Cary, N.C. won the fourth flight winning 1 up over Holland Giles of Pinehurst, N.C. Andrew Haarlow of Greensboro, N.C. beat Jake Clayton of Burlington, N.C. 3 and 2 to take the fifth flight.
Match Results
Round of 16
(69) Caleb Surratt, Matthews, N.C. (2022) def. (82) Landon Hawley, Charlotte, N.C. (2023),4 and 3
(77) Spencer Turtz, Charlotte, N.C. (2022) def. (79) Maddox Whittington, Lenoir, N.C. (2022),10 holes
(76) Daniel Boone Jr, Fuquay Varina, N.C. (2023) def. (81) Aidan Browning, Charlotte, N.C. (2022),1 up
(81) Davis Adams, Raleigh, N.C. (2022) def. (76) Hampton Roberts, Cary, N.C. (2023),3 and 1
(72) Jake Herring, Wilson, N.C. (2021) def. (81) Calvin Hawkins, Lexington, N.C. (2022),2 up
(79) Tyler Strickland, Holly Springs, N.C. (2022) def. (77) Henry Pate, Elizabethtown, N.C. (2022),3 and 2
(72) Abhay Gupta, Concord , N.C. (2022) def. (81) Jackson Bode, Pinehurst, N.C. (2022),3 and 1
(76) Benjamin Bailey, Huntersville, N.C. (2021) def. (80) Drew Van Dyke, Charlotte, N.C. (2022),11 holes
Quarterfinal
(69) Caleb Surratt, Matthews, N.C. (2022) def. (77) Spencer Turtz, Charlotte, N.C. (2022),3 and 2
(81) Davis Adams, Raleigh, N.C. (2022) def. (76) Daniel Boone Jr, Fuquay Varina, N.C. (2023),3 and 1
(72) Jake Herring, Wilson, N.C. (2021) def. (79) Tyler Strickland, Holly Springs, N.C. (2022),1 up
(72) Abhay Gupta, Concord , N.C. (2022) def. (76) Benjamin Bailey, Huntersville, N.C. (2021),2 and 1
Semifinal
(81) Davis Adams, Raleigh, N.C. (2022) def. (69) Caleb Surratt, Matthews, N.C. (2022),10 holes
(72) Jake Herring, Wilson, N.C. (2021) def. (72) Abhay Gupta, Concord , N.C. (2022),3 and 2
Final
(72) Jake Herring, Wilson, N.C. (2021) def. (81) Davis Adams, Raleigh, N.C. (2022),1 up