Top Ranked Boys at Dogwood State Junior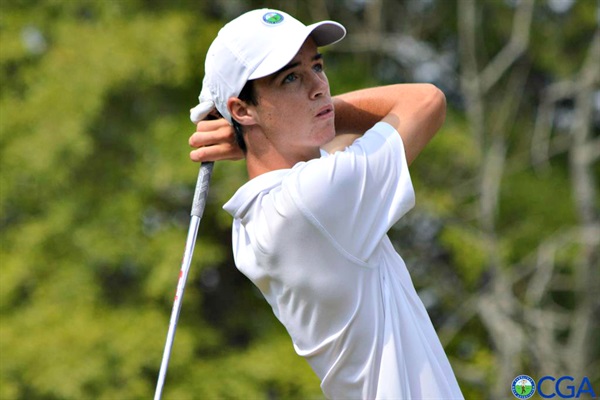 Defending champion Fulton Smith of Pinehurst
SOUTHERN PINES, N.C. (July 28, 2017) -- The Carolinas Golf Association (CGA) will conduct the 13th Dogwood State Junior Boys' Championship at Bermuda Run Country Club (East) in Bermuda Run, N.C. from Tuesday - Thursday, August 1-3 (7,080 yards, par 36-36--72).
Related: Championship Website | Full Field of Players | Pairings | Scoring | History
The 13th Dogwood State Junior Boys' Championship will feature 150 players. The championship format is 54-holes of stroke play. After 36-holes, the field will be cut to low half and ties.
Entry is open to any male amateur golfer who has not reached his 19th birthday by August 3, 2017, who has not started college, is a legal resident of North Carolina, is a member or their parent is a member in good standing of a club which is a member of the CGA and has a current USGA handicap index® at a CGA member club that does not exceed 18.4.
Top Ranked Players to Watch:
Reigning Dogwood State Junior Boys' champion Fulton Smith of Pinehurst, N.C. is returning with hopes to defend his title. Currently ranked fourth by the Tarheel Youth Golf Association in North Carolina, Smith said winning last year was "huge for [my] confidence," but that does not distract him from the challenge at the next week's Dogwood Junior Boys'. "I was able to hold off some really good players coming down the stretch, which provides me something to look back on if I find myself in a similar situation." A rising high school junior, Smith has verbally committed to Wake Forest University.
He expressed confidence about his chances for a repeat win, as he feels his game is solid. "Since last year, I have picked up a little distance off the tee which helps especially on the par 5s. Also, my iron game has become more consistent." Smith also said he will commit time to working on his short game to prepare for the tournament. Following a T3 finish at the Carolinas Junior Boys' Championship, Smith is eager to defend his Dogwood State title.
Chris Kim of Cary, a rising junior, holds the No. 5 spot in the N.C. state rankings. Kim earned a first place finish at the NCHSAA 4A Mideast Regional. He placed second at the CGA's Jimmy Anderson Boys' Invitational. This month, Kim has finished T20 at the Carolinas Junior Boys' and T26 at the Carolinas Amateur.

Jack Massei of Cary, a rising senior, finished as runner-up at this championship in 2015. The 2015 North Carolina Junior Boys' champion recently competed in the U.S. Junior Amateur, placed third in both the 4A Boys' State Championship and the Jimmy Anderson Boys' Invitational, and finished T3 at the Carolinas Junior Boys'. Massei will play for East Carolina University in 2018.

Michael Childress of Davidson, a rising senior, finished T6 at the Dogwood State Junior in 2016 after holding the first round lead. This year, Childress shared medalist honors at TYGA's NC High School Invitational, earned a top-ten finish at the Tarheel Golf Foundation's Bridgestone Junior, and a top-20 finish at the N.C. Amateur. Childress has committed to play at the University of Richmond.

Alex Goff of Kings Mountain, a rising high school senior, is ranked 10th in N.C. This year he has top-20 finishes at the Jimmy Anderson Boys', Creed Boys' Invitational, AJGA Scott Stallings, and Dan Dobson Junior. Goff placed T39 at the 2017 Carolinas Junior Boys'. He has committed to the University of Kentucky.

Lansdon Robbins of Davidson, a rising high school senior, Robbins has committed to play collegiately at the University of North Carolina-Wilmington. Ranked 11th in the state, this year Robbins placed second at both the North Carolina Amateur and Pinecrest High School Invitational, and T3 at the TYGA North State High School Challenge. He finished T13 at the 2017 Carolinas Junior Boys' Championship.

Peter Fountain of Raleigh placed T6 at the 2017 Carolinas Junior Boys' Championship. The rising high school sophomore is ranked 12th in N.C. Fountain advanced to the Round of 32 at the 2017 U.S. Junior Amateur and to the Quarterfinals at the North Carolina Junior Boys'.

Scoring will be provided by the CGA throughout the championship, offering 9 and 18-hole updates. Live updates will also be available on the CGA's official Twitter accounts, @cgagolf1909 and @CarolinasJunior. Continue to visit the CGA website throughout this championship and all year long for complete championship coverage including scores, interviews, photos, and recaps.
About the Carolinas Golf Association (CGA)
The CGA is a 501(c)(3) not-for-profit educational organization that was founded in 1909 to promote and to protect the game of golf in the Carolinas by providing competitions, education, support and benefits to golf clubs and golfers. The CGA is the second largest golf association in the country with over 700 member clubs represented by nearly 150,000 individuals.
The CGA annually conducts 48 championships and five team match competitions for men, women, juniors, and seniors. It also runs over 150 One-Day (net and gross) events as well as qualifying for USGA national championships. The CGA serves golf in the Carolinas with numerous programs such as: the USGA Handicap System; tournament management software and support; course measuring and course/slope ratings; agronomy consultation; answers about the Rules of Golf, Rules of Amateur Status, and Handicapping; Carolinas Golf Magazine; Interclub series; Tarheel Youth Golf Association; Carolinas Golf Hall of Fame; expense assistance for USGA Junior and Girls' Junior qualifiers from the Carolinas; and the Carolinas Golf Foundation (CGF). The CGF has distributed nearly $2,000,000 since 1977 to benefit Carolinas' golf initiatives including junior and women's programs.
For more information about the CGA, visit our website.
##30##