USGA Mid-Amateur Qualifying Results Cutter Creek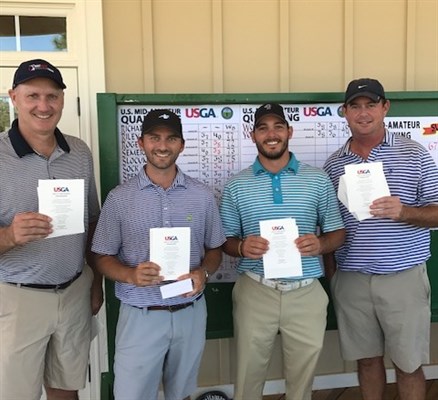 Joe Jaspers, Jd McNeil, Parker Dudley, John Blackwell
SNOW HILL, NC – Sectional qualifying results of the 2017 US Mid-Amateur Championship of the United States Golf Association hosted by Cutter Creek Golf Club in Snow Hill, NC on Wednesday, September 13, 2017 (6,854 yards, Par 36-36—72, (73.5/138).
Four qualifying spots and two alternate positions were available at this qualifying site.
Joe Jaspers of Huntersville, NC and JD McNeil of Raleigh, NC shared medalist honors with a round of four-under par 68. John Blackwell from Wilmington, NC and Parker Dudley from Johns Island, SC earned the third and fourth spots with scores of two-under par 70.
Conner Sock of High Point, NC earned 1st alternate while Jake Colley of Raleigh, NC will be the 2nd alternate.
The four qualifiers advanced to the US Mid-Amateur Championship will be held October 7-12 at Capital City Club in Atlanta, GA.
Qualifying Results
| | | |
| --- | --- | --- |
| Place | Competitor | Score |
| T1 | Joe Jaspers, Huntersville, N.C. | 33-35--68 (-4) |
| T1 | Jd McNeill, Raleigh, N.C. | 33-35--68 (-4) |
| T3 | John Blackwell, Wilmington , N.C. | 37-33--70 (-2) |
| T3 | Parker Dudley, John's island, S.C. | 33-37--70 (-2) |
| | Failed to Qualify | |
| T5 | Conner Sock, High Point, N.C. 1st Alt. | 37-34--71 (-1) |
| T5 | Jake Colley, Raleigh, N.C. 2nd Alt. | 35-36--71 (-1) |
| T5 | Daniel Welborn, Charlotte, N.C. | 37-34--71 (-1) |
| T5 | Hugh Morrison, Charleston, S.C. | 38-33--71 (-1) |
| T5 | Chase Liebler, Southern Pines, N.C. | 36-35--71 (-1) |
| T5 | Jake Golliday, Pinehurst, N.C. | 38-33--71 (-1) |
| T5 | Danny Evelyn, Charlotte, N.C. | 39-32--71 (-1) |
| T12 | Matthew Rogers, Huntersville, N.C. | 37-35--72 (Even) |
| T12 | Kevin O'Connell, Cary, N.C. | 34-38--72 (Even) |
| T12 | Walker Taylor, Wrightsville Beach, N.C. | 36-36--72 (Even) |
| T15 | Dustin Moore, Greensboro, N.C. | 36-37--73 (+1) |
| T15 | Robert Andrews, Columbia, S.C. | 36-37--73 (+1) |
| T15 | Eric Williams, Goldsboro, N.C. | 38-35--73 (+1) |
| T15 | John Semeraro, Mount Pleasant , S.C. | 40-33--73 (+1) |
| T19 | J. Vann Parker, Emerald Isle, N.C. | 37-37--74 (+2) |
| T19 | Mike Olson, Wake Forest, N.C. | 36-38--74 (+2) |
| T19 | Matthew Spruill, Elizabeth City, N.C. | 37-37--74 (+2) |
| T19 | Franco Castro, Atlanta, Ga. | 36-38--74 (+2) |
| T19 | Nathan Young, Raleigh , N.C. | 38-36--74 (+2) |
| T19 | Troy Miller, Charleston, S.C. | 37-37--74 (+2) |
| T19 | Jake Amos, Cayce, S.C. | 37-37--74 (+2) |
| T19 | Greg Hamilton, Atlanta, Ga. | 39-35--74 (+2) |
| T27 | Cory Slocum, Greenville, S.C. | 37-38--75 (+3) |
| T27 | Paul Fitzgerald, Charlotte, N.C. | 37-38--75 (+3) |
| T27 | Michael Swiger, Raleigh, N.C. | 36-39--75 (+3) |
| T27 | Neal Morrison, Charlotte, N.C. | 38-37--75 (+3) |
| T27 | Joe Kastelic, Hickory, N.C. | 36-39--75 (+3) |
| T27 | Chad Day, Raleigh, N.C. | 37-38--75 (+3) |
| T27 | William Lincicome, Pinehurst, N.C. | 36-39--75 (+3) |
| T27 | Mickey Lankford, Pawleys Island, S.C. | 37-38--75 (+3) |
| T35 | Hunter Freeman, Raleigh, N.C. | 38-38--76 (+4) |
| T35 | Kevin Womack, Burlington, N.C. | 38-38--76 (+4) |
| T35 | Andrew Bridgers, Greenville, N.C. | 40-36--76 (+4) |
| T35 | Logan Harrell, Huntersville, N.C. | 38-38--76 (+4) |
| T35 | Erik Ehlert, Wrightsville Beach, N.C. | 39-37--76 (+4) |
| T35 | Matt Lindley, Raleigh, N.C. | 38-38--76 (+4) |
| T35 | Kenneth Bass, Pinehurst, N.C. | 37-39--76 (+4) |
| T35 | Jonathan McDonald, Belmont, N.C. | 38-38--76 (+4) |
| T35 | Mark Finger, Hilton Head Island, S.C. | 38-38--76 (+4) |
| T44 | James Bohn III, Cary, N.C. | 37-40--77 (+5) |
| T44 | Ethan Nelson, Edenton, N.C. | 38-39--77 (+5) |
| T44 | Jarrett Grimes, Columbia, S.C. | 38-39--77 (+5) |
| T44 | Rex Riley, Charleston, S.C. | 37-40--77 (+5) |
| T48 | Alan King, Charlotte, N.C. | 40-38--78 (+6) |
| T48 | Steve Agazzi, Charleston, S.C. | 39-39--78 (+6) |
| T50 | Chris Tanner, Kinston, N.C. | 40-39--79 (+7) |
| T50 | Tom Spencer, Huntersville, N.C. | 40-39--79 (+7) |
| T50 | Quinn Gruber, Raleigh, N.C. | 38-41--79 (+7) |
| T50 | Brooks Colquitt, Charlotte, N.C. | 41-38--79 (+7) |
| T50 | George Kornegay, Charlotte, N.C. | 40-39--79 (+7) |
| T55 | Earl Donnelly, Raleigh, N.C. | 38-43--81 (+9) |
| T55 | John Fulkerson, Birmingham, Ala. | 38-43--81 (+9) |
| 57 | Baker Street, Cary, N.C. | 43-40--83 (+11) |
| 58 | Drew Steffens, Raleigh, N.C. | 40-44--84 (+12) |
| 59 | Scott Sullivan, Columbia, S.C. | 44-41--85 (+13) |
| 60 | Jeffrey Edwards, Raleigh, N.C. | 43-43--86 (+14) |
| 61 | Alex Malone, Graniteville, S.C. | 43-50--93 (+21) |
| T62 | Shawn O'Donnell, Holly Springs, N.C. | DQ |
| T62 | Brian Richards, Sanford, N.C. | WD |
| T62 | Sam Dunlap, Atlanta, Ga. | WD |
| T62 | Donald Dean, Austin, Texas | WD |