Edmondson Repeats at Senior Championship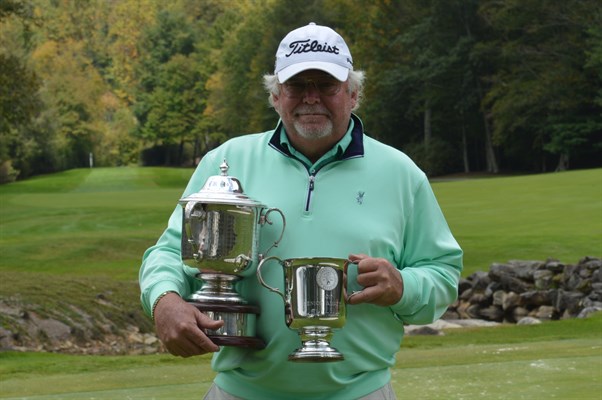 LINVILLE, NC (September 21, 2017) -- Final round results of the 56th Carolinas Senior Amateur Championship at Grandfather Golf and Country Club in Linville, NC on Thursday, September 21, 2017 (6,673 yards, Par 36-36--72, Course Rating 72.6/139).
Related: Championship Web Site | Starting Times | Scoring | Championship History | Photos

Preston Edmondson of Morrisville, N.C. captured his third Carolinas Golf Association championship by coming from behind to win the 56th Carolinas Senior Amateur Championship hosted by Grandfather Golf & Country Club.
After bogeying the second hole of the day Edmondson found himself in a familiar situation and used his experience from the previous year to jump start his round and make a run at the title. "I went back to last year, I started three or four shots back and bogeyed the first two holes, so I'm going well I know I have enough game to make some birdies and sure enough I just started hitting them solid and started hitting them at the hole", said Edmondson. After struggling in round two Edmondson realized he couldn't be too aggressive while attacking the golf course and needed to make sure he was missing his approach shots on the safer side of the hole. Edmondson would use this strategy and make four birdies and four bogeys in the final round to finish the day at even par, 72, and 10 over par for championship.
Rick Cloninger of Fort Mill, S.C. and Robert Desjardins of Matthews, N.C. finished tied for second with three day totals of 228, 12-over for the championship. Jim Pearson of Charlotte, N.C. finished alone in fourth place at 13-over par. Second round leader Harrison Rutter of Winston Salem, N.C. finished tied for fifth along with Kevin King of Bluffton, S.C., Walter Todd Sr. of Laurens, S.C. and Eddie Hargett of Blythewood, S.C.
When asked how this victory ranked against last year's Edmondson said, "Last year came out of no where. This year there was more pressure being the defending champion and I have had some high finishes in big senior events. The beauty about winning this is that you get invited to some really cool stuff. It's just an honor to defend."
The CGA would like to thank the members and staff of the Grandfather Golf & Country Club for hosting the Carolinas Senior Amateur Championship. Special gratitude is extended to Director of Golf Chip King and golf course superintendent Pete Gerdon.

56th Carolinas Senior Amateur Championship
Grandfather Golf & C.C., Linville, NC
Final Round Result
Pos.
Player
City, State
R1
R2
R3
Total Gross
1
Preston Edmondson
Morrisville, NC
+10
74
80
72
226
T2
Robert Desjardins
Matthews, NC
+12
82
72
74
228
T2
Rick Cloninger
Fort Mill, SC
+12
73
78
77
228
4
James Pearson
Charlotte, NC
+13
80
73
76
229
T5
Harrison Rutter
Winston-Salem, NC
+14
72
78
80
230
T5
Kevin King
Bluffton, SC
+14
77
80
73
230
T5
Walter Todd, Sr.
Laurens, SC
+14
74
77
79
230
T5
Eddie Hargett
Blythewood, SC
+14
76
75
79
230
9
Gary Hull
Vale, NC
+15
79
77
75
231
T10
Dean Channell
Cary, NC
+16
73
78
81
232
T10
Gary Robinson
Fayetteville, NC
+16
75
79
78
232
12
Jim Gallagher
Charlotte, NC
+17
78
79
76
233
13
Pat Thompson
Asheville, NC
+18
75
81
78
234
14
Ron Carpenter
Creedmoor, NC
+19
82
78
75
235
T15
Joseph Sadowski
Hickory, NC
+20
75
77
84
236
T15
Phil Bland
Waynesville, NC
+20
79
80
77
236
T17
Mark Stephens
Troutman, NC
+21
77
80
80
237
T17
Jim Grainger
Charlotte, NC
+21
77
82
78
237
T17
Paul Simson
Raleigh, NC
+21
74
84
79
237
T17
Geno Berchiatti
Greenville, SC
+21
81
81
75
237
T17
Doug Owens
Albemarle, NC
+21
80
83
74
237
T22
Bill Gee
Gaffney, SC
+22
78
76
84
238
T22
Craig Cathey
Burlington, NC
+22
84
72
82
238
T22
Jerry Horton
Wilmington, NC
+22
83
74
81
238
T22
John Dennis, III
Greenville, SC
+22
81
75
82
238
T26
Mike Arnold
Mooresville, NC
+24
76
83
81
240
T26
John Rudolph
Charlotte, NC
+24
76
77
87
240
T26
Johnny Elam
Charlotte, NC
+24
77
80
83
240
T26
David Eaker
Forest City, NC
+24
82
78
80
240
T26
Robby Kirby
Charlotte, NC
+24
80
82
78
240
T31
Jim Gress
Clemmons, NC
+25
74
80
87
241
T31
Gary Pugh
Asheboro, NC
+25
76
82
83
241
T31
Jack Nance
Pinehurst, NC
+25
81
80
80
241
T31
John Bunn
Raleigh, NC
+25
81
81
79
241
T31
Joe Hackler
Myrtle Beach, SC
+25
83
77
81
241
T36
Evan Long
Charlotte, NC
+27
77
85
81
243
T36
Arlis Pike
Kernersville, NC
+27
77
84
82
243
T36
Bubba Aughtry
Concord, NC
+27
81
79
83
243
T36
Robert Wildner
Hendersonville, NC
+27
82
81
80
243
T36
Tony Herring
Raleigh, NC
+27
81
84
78
243
41
Dennis Helms
Monroe, NC
+28
78
87
79
244
T42
Eric Ardery
Durham, NC
+29
78
80
87
245
T42
Mark Bolick
Hickory, NC
+29
80
80
85
245
T42
David Blevins
Raleigh, NC
+29
77
85
83
245
T42
Ed Byman
Raleigh, NC
+29
77
82
86
245
T42
Kim Mansfield
High Point, NC
+29
80
81
84
245
T47
Jeff Rausch
Charlotte, NC
+31
78
78
91
247
T47
Dave Davis
Asheboro , NC
+31
88
71
88
247
T47
David Brown
Conover, NC
+31
80
85
82
247
T47
Rick Riddle
Charlotte, NC
+31
81
81
85
247
51
Steve Wilson
Wilmington, NC
+32
81
83
84
248
52
Eric Taylor
Greensboro, NC
+34
76
82
92
250
53
Lee Keesler, Jr.
Charlotte, NC
+35
79
84
88
251
T54
Bob Yow
Clinton, NC
+36
78
82
92
252
T54
Dick Stimart
Charlotte, NC
+36
77
83
92
252
T54
Orry Dubois
Wake Forest, NC
+36
79
82
91
252
T57
Tom Fagerli
Yadkinville, NC
+37
78
86
89
253
T57
Hugh Quinn
Lewisville, NC
+37
80
84
89
253
WD
John Fritz
Mint Hill, NC
-
77
78
WD
WD
WD
Russ Perry
Winston Salem, NC
-
76
81
WD
WD
WD
Michael Caprio
Greer, SC
-
81
78
WD
WD
WD
Ernie Newton, Jr.
Winston Salem, NC
-
86
76
WD
WD
WD
Wesley Clark
Charlotte, NC
-
80
85
WD
WD
The following players did not make the cut
CUT
Bob Edens
Columbia, SC
+22
82
84
166
CUT
Bob Klug
Pinehurst, NC
+22
84
82
166
CUT
Chuck Parker
Raleigh, NC
+22
82
84
166
CUT
Joe Maher
Lake Wylie, SC
+22
78
88
166
CUT
Joe Robinson
Rock Hill, SC
+22
82
84
166
CUT
Keith Waters
Raleigh, NC
+22
82
84
166
CUT
Kevin Walsh
Charlotte, NC
+22
83
83
166
CUT
Mike Fields
Southern Pines, NC
+22
82
84
166
CUT
Andre Resner
Salisbury, NC
+22
80
86
166
CUT
Glenn Sexton
Greensboro, NC
+22
80
86
166
CUT
John Helms
Mt. Holly, NC
+22
78
88
166
CUT
Andy Burnette
Raleigh, NC
+23
80
87
167
CUT
Jerry Sennett
Stanley, NC
+23
85
82
167
CUT
Joseph Horne
Columbia, SC
+23
83
84
167
CUT
Terry Rathman
Gastonia, NC
+23
81
86
167
CUT
Bill Baker
Raleigh, NC
+23
81
86
167
CUT
Charles Hodges
Charlotte, NC
+23
86
81
167
CUT
Ben Baker
Pisgah Forest, NC
+24
85
83
168
CUT
David Watterworth
Charlotte, NC
+24
82
86
168
CUT
Kenneth Eichele
Pinehurst, NC
+24
84
84
168
CUT
Raymond Davis
Apex, NC
+24
87
81
168
CUT
Tony Nichols
Reidsville, NC
+24
84
84
168
CUT
Gary Roberson
Burlington, NC
+24
79
89
168
CUT
Ken Shelton
Denver, NC
+24
78
90
168
CUT
Brad Buxton
Greensboro, NC
+25
82
87
169
CUT
David Camadine
Charlotte, NC
+25
81
88
169
CUT
Greg Norris
Wilmington, NC
+25
84
85
169
CUT
James Motsinger
Wilkesboro, NC
+25
86
83
169
CUT
Norman Davis
Charlotte, NC
+25
87
82
169
CUT
Rick Shaefer
Holly Springs , NC
+25
81
88
169
CUT
Steve Misenheimer
Huntersville, NC
+25
81
88
169
CUT
Edward Galbavy
Johns Island, SC
+25
83
86
169
CUT
Jd Lawson
Greensboro, NC
+25
87
82
169
CUT
John Walters
Charlotte, NC
+26
81
89
170
CUT
Stan Queen
Burlington, NC
+26
89
81
170
CUT
Greg Powell
Charlotte, NC
+27
86
85
171
CUT
Mark Kozel
Chapel Hill , NC
+27
89
82
171
CUT
Rick Luzar
Pinehurst, NC
+27
84
87
171
CUT
Donald Moore
Greensboro, NC
+27
82
89
171
CUT
Ken Taylor
Columbia, SC
+28
78
94
172
CUT
Brad Kroll
Charlotte, NC
+28
91
81
172
CUT
Randy Beeson
Colfax, NC
+28
85
87
172
CUT
Scott Danals
Bryson City, NC
+29
86
87
173
CUT
Charlie Parks
Asheboro, NC
+30
86
88
174
CUT
Don White Jr
Winston Salem, NC
+30
89
85
174
CUT
Robert Parrott
Raleigh, NC
+30
87
87
174
CUT
Charley Johnson
Southern Pines, NC
+31
84
91
175
CUT
Chip Hunter
Winston Salem, NC
+31
84
91
175
CUT
Edward Mills
Fairview, NC
+32
85
91
176
CUT
Jeff Koziol
Charlotte, NC
+32
88
88
176
CUT
Richard Condrey
Nebo, NC
+33
86
91
177
CUT
Willie Huff
Greenville, SC
+33
89
88
177
CUT
Robert Bennett, Jr.
Cheraw, SC
+34
92
86
178
CUT
George Deryckere
Rocky Mount, NC
+35
88
91
179
CUT
Doug Glenn
Kannapolis, NC
+36
90
90
180
CUT
Tom Carbone
Mooresville, NC
+36
92
88
180
CUT
Larry Wilson
Asheville, NC
+39
90
93
183
CUT
Darryl Averyhart
Columbia, SC
+43
90
97
187
CUT
David Williams
Cary, NC
+43
92
95
187
CUT
Clint Miller
Mt Pleasant, NC
+48
96
96
192
CUT
Michael Smith
Cheraw, SC
+49
93
100
193
WD
Nolan Mills, III
Charlotte, NC
-
79
WD
WD
WD
Stan Sill
Spartanburg, SC
-
80
WD
WD
WD
Darrell Frutiger
Wake Forest, NC
-
83
WD
WD
WD
Mike Williford
Fayetteville, NC
-
86
WD
WD
WD
Allen Blake
Liberty, NC
-
95
WD
WD
WD
Brad Stoll
Hickory, NC
-
97
WD
WD
WD
James Dill
Pinehurst, NC
-
WD
WD
WD
WD
Mike Gravley
Greer, SC
-
WD
WD
WD