Pike Captures NC Super Senior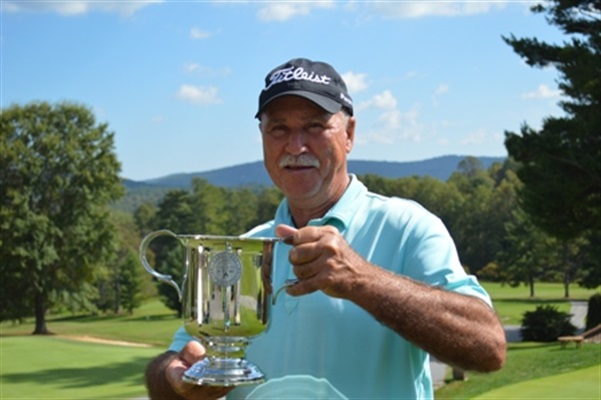 HENDERSONVILLE, N.C. (September 26, 2017) -- Final Results of the 10th North Carolina Super Senior Championship at Hendersonville Country Club in Hendersonville, N.C. from September 26th.
Related: Championship Web Site | Scoring |
Arlis Pike of Kernersville, NC 70th birthday will be one he will never forget, as it was celebrated in style by winning the 10th NC Super Senior Championship hosted by Hendersonville Country Club in Hendersonville, NC. Pike started the day two shots off the lead but was able to come from behind using an eagle and two birdies for a second round 68. Pike's two-day total of 137 was enough for him to win his 6th Carolinas Golf Association Championship. "I love playing in these, but I really play to win," said the excited birthday boy about his victory. Paul Simson of Raleigh, NC finished one shot back of Pike in solo second. First round leader Ron Carpenter of Creedmoor, NC finished in third place. In his first Super Senior Championship, Lawrence Hicks of Greensboro, NC finished alone in fourth with a two-day total of 143.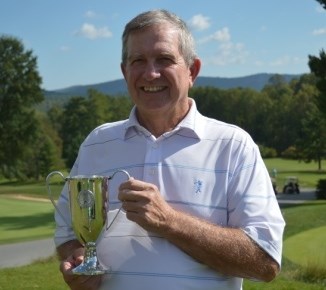 Mike Sprouts of Hickory, NC came from behind with a second round three-under-par 67 to win the 70+ Division. Sprouts used a bogey-free card with three birdies to propel him to the victory. His two-day total of one-under, 139 was one shot clear of Rick Kline of Davidson, NC who finished in solo second.
This championship is conducted at 36 holes of stroke play. Entry is open to any male amateur golfer, age 65 and older, who is a legal resident of North Carolina, is a member in good standing of a club which is a member of the Carolinas Golf Association and has an active GHIN® USGA Handicap Index®. Players may sign up for the 65+ or 70+ age division.
Scoring will be provided by the CGA throughout the championship, offering 9 and 18-hole updates. Live updates will also be available on the CGA's official Twitter account, @cgagolf1909. Continue to visit the CGA website throughout this championship and all year long for complete championship coverage including scores, interviews, photos, and recaps.
Final Results
Championship Division

Pos.
Player
Affiliation
To Par
R1
R2
Total Gross
1
Arlis Pike
Kernersville, NC
-3
69
68
137
2
Paul Simson
Raleigh, NC
-2
68
70
138
3
Ron Carpenter
Creedmoor, NC
+1
67
74
141
4
Lawrence Hicks
Greensboro, NC
+3
72
71
143
T5
Charlie Parks
Asheboro, NC
+6
71
75
146
T5
Don Detweiler
Raleigh, NC
+6
71
75
146
T5
Robert Desjardins
Matthews, NC
+6
73
73
146
T5
Gary Golbesky
Hendersonville, NC
+6
74
72
146
T9
Dee Blankenhorn
Raleigh, NC
+7
70
77
147
T9
Russ Perry
Winston Salem, NC
+7
71
76
147
T9
Evan Long
Charlotte, NC
+7
77
70
147
T12
Bob Yow
Clinton, NC
+8
73
75
148
T12
Roger Taylor
Conover, NC
+8
75
73
148
T12
Larry Whitmore
Charlotte, NC
+8
75
73
148
T12
Robert Wildner
Hendersonville, NC
+8
76
72
148
T16
Brad Dorsett
Mount Airy, NC
+9
75
74
149
T16
Wayne Pyrtle
Burlington, NC
+9
75
74
149
T16
William Thaxton
Monroe, NC
+9
74
75
149
T19
Tom White
Asheville, NC
+10
72
78
150
T19
Greg Powell
Charlotte, NC
+10
75
75
150
T19
Spike Smith
Pinehurst, NC
+10
78
72
150
T22
Mark Stephens
Troutman, NC
+11
77
74
151
T22
Billy Poteat
Hickory, NC
+11
83
68
151
T24
Chuck Wunsch
Pinehurst, NC
+12
73
79
152
T24
Kim Mansfield
High Point, NC
+12
73
79
152
T24
Austin Overby
Ocean Isle Beach, NC
+12
74
78
152
T24
Barry DeLapp
Hendersonville , NC
+12
76
76
152
28
Charles Hodges
Charlotte, NC
+13
78
75
153
T29
Jeff Heath
Clinton, NC
+15
78
77
155
T29
Kenneth Eichele
Pinehurst, NC
+15
80
75
155
T31
Gene Grubb
Greensboro, NC
+16
78
78
156
T31
Garland Yates
Asheboro, NC
+16
78
78
156
T31
Larry Smothers
Wilmington, NC
+16
82
74
156
T34
Hugh Quinn
Lewisville, NC
+17
76
81
157
T34
James Powell
Greensboro, NC
+17
77
80
157
T34
Robert Crawford
Winston Salem, NC
+17
80
77
157
T34
Ivory Walker
Fletcher, NC
+17
83
74
157
T34
Randy Allen
Tryon, NC
+17
83
74
157
39
Rick LaFata
Raleigh, NC
+18
76
82
158
T40
Paul Stroup
Charlotte, NC
+20
78
82
160
T40
Steven Johnson
Jefferson, NC
+20
81
79
160
T40
Robert Dail
Wendell, NC
+20
81
79
160
T43
Frank Golden
Charlotte, NC
+21
79
82
161
T43
Phillip Greene
Charlotte, NC
+21
82
79
161
T43
Edward Mills
Fairview, NC
+21
81
80
161
46
Dickie Brewer
Winston Salem, NC
+22
79
83
162
T47
Jay Gardner
Jamestown, NC
+25
80
85
165
T47
Tom Carbone
Mooresville, NC
+25
83
82
165
49
Ray Jackson
Rocky Mount, NC
+26
82
84
166
50
Dennis McNames
Winston Salem, NC
+28
84
84
168
51
Steve Joyce
Denver, NC
+29
88
81
169
52
Todd Turner
West End, NC
+30
84
86
170
53
Dennis Toothman
Raleigh, NC
+31
86
85
171
54
Rallie Nance
Lumberton, NC
+43
89
94
183
WD
Garry Smith
Wilmington, NC
-
73
WD
WD
WD
Gene Konczal
Statesville, NC
-
86
WD
WD
WD
Jim Hunsuck
Statesville, NC
-
WD
WD
WD
David Watterworth
Charlotte, NC
-
WD
WD
WD
Mark Wagner
Statesville, NC
-
WD
WD

70 + Division

Pos.
Player
Affiliation
To Par
R1
R2
Total Gross
1
Mike Sprouts
Hickory, NC
-1
72
67
139
2
Rick Kline
Davidson, NC
E
72
68
140
3
Terry Rathman
Gastonia, NC
+3
72
71
143
4
Doug Potter
Greensboro, NC
+4
72
72
144
T5
Charlie Thompson
Hendersonville, NC
+5
71
74
145
T5
Dan Anderson
Lenoir, NC
+5
72
73
145
T7
Garrett Garland
Huntersville, NC
+6
79
67
146
T7
Arnold Edwards
Charlotte , NC
+6
74
72
146
T9
Bob Beasley
Greensboro, NC
+7
72
75
147
T9
John Walters
Charlotte, NC
+7
71
76
147
T11
Tom Hadley
Hendersonville, NC
+8
70
78
148
T11
Johnny Johnston
Hendersonville, NC
+8
75
73
148
T13
Dave Owens
Hendersonville, NC
+9
74
75
149
T13
Steve Spiegler
Charlotte, NC
+9
73
76
149
T15
Bill Beal
Matthews, NC
+12
79
73
152
T15
Dave Moser
Charlotte, NC
+12
75
77
152
17
David Williams
Cary, NC
+13
75
78
153
T18
Jack Blankenhorn
Raleigh, NC
+14
76
78
154
T18
John Burton
Bryson City, NC
+14
78
76
154
T20
Terry Collins
Pinehurst, NC
+15
80
75
155
T20
Bob Norman
Rocky Mount, NC
+15
74
81
155
22
Bob Adams
Asheville, NC
+16
79
77
156
T23
Russ Johnson
Hendersonville, NC
+18
80
78
158
T23
Frank Morris
Winston-Salem, NC
+18
78
80
158
25
Wiley Barrett
Southern Pines, NC
+19
78
81
159
26
Tom Ross
Chocowinity, NC
+20
83
77
160
27
Mike Zimmerman
Conover, NC
+24
77
87
164
WD
James Brown
High Point, NC
-
WD
WD