2018 Carolinas Golf Night & Annual Meeting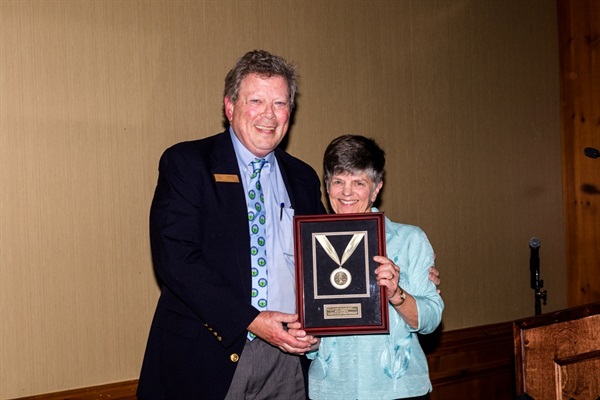 SOUTHERN PINES, N.C. (February 13, 2018) -- On Saturday, February 10, 2018, the Carolinas Golf Association's annual meeting was hosted by Pine Needles Lodge & Golf Club in Southern Pines, N.C. The CGA's annual meeting was held in conjunction with Carolinas Golf Night, which recognizes the CGA's year-end award winners, champions, and volunteers. The Redman family brought the Havemeyer trophy to display, which Doc Redman of Raleigh, N.C. earned by winning the 2017 U.S. Amateur.
Related: Photo Gallery | Players of the Year

Annual Meeting
Lawrence Hicks [left] welcomes Gene Spencer as the
new president of the Carolinas Golf Association
Mr. Eugene Spencer of Blythewood, S.C., was elected to a two-year term as the 56th president of the Association. Spencer, a member of Columbia Country Club, has served on the CGA Executive Committee since 2005. He was elected secretary in 2014 and vice president in 2016.
Officers elected to continue their service on the CGA Executive Committee are: Vice President Greg Norris of Wilmington, N.C.; Secretary Michael Smith of Greenville, S.C., Treasurer Dan O'Connell of Spartanburg, S.C.; and General Counsel Charles E. Lynch, Jr. of High Point, N.C. Lawrence Hicks of Greensboro, N.C., serves as the Immediate Past-President. Jackson Hughes, Jr. of Greenville, S.C., retires from the Executive Committee after serving on it for 16 years, including a term as president in 2014-15.
Re-elected Carolinas Golf Association Executive Committee members to serve four-year terms are Dr. Richard Dosek of Advance, N.C.; Frank Golden of Charlotte, N.C.; Michael Sims of West Columbia, S.C.
The other CGA Executive Committee members continuing their service are Vicki DiSantis of Pinehurst, N.C.; Joe Hackler of Myrtle Beach, S.C.; Whitten Meares of Charleston, S.C.; Kelly Miller of Southern Pines, N.C.; Rion Moore of Georgetown, S.C.; Rick Riddle of Charlotte, N.C., Teddy Stockwell of Charleston, S.C., and Tom Thorpe of Clemmons, N.C. Joining the Executive Committee as a new member is Gregg Jones of Florence, S.C. Jones was elected to fill the unexpired terms of Mike Smith.


Annual Awards
The Carolinas Golf Association established the Charles E. Lynch, Jr. Distinguished Service Award at its 2016 Annual Meeting to honor an individual or group whose actions have shown a commitment to the CGA and the game of golf by going above and beyond the call to make the CGA and golf better in the Carolinas.
Charles E. Lynch, Jr. presents the Distinguished Service Award
named in his honor to Joyce Wittman.
Joyce Wittman of Grimesland, N.C., became the third recipient of the award. Joyce is a 19-year USGA Course Rater in the Greenville, N.C. area. She began rating golf courses in October of 1999 after being recruited by Betty Timore and Michael Dann. Wittman became captain after Timore retired. She continually promotes ladies golf, and her automobile license plate proudly says LGA.
Wittman actively participates in local league play and has been a member of the Golf Committee and the Handicap Committee at Greenville Country Club, where she is currently the Ladies Club Champion. She believes that her course rating experience has improved her playing ability and continually evaluates golf courses more as a rater than as a player.


Scott Harvey [right] is presented his record seventh consecutive Richard S. Tufts Men's Player of the Year award by Rick Tufts, Richard's grandson.
The top amateur golfers in the Carolinas were recognized as the Richard S. Tufts Players of the Year. Scott Harvey of Greensboro, N.C. claimed his record seventh consecutive Men's Player of the Year award. Courtney McKim of Raleigh, N.C. won Women's honors. Pat Brogden of Garner, N.C. received her fifth Senior Women's award. Paul Simson of Raleigh, N.C. accepted his ninth Senior Men's Player of the Year as well as the inaugural Super Senior Men's Player of the Year award. Gracyn Burgess of Lexington, S.C. and Trent Phillips of Inman, S.C. claimed Junior Girls' and Junior Boys' honors, respectively. Fulton Smith of Pinehurst, N.C. and Gracyn Burgess of Lexington, S.C. earned the David Parrott Awards for their sportsmanship, ability, and academic excellence.
About the Carolinas Golf Association (CGA)
The CGA is a 501(c)(3) not-for-profit educational organization that was founded in 1909 to promote and to protect the game of golf in the Carolinas by providing competitions, education, support and benefits to golf clubs and golfers. The CGA is the second largest golf association in the country with over 700 member clubs represented by nearly 150,000 individuals.

The CGA annually conducts 48 championships and five team match competitions for men, women, juniors, and seniors. It also runs over 150 One-Day (net and gross) events as well as qualifying for USGA national championships. The CGA serves golf in the Carolinas with numerous programs such as: the USGA Handicap System; tournament management software and support; course measuring and course/slope ratings; agronomy consultation; answers about the Rules of Golf, Rules of Amateur Status, and Handicapping; Carolinas Golf Magazine; Interclub series; Tarheel Youth Golf Association; Carolinas Golf Hall of Fame; expense assistance for USGA Junior and Girls' Junior qualifiers from the Carolinas; and the Carolinas Golf Foundation (CGF). The CGF has distributed nearly $2,000,000 since 1977 to benefit Carolinas' golf initiatives including junior and women's programs.
For more information about the CGA, visit our website.
--30--