US Open Local Qualifying at Duke GC Results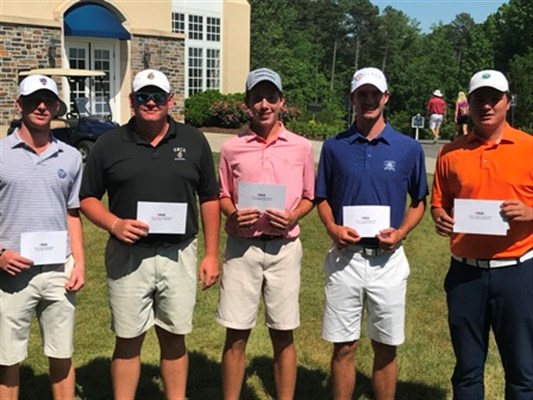 Pictured left to right - Stephen Franken, Bryce Hendrix, Jackson Van Paris, Alex Smalley and Blake McShae
Five qualifying spots were available at Duke University Golf Club for sectional qualifying of the 118th U.S. Open Championship. Stephen Franken of Raleigh, NC, Bryce Hendrix of Greensboro, NC and Blake McShae of Zebulon, NC shared the medalist award with rounds of four under par 68. Alex Smalley of Wake Forest and Jackson Van Paris of Pinehurst, NC claimed the final two qualifying spots with rounds of three under par 69.
These five players will advance to U.S. Open sectional qualifying, conducted over 36 holes, which will be held on Monday, June 4, at 10 sites in the U.S. and one in Europe. Japan will host international sectional qualifying on May 21. The 118th U.S. Open Championship will be played on June 11-17, 2018 at Shinnecock Hills Golf Club in Southampton, NY.
This qualifier was conducted by the Carolinas Golf Association and the United States Golf Association.
| | | | |
| --- | --- | --- | --- |
| Place | Name | Total | To Par |
| T1 | Stephen Franken, Raleigh, NC | 68 | -4 |
| T1 | Bryce Hendrix, Greensboro, NC | 68 | -4 |
| T1 | Blake McShea, Zebulon, NC | 68 | -4 |
| T4 | Alex Smalley, Wake Forest, NC | 69 | -3 |
| T4 | Jackson Van Paris, Pinehurst, NC | 69 | -3 |
| | DID NOT ADVANCE | | |
| 1st Alternate | Nicholas Lyerly, Salisbury, NC | 70 | -2 |
| 2nd Alternate | Joshua Martin, Pinehurst, NC | 70 | -2 |
| | Michael Cromie (p), Raleigh, NC | 70 | -2 |
| | Chandler Eaton, Alpharetta, GA | 70 | -2 |
| | Nolan Mills, Charlotte, NC | 71 | -1 |
| | Brendan Macdougall, Canada, | 71 | -1 |
| | Charles Huntzinger, Duluth, GA | 71 | -1 |
| | Kevin O'Connell, Cary, NC | 71 | -1 |
| | Charlie May, Elon, NC | 73 | 1 |
| | Parker Gillam, Danville, CA | 73 | 1 |
| | Ricky Stout (p), New Bern, NC | 73 | 1 |
| | Justin Hood, St Matthews, SC | 73 | 1 |
| | Tailin Song, Rancho Santa Fe, CA | 73 | 1 |
| | Adrien Pendaries, France, | 74 | 2 |
| | Carson Lanier (p), Sanford, NC | 74 | 2 |
| | Will Long (p), Gastonia, NC | 74 | 2 |
| | Austin Hitt, Longwood, FL | 74 | 2 |
| | Thomas Lamorte, Haworth, NJ | 74 | 2 |
| | Noah Ratner (p), Asheville, NC | 74 | 2 |
| | David Sanchez (p), Charlotte, NC | 74 | 2 |
| | Ryan Gerard, Raleigh, NC | 74 | 2 |
| | Amarin Kraivixien, Thailand, | 74 | 2 |
| | Eric Bae, Pinehurst, NC | 74 | 2 |
| | Ryan Heisey (p), Greensboro, NC | 75 | 3 |
| | Jake Shuman, Needham, MA | 75 | 3 |
| | Tommy Gibson (p), Mount Airy, NC | 75 | 3 |
| | Dale Ketola (p), Little River, SC | 76 | 4 |
| | Andrew Wilmoth, Raleigh, NC | 76 | 4 |
| | Zach Seabolt (p), Raleigh, NC | 76 | 4 |
| | Jason Moon (p), Australia, | 76 | 4 |
| | Quinn Riley, Raleigh, NC | 76 | 4 |
| | Viraj Garewal, Raleigh, NC | 77 | 5 |
| | Stuart Fuller, Chapel Hill, NC | 77 | 5 |
| | Aaron Purviance, Winston Salem, NC | 77 | 5 |
| | Thomas Eubanks, Charlotte, NC | 78 | 6 |
| | Adam Wood, Zionsville, IN | 78 | 6 |
| | Ben Balter, Wellesley, MA | 78 | 6 |
| | Jared Chinn, Honolulu, HI | 78 | 6 |
| | Max Theodorakis, Danbury, CT | 78 | 6 |
| | Timothy Driver, Holly Springs, NC | 79 | 7 |
| | Michael Childress, Salisbury, NC | 79 | 7 |
| | Tom Lawton (p), England, | 79 | 7 |
| | Graham Lewis, Joshua, TX | 79 | 7 |
| | Jimbo Stanley, Raleigh, NC | 80 | 8 |
| | Rodney Mulford (p), Raleigh, NC | 80 | 8 |
| | Michael Wicker, Rougemont, NC | 80 | 8 |
| | Thomas Morrison, Pinehurst, NC | 81 | 9 |
| | Keith Kepley, Charlotte, NC | 81 | 9 |
| | Brett McLamb, Coats, NC | 81 | 9 |
| | Rob Perry, Sandoval, IL | 81 | 9 |
| | Nathaniel Eaton (p), Raleigh, NC | 82 | 10 |
| | Gabriel Hollinger (p), Charlotte, NC | 82 | 10 |
| | Perry Austin Kilburn, Monroe, GA | 82 | 10 |
| | Connor Reilly (p), Apex, NC | 82 | 10 |
| | Scott Freeman (p), Raleigh, NC | 82 | 10 |
| | Thomas Brundage, Charlotte, NC | 84 | 12 |
| | Derek Ginther (p), Waterford, OH | 84 | 12 |
| | Will Hanna, Raleigh, NC | 84 | 12 |
| | Jacob Agruda, Fuquay Varina, NC | 84 | 12 |
| | Spencer Roberts, Raleigh, NC | 85 | 13 |
| | Logan Shuping, Salisbury, NC | 85 | 13 |
| | Tanner Gross, Archdale, NC | 85 | 13 |
| | Chase Knox, Alpharetta, GA | 85 | 13 |
| | Davis Richards, Kannapolis, NC | 86 | 14 |
| | Mike Monaghan (p), Amarillo, TX | 86 | 14 |
| | Peter Jackson, Raleigh, NC | 86 | 14 |
| | Kevin O'Connor (p), Newport News, VA | 88 | 16 |
| | Austin Northern, Blowing Rock, NC | 89 | 17 |
| | Kerney Black, Rural Hall, NC | 90 | 18 |
| | Kyle Burgess (p), Garner, NC | 90 | 18 |
| | Kevin Currin (p), Durham, NC | 92 | 20 |
| | Justin Finger, Durham, NC | 96 | 24 |
| | Wade Boteler (p), Mebane, NC | WD | - |
| | Robert Whartenby, Cary, NC | WD | - |
| | Kenan Poole, Raleigh, NC | WD | - |
| | Ben Pinkleton (p), Brown Summit, NC | WD | - |
| | Thomas Sykes (p), Efland, NC | WD | - |
| | William Register, Chapel Hill, NC | WD | - |
| | Brian Sanders, Greensboro, NC | WD | |
| | (p) signifies player as a professional; all others are amateurs | | - |