Can Simson Connect Four in a Row at NC Senior?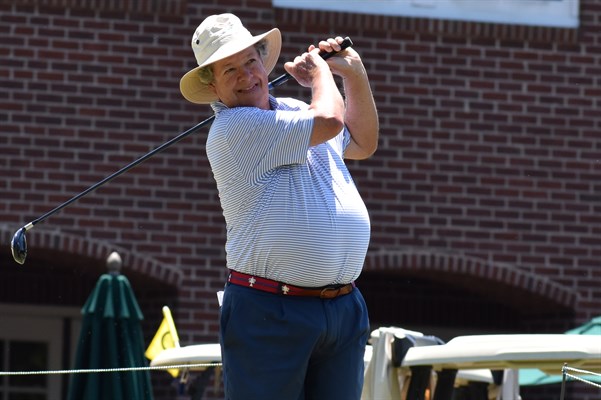 Paul Simson of Raleigh
SOUTHERN PINES, N.C. (May 10, 2018) -- The Carolinas Golf Association will conduct the 33rd North Carolina Senior Amateur Championship at the Starmount Country Club in Greensboro, N.C. from May 14-16. The championship is conducted at 54 holes of stroke play. After 36 holes, the field is cut to the low 60 scores and ties for the final round. The top 30 scores will receive merchandise and are exempt into the 2019 North Carolina Senior Championship.
Related: Championship Web Site | Full Field of Players | Starting Times | Championship History

Players to watch:
Three-time defending champion Paul Simson of Raleigh has won the North Carolina Senior nine of the last 11 years he was eligible. The top-ranked senior golfer in the Carolinas celebrated his 67th birthday on Thursday by defending his title at the Carolinas Super Senior. Simson is the all-time leader in CGA wins with 34. "I still have to go out and play, these guys aren't going to give it to me," Simson said about his quest for a four-peat. "There are a lot of good players out here," he added.

Last year's runner-up, Macon Moye of Pinehurst. Moye is a three-time CGA champion.

Two-time reigning Carolinas Amateur champion Preston Edmondson of Morrisville is ranked fifth among Carolinas senior golfers.

6-time CGA champ Gary Robinson of Fayetteville. Robinson won Carolinas Senior Player of the Year in 2015.

Pat Thompson of Asheville. The 2015 Carolinas Senior Amateur winner is currently the second-ranked senior golfer in the Carolinas behind Simson.

Medalist
Score
Qualifying Site
Steve Misenheimer
Huntersville
71 (-1)
Firethorn CC
Charlotte
Mark Kozel
Chapel Hill
72 (E)
Heritage GC
Wake Forest
Penn Compton
Wilmington
75 (+3)
Gates Four CC
Fayetteville
David Waggoner
Holly Ridge
Craig Cathey
Burlington
70 (-1)
Stoney Creek GC
Whitsett

123 players are expected to compete on the6,191 yard par-70 layout. Exempt players were automatically accepted into the championship while others were required to qualify through one of four 18-hole qualifiers.
Entry is open to any male amateur golfer who has reached his 55th birthday, is a legal resident of North Carolina, is a member in good standing of a club which is a member of the Carolinas Golf Association (CGA) and has an active GHIN® USGA Handicap Index® at a CGA member club that does not exceed 10.4.

Past champions in the field (4):
Paul Simson, Raleigh - 2006, 2007, 2009, 2010, 2011, 2012, 2015, 2016, 2017
Dr. James Pearson, Charlotte - 2014
Russ Perry, Winston-Salem - 2013
James Dowtin, Jr., Greensboro - 2003
About the Carolinas Golf Association (CGA)
The CGA is a 501(c)(3) not-for-profit educational organization that was founded in 1909 to promote and to protect the game of golf in the Carolinas by providing competitions, education, support and benefits to golf clubs and golfers. The CGA is the second largest golf association in the country with over 700 member clubs represented by nearly 150,000 individuals.
The CGA annually conducts 48 championships and five team match competitions for men, women, juniors, and seniors. It also runs over 150 One-Day (net and gross) events as well as qualifying for USGA national championships. The CGA serves golf in the Carolinas with numerous programs such as: the USGA Handicap System; tournament management software and support; course measuring and course/slope ratings; agronomy consultation; answers about the Rules of Golf, Rules of Amateur Status, and Handicapping; Carolinas Golf Magazine; Interclub series; Tarheel Youth Golf Association; Carolinas Golf Hall of Fame; expense assistance for USGA Junior and Girls' Junior qualifiers from the Carolinas; and the Carolinas Golf Foundation (CGF). The CGF has distributed nearly $2,000,000 since 1977 to benefit Carolinas' golf initiatives including junior and women's programs. For more information about the CGA, visit our website.
--30--