Moye Wins 33rd NC Senior Championship
GREENSBORO, N.C. (May 16, 2018) -- Final results of the 33rd North Carolina Senior Amateur Championship at Starmount Forest Country Club in Greensboro, N.C. on Wednesday, May 16th (6,191 yards, Par 34-36--70, Course Rating 69.3/131).
Related: Championship Web Site | Scoring

Macon Moye of Pinehurst was able to hold onto his lead and secure his first North Carolina Senior Championship win at Starmount Forest Country Club in Greensboro, NC. Moye's final score was an 11-under par 199.With rounds of 64-69-66, Moye was able to hold of Harrison Rutter of Winston-Salem who finished in second place with a seven-under par 203. Pat Thompson of Asheville took third with a five-under par 205.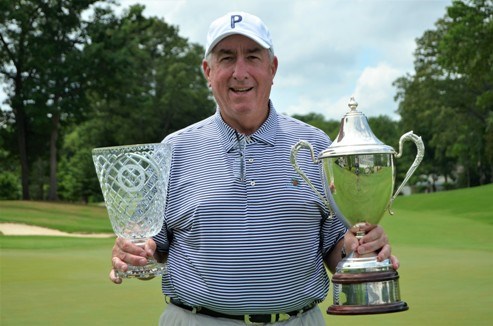 Macon Moye of Pinehurst Wins 33rd NC Senior
Moye began the day three shots ahead of Rutter playing in the same group. Rutter made an early charge to come even with Moye at the top of the leaderboard after holing out for a two on the par four 4th.
Moye said that was when he began to worry a bit, "I was watching him when he made two on four. That's when you wonder if it would be his day."
The two stayed neck and neck throughout most of the round, but Rutter believed the par five, 14th was the turning point, "I was one back and hit three wood to try to get close for eagle. I hit it over the hole and ended up with a three putt back down the hill," said the one-time CGA champion.
Moye would birdie that 14th hole and add one more birdie on the 18th to secure his fourth overall CGA win, and his first on the senior circuit.
Moye credited his clutch performance to a good mindset throughout the day, "I just got comfortable and realized the only score I could pay attention to was my own."
This is Moye's first win since the 1998 North Carolina Mid-Amateur. "It feels good to win" Moye added with a smile.
Entry is open to any male amateur golfer who has reached his 55th birthday by the first day of the championship, is a legal resident of North Carolina, is a member in good standing of a club which is a member of the Carolinas Golf Association (CGA) and has an active GHIN® USGA Handicap Index® at a CGA member club that does not exceed 10.4.

33rd North Carolina Senior Amateur Championship
Starmount Forest Country Club | Greensboro, N.C.
Final Round Results
Pos.

Player

City, State

To Par

R1

R2

R3

Total

1

Macon Moye

Pinehurst, NC

-11

64

69

66

199

2

Harrison Rutter

Winston-Salem, NC

-7

70

66

67

203

3

Pat Thompson

Asheville, NC

-5

72

67

66

205

4

Keith Waters

Raleigh, NC

-4

66

71

69

206

5

Steve Harwell

Mooresville, NC

-2

69

69

70

208

T6

Paul Simson

Raleigh, NC

+1

70

70

71

211

T6

Gary Pugh

Asheboro, NC

+1

71

70

70

211

8

Stephen Sharpe

Greensboro, NC

+2

74

70

68

212

9

James Pearson

Charlotte, NC

+3

69

72

72

213

10

Gary Hull

Cornelius , NC

+4

70

69

75

214

11

Robert Wildner

Hendersonville, NC

+5

78

68

69

215

T12

Andre Resner

Salisbury, NC

+6

72

68

76

216

T12

Ed Donlin

Concord, NC

+6

72

70

74

216

T12

Ernie Newton

Winston Salem, NC

+6

71

73

72

216

T15

Bob Yow

Clinton, NC

+8

74

73

71

218

T15

Dave Davis

Asheboro , NC

+8

69

74

75

218

T17

Todd Hendley

Columbus , NC

+9

70

74

75

219

T17

Buck Hall

Thomasville, NC

+9

73

72

74

219

T17

Don Detweiler

Raleigh, NC

+9

69

78

72

219

T17

Rick Riddle

Charlotte, NC

+9

75

70

74

219

T21

Dean Channell

Cary, NC

+10

75

73

72

220

T21

Mark Walker

Greensboro, NC

+10

70

76

74

220

T23

Jerry Horton

Wilmington, NC

+11

73

73

75

221

T23

Robert Vespa

Summerfield, NC

+11

76

71

74

221

T23

Preston Edmondson

Morrisville, NC

+11

73

76

72

221

T26

Robert Desjardins

Matthews, NC

+12

74

72

76

222

T26

Jim Arlington

Apex, NC

+12

77

74

71

222

T26

Rick Shaefer

Holly Springs , NC

+12

76

75

71

222

T26

Tuck Burkinshaw

Cary, NC

+12

77

73

72

222

T26

Phil Bland

Waynesville, NC

+12

72

78

72

222

T31

Bill Boles Jr.

Wilson, NC

+13

73

75

75

223

T31

Gary Robinson

Fayetteville, NC

+13

74

72

77

223

T31

John Michael

Durham, NC

+13

76

72

75

223

T31

John Beatty

Matthews, NC

+13

72

76

75

223

T31

Penn Compton

Wilmington, NC

+13

72

76

75

223

T31

John Fritz

Mint Hill, NC

+13

76

75

72

223

T31

Randall Sullins

Claremont, NC

+13

72

77

74

223

T31

Tim Whitener

Hickory, NC

+13

70

79

74

223

T39

Charley Johnson

Southern Pines, NC

+14

74

77

73

224

T39

Charlie Parks

Asheboro, NC

+14

74

74

76

224

T39

Chip Williamson

Wilmington, NC

+14

76

72

76

224

T39

Mike Bivins

High Point, NC

+14

74

76

74

224

T43

Bill Long

Southern Pines, NC

+15

76

74

75

225

T43

Martin Penson

Pinehurst, NC

+15

75

75

75

225

T43

Wesley Clark

Charlotte, NC

+15

74

77

74

225

T46

Allen Kinney

Oak Island, NC

+16

72

79

75

226

T46

James Morgan III

Greensboro, NC

+16

73

78

75

226

T46

James Powell

Greensboro, NC

+16

76

72

78

226

T49

Doug Potter

Greensboro, NC

+17

78

71

78

227

T49

David Waggoner

Holly Ridge, NC

+17

72

77

78

227

T49

Neal Morrison

Charlotte, NC

+17

76

75

76

227

T49

Russ Patterson

Winston-Salem, NC

+17

80

71

76

227

T49

Vince Credle

Summerfield, NC

+17

72

78

77

227

54

Brandon Godfrey

Marion, NC

+18

78

72

78

228

T55

Mike Wilson

Ocean Isle Beach, NC

+19

71

78

80

229

T55

Grant Hoffman

Asheboro, NC

+19

72

78

79

229

T55

Larry Eimers

Durham, NC

+19

80

71

78

229

T55

Mark Kozel

Chapel Hill , NC

+19

74

77

78

229

59

Bill Phillips

Charlotte, NC

+21

77

74

80

231

60

Darrell Frutiger

Wake Forest, NC

+22

75

73

84

232

WD

Russ Perry

Winston Salem, NC

-

67

72

WD

WD

WD

Logan Jackson

Winston-Salem, NC

-

70

77

WD

WD

The following players did not make the cut

CUT

Brad Buxton

Greensboro, NC

+12

78

74

152

CUT

Charles Hodges

Charlotte, NC

+12

76

76

152

CUT

Gray Tuttle

Pinehurst, NC

+12

77

75

152

CUT

Kevin Walsh

Charlotte, NC

+12

77

75

152

CUT

Andy Burnette

Raleigh, NC

+13

79

74

153

CUT

Brian Reep

Morganton, NC

+13

71

82

153

CUT

Jim Gallagher

Charlotte, NC

+13

78

75

153

CUT

Ken Shelton

Denver, NC

+13

76

77

153

CUT

Robert Shoaf

Concord, NC

+13

75

78

153

CUT

Sidney Blythe

Hendersonville, NC

+13

73

80

153

CUT

David Brown

Conover, NC

+14

75

79

154

CUT

David Ogden

Pinehurst, NC

+14

78

76

154

CUT

Kim Mansfield

High Point, NC

+14

72

82

154

CUT

Gary Roberson

Burlington, NC

+14

73

81

154

CUT

Mike Ford

Elon, NC

+14

73

81

154

CUT

Tom Fagerli

Yadkinville, NC

+14

75

79

154

CUT

Alex Barefoot

Charlotte, NC

+15

75

80

155

CUT

Billy Poteat

Hickory, NC

+15

75

80

155

CUT

David Camadine

Charlotte, NC

+15

75

80

155

CUT

James Dowtin Jr.

Greensboro, NC

+15

77

78

155

CUT

Norman Davis Jr.

Charlotte, NC

+15

74

81

155

CUT

Patrick Smithey

Winston Salem , NC

+15

77

78

155

CUT

Steve Misenheimer

Huntersville, NC

+16

74

82

156

CUT

Buddy Parrish

Greensboro, NC

+17

78

79

157

CUT

Arch Reed

Pinehurst, NC

+17

78

79

157

CUT

Clint Miller

Mt Pleasant, NC

+17

80

77

157

CUT

Lawrence Hicks

Greensboro, NC

+17

78

79

157

CUT

Richard Condrey

Nebo, NC

+17

74

83

157

CUT

Scott Danals

Bryson City, NC

+17

76

81

157

CUT

Arlis Pike

Kernersville, NC

+18

76

82

158

CUT

John Day

Raleigh, NC

+18

78

80

158

CUT

John Ervin

Hiddenite, NC

+18

77

81

158

CUT

Mike Schmid

Monroe, NC

+18

87

71

158

CUT

Charles Taubersmith

Pinehurst, NC

+19

81

78

159

CUT

Phillip Woods

Marshville, NC

+19

80

79

159

CUT

Craig Cathey

Burlington, NC

+19

78

81

159

CUT

Eric Taylor

Greensboro, NC

+19

86

73

159

CUT

Jeff Rausch

Waxhaw, NC

+19

78

81

159

CUT

Robert Dail

Wendell, NC

+20

83

77

160

CUT

Scott Baltz

Raleigh, NC

+21

85

76

161

CUT

Greg Norris

Wilmington, NC

+22

80

82

162

CUT

Edward Mills

Fairview, NC

+24

83

81

164

CUT

Henry Lister

Chapel Hill, NC

+28

81

87

168

CUT

Craig Prothero

Greensboro, NC

+39

88

91

179

WD

Larry Griffin

Cornelius, NC

-

73

WD

WD

WD

Ken Powers

Concord, NC

-

74

WD

WD

WD

Cliff Seastrunk

Raleigh, NC

-

75

WD

WD

WD

Robert Parrott

Raleigh, NC

-

75

WD

WD

WD

John Salerno

Charlotte, NC

-

75

WD

WD

WD

Chuck Latham

Vass, NC

-

76

WD

WD

WD

Jeff Brischke

Charlotte, NC

-

76

WD

WD

WD

Stacey Anfindsen

Apex, NC

-

76

WD

WD

WD

Elton Trent

Reidsville, NC

-

81

WD

WD

WD

John Stratton

Greensboro, NC

-

81

WD

WD

WD

Frank D'Auria

Pinehurst, NC

-

82

WD

WD

WD

Todd Turner

West End, NC

-

86

WD

WD

WD

Ralph Ronalter

Pinehurst, NC

-

89

WD

WD

WD

Rick Crompton

Apex, NC

-

89

WD

WD

WD

Rick Kline

Davidson, NC

-

WD

WD

WD