Swanson leads after second round of Carolinian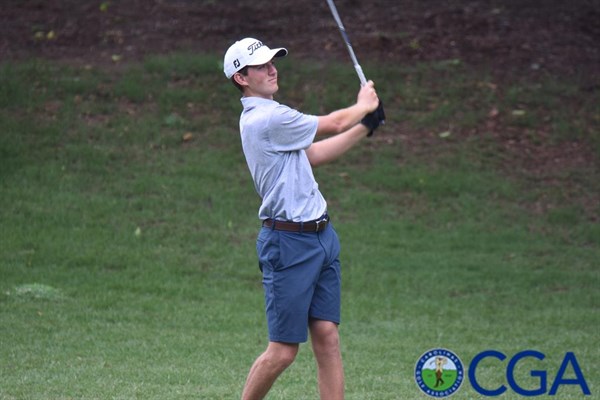 BUIES CREEK, N.C. (May 19,2018) -- Second round results of the 3rd Carolinian Amateur at Keith Hills Country Club in Buies Creek, N.C. on Saturday, March 19, 2018 (6,712 yards, Par 72)
Related: Championship Web Site | Starting Times | Scoring | Championship History | Photos

Zack Swanson of Charlotte, N.C. took over the lead in the second round of the 3rd Carolinian Amateur at Keith Hills Country Club in Buies Creek, N.C. He finished the round 5-under-par with a score of 67, putting him at seven-under-par for the tournament.
Swanson, as well as the other golfers, dealt with steady rain throughout the day, and Swanson was able to finish his round minutes before a two and a half hour delay for unplayable conditions.
"I always think 'Everybody has to play in the rain.' It's all about preparation, and preparing for the worst, really," said Swanson, "I was pretty comfortable out there so I didn't mind the rain."
That was certainly evident as Swanson was able to post the lowest round of this year's tournament with an eagle, four birdies, and just one bogey. Swanson credited his improved scores to better approach shots, leaving him with makeable putts.
"I left myself with a lot of uphill putts," said the 2017 NCHSAA 3A State Champion, "These greens can be hard to read so leaving yourself uphill putts makes it a lot easier."
Brett McLamb of Coats, N.C built on his strong first round with another 3-under, 69, placing him just one stroke back from Swanson at the top of the leaderboard. Thomas Owen of Fayetteville, N.C., the 18-hole leader, and Amarin Kraivixien of Buies Creek, N.C. both sit at 4-under-par, tied for third place.
The cut after the second round came in at 11-over-par with 74 players making it to the final day. Sunday's final round will tee off at 8:00 a.m. with a trophy ceremony for the winner immediately after play concludes.
The Carolinian Amateur format is 54 holes of stroke play. After 36 holes, the field is cut to the low 70 scores and ties.
Entry is open to any male amateur golfer ages 16 or older as of May 18, 2018 who is a member in good standing of a club which is a member of the Carolinas Golf Association (CGA) and has a current USGA Handicap Index of 10.4 or lower.
Scoring will be provided by the CGA throughout the championship, offering 9 and 18-hole updates. Live updates will also be available on the CGA's official Twitter account, @cgagolf1909. Continue to visit the CGA website throughout this championship and all year long for complete championship coverage including scores, interviews, photos, and recaps.

3rd Carolinian Amateur
Keith Hills Country Club | Buies Creek, N.C.
Second Round Results
Pos.
Player
Affiliation
Total To Par Gross
R1
R2
Total Gross
1
Zack Swanson
Charlotte, NC
-7
70
67
137
2
Brett McLamb
Coats, NC
-6
69
69
138
T3
Thomas Owen
Fayetteville, NC
-4
68
72
140
T3
Amarin Kraivixien
Buies Creek, NC
-4
71
69
140
5
Zachary Bishop
Travelers Rest, SC
-3
72
69
141
T6
Jake Scruggs
Shelby, NC
-2
69
73
142
T6
John McFadyen
Fayetteville, NC
-2
72
70
142
T6
Spencer Oxendine
Fayetteville, NC
-2
73
69
142
T9
Caleb Proveaux
Lexington, SC
-1
72
71
143
T9
Harry Reynolds
Greenville, SC
-1
74
69
143
T9
Patrick Schweitz
Clayton, NC
-1
73
70
143
T9
Clay Holland
Greensboro, NC
-1
69
74
143
T9
Ujang Zarems
Wilmington, NC
-1
72
71
143
T14
Daniel Neveu
Pinehurst, NC
E
74
70
144
T14
Nick Russell
Hilton Head Island, SC
E
73
71
144
T16
Austin Bonfiglio
Holly Springs, NC
+1
75
70
145
T16
Ryan Wilson
Greensboro, NC
+1
74
71
145
T18
Nick Lukas
Wilmington, NC
+2
75
71
146
T18
Tim Bunten
Concord, NC
+2
71
75
146
T18
Brandon Neals
Bluffton, SC
+2
73
73
146
T18
Chris Cassetta
High Point, NC
+2
71
75
146
T18
Jacob Lowe
Angier, NC
+2
76
70
146
T23
Billy West
Fayetteville, NC
+3
73
74
147
T23
John Major
Winston-Salem, NC
+3
75
72
147
T23
Nicholas Page
Dunn, NC
+3
72
75
147
T23
Timothy Driver
Holly Springs, NC
+3
75
72
147
27
Brady Eckard
Conover, NC
+4
76
72
148
T28
Daniel Castleberry
Landrum, SC
+5
76
73
149
T28
Jack Parrott
Columbia, SC
+5
75
74
149
T28
McClure Thompson
Little River, SC
+5
73
76
149
T28
Stuart Fuller
Chapel Hill, NC
+5
73
76
149
T28
Chris Blum
Raleigh, NC
+5
72
77
149
T28
Eston Lee
Four Oaks, NC
+5
75
74
149
T34
Ben Buben
Charlotte, NC
+7
73
78
151
T34
Justin Emmons
Asheboro, NC
+7
75
76
151
T34
Austin Duncan
Bessemer City, NC
+7
74
77
151
T34
Brad Mangum
Granite Falls, NC
+7
75
76
151
T34
Brandon Reece
Rolesville, NC
+7
74
77
151
T34
Paul Manning
Washington, NC
+7
77
74
151
T34
Stephen Reynolds
Greenville, SC
+7
75
76
151
T41
Carter Boulia
Cary, NC
+8
78
74
152
T41
Charlie Maness
Troy, NC
+8
76
76
152
T41
Clay Watkins
Mebane, NC
+8
73
79
152
T41
Symon Balbin
Pinehurst, NC
+8
75
77
152
T41
Visarut Paripunna
Spartanburg, SC
+8
80
72
152
T41
Blake Brantley
Winston-Salem, NC
+8
77
75
152
T41
Logan Patrick
Dunn, NC
+8
76
76
152
T48
Grant Powell
Colfax, NC
+9
75
78
153
T48
Jack Marcotte
Apex, NC
+9
75
78
153
T48
Matt Carter
Easley, SC
+9
74
79
153
T48
Thomas Messenheimer
Morganton, NC
+9
77
76
153
T48
Christian Bailey
Matthews, NC
+9
79
74
153
T48
Clayson Good
Durham, NC
+9
74
79
153
T48
Harrison Ashworth
Fuquay Varina, NC
+9
76
77
153
T48
Jake Colley
Raleigh, NC
+9
72
81
153
T48
James Harris
Lillington, NC
+9
78
75
153
T48
Jimbo Stanley
Raleigh, NC
+9
79
74
153
T58
Benjamin Crow
Pinehurst, NC
+10
75
79
154
T58
Kenny Stewart
Lillington, NC
+10
75
79
154
T58
Pierce Robinson
Kings Mountain, NC
+10
80
74
154
T58
Sam Wimbrow
Concord, NC
+10
78
76
154
T58
Tyler Smith
West Columbia, SC
+10
79
75
154
T63
Brian Hepler
Wilmiongton, NC
+11
76
79
155
T63
Brody Davis
Harrisburg, NC
+11
79
76
155
T63
Seve Anfindsen
Apex, NC
+11
75
80
155
T63
Trey Burton
Hickory, NC
+11
76
79
155
T63
Trey Capps
Garner, NC
+11
83
72
155
T63
Alex Parker
Valdese, NC
+11
76
79
155
T63
Colin Roth
Raleigh, NC
+11
76
79
155
T63
Davis Richards
China Grove, NC
+11
77
78
155
T63
Lance Waggener
Apex, NC
+11
76
79
155
T63
Nabil Verjee
Charlotte, NC
+11
76
79
155
T63
Patrick Lundy
Greensboro, NC
+11
80
75
155
T63
Todd Eckstein
Huntersville, NC
+11
80
75
155
The following players did not make the cut
CUT
Marc McCormack
Hilton Head, SC
+12
79
77
156
CUT
Zac Lewis
Fuquay Varina, NC
+12
77
79
156
CUT
Douglas Perkins
Gastonia, NC
+12
76
80
156
CUT
Jackson Brimfield
Chapel Hill, NC
+12
77
79
156
CUT
Mack Sheppard
Harrisburg, NC
+12
77
79
156
CUT
Matthew Spak
Cary, NC
+12
77
79
156
CUT
Austin Inman
Wilmington, NC
+13
74
83
157
CUT
Scott Campbell
Wake Forest, NC
+13
74
83
157
CUT
Stephen Lavenets
Apex, NC
+13
79
78
157
CUT
Ben Esposito
Pittsboro, NC
+13
77
80
157
CUT
Jeremy Ray
Pfafftown, NC
+13
76
81
157
CUT
Michael Coe
Morrisville, NC
+14
79
79
158
CUT
Michael Ford
Chapel Hill, NC
+14
80
78
158
CUT
Brad Coleman
Jamestown, NC
+14
76
82
158
CUT
Chris Holland
Fayetteville, NC
+14
79
79
158
CUT
Jeremy Milton
Lillington, NC
+14
82
76
158
CUT
Regan Erhardt
Greensboro, NC
+15
83
76
159
CUT
Tanner Bibey
Walnut Cove, NC
+15
78
81
159
CUT
Greg Powell
Whiteville, NC
+15
76
83
159
CUT
Harrison Fisher
Angier, NC
+15
81
78
159
CUT
Nate Hoffman
Pinehurst, NC
+16
77
83
160
CUT
Cutler Harris
Greenville, NC
+16
84
76
160
CUT
Gus Lascola
Durham, NC
+17
79
82
161
CUT
Jonathan Hockaday
Sanford, NC
+17
78
83
161
CUT
Onterio Jones
Simpsonville, SC
+17
80
81
161
CUT
Silas Collins
Durham, NC
+17
78
83
161
CUT
Cameron Alge
Mooresville, NC
+18
76
86
162
CUT
Ian Eidy
Greensboro, NC
+18
78
84
162
CUT
Jeff Beasley
Angier, NC
+18
78
84
162
CUT
Jonathan Wade
Greensboro, NC
+18
80
82
162
CUT
Eric Sayer
Cary, NC
+19
84
79
163
CUT
Jared Clontz
Nebo, NC
+19
83
80
163
CUT
Chris Michela
Raleigh, NC
+20
80
84
164
CUT
Larry Colley
Holly Springs, NC
+20
83
81
164
CUT
Will Pruthi
Durham, NC
+21
84
81
165
CUT
Philip Geiger
Davidson, NC
+22
85
81
166
CUT
Chris Bitzenhofer
Goldsboro, NC
+23
84
83
167
CUT
Gregory Kastendike
Sanford, NC
+23
86
81
167
CUT
Jeff Manley
Raleigh, NC
+23
84
83
167
CUT
Christopher Sirrell
Jacksonville, Nc
+24
85
83
168
CUT
Alex Snively
Chapel Hill, NC
+24
84
84
168
CUT
Ben Farmer
Knightdale, NC
+24
84
84
168
CUT
Douglas Bechtold
Fuquay Varina, NC
+24
81
87
168
CUT
Benjamin Duff
Cary, NC
+25
85
84
169
CUT
Robert Van Horne
Raleigh, NC
+25
82
87
169
CUT
Micah Alexander
Durham, NC
+25
81
88
169
CUT
Todd Prichard
Holly Springs, NC
+26
84
86
170
CUT
Clint Westergard
Raleigh, NC
+27
84
87
171
CUT
Beau Thompson
Pinehurst, NC
+28
88
84
172
CUT
Harrison Wierse
Wilmington, NC
+29
86
87
173
CUT
Kelby Rouse
Wake Forest, NC
+29
87
86
173
CUT
Nicklaus Sutton
Matthews, NC
+30
88
86
174
CUT
Jeff Paul
Fuquay Varina, NC
+36
93
87
180
CUT
Chip Snively
Chapel Hill, NC
+40
88
96
184
WD
Chris Lee
Greenville, NC
-
75
WD
WD
WD
Noah Connor
Reidsville, NC
-
75
WD
WD
WD
Zach Boatwright
Concord, NC
-
78
WD
WD
WD
Donald Sweeting
Pinehurst, NC
-
81
WD
WD
WD
Casey Booth
King, NC
-
83
WD
WD
WD
Sumner Tate
Raleigh, NC
-
83
WD
WD
WD
Austin Phillips
Greenville, NC
-
84
WD
WD
WD
Matt Walters
Durham, NC
-
84
WD
WD
WD
Trent Shelby
Angier, NC
-
84
WD
WD
WD
Addison Oliver
Raleigh, NC
-
89
WD
WD
WD
Austin Stout
Ramseur, NC
-
WD
WD
WD

Schedule of rounds:

Friday, May 18, 2018

Round 1: 8:00 a.m. - 9:30 a.m.; 12:30 p.m. - 2:00 p.m.

Saturday, May 19, 2018

Round 2: 8:00 a.m. - 9:30 a.m.; 12:30 p.m. - 2:00 p.m.

Sunday, May 20, 2018

Round 3: 8:00 a.m. - 9:54 a.m.

Awards ceremony immediately following play.





About the Carolinas Golf Association (CGA)

The CGA is a 501(c)(3) not-for-profit educational organization that was founded in 1909 to promote and to protect the game of golf in the Carolinas by providing competitions, education, support and benefits to golf clubs and golfers. The CGA is the second largest golf association in the country with over 700 member clubs represented by nearly 150,000 individuals.

The CGA annually conducts 48 championships and five team match competitions for men, women, juniors, and seniors. It also runs over 150 One-Day (net and gross) events as well as qualifying for USGA national championships. The CGA serves golf in the Carolinas with numerous programs such as: the USGA Handicap System; tournament management software and support; course measuring and course/slope ratings; agronomy consultation; answers about the Rules of Golf, Rules of Amateur Status, and Handicapping; Carolinas Golf Magazine; Interclub series; Tarheel Youth Golf Association; Carolinas Golf Hall of Fame; expense assistance for USGA Junior and Girls' Junior qualifiers from the Carolinas; and the Carolinas Golf Foundation (CGF). The CGF has distributed nearly $2,000,000 since 1977 to benefit Carolinas' golf initiatives including junior and women's programs.

For more information about the CGA, visit our website.


##30##