Meet the 2018 CGA Interns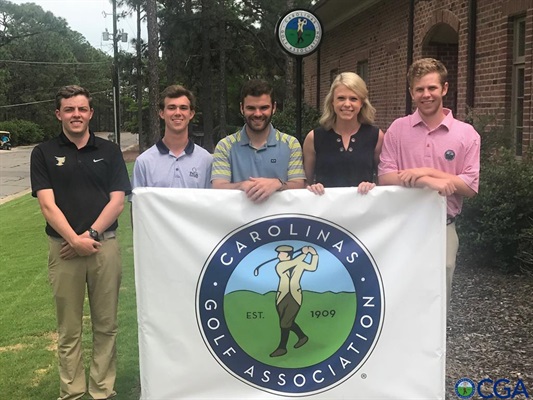 (Chris Kelly (left), Jay Andrew, Kyle Brodt, Brittany Stewart, and Daniel Kocher (right) will be our interns for summer 2018!
Meet the 2018 CGA Interns
SOUTHERN PINES, N.C. (May 21, 2018) The Carolinas Golf Association (CGA) welcomed four interns to its staff earlier this month. Two communications and three operations interns will be assisting with day-to-day activities and operations of the association and its events and tournaments during the hectic summer months.
With the CGA until mid-August, the interns will assist in tournament administration tasks, including course marking, course set-up, staring times and pairings, starting, scoring, on-course officiating, pace of play, Rules of Golf, media relations and preliminary office preparation for CGA, Tarheel Youth Golf Association (TYGA) and United States Golf Association (USGA) events.
Get to know the CGA interns that you will be seeing on the course this summer as they introduce themselves in their own words!


Jay Andrew (Operations)
My name is Jay Andrew, and I am a rising senior at the University of North Carolina at Chapel Hill. At UNC, I am studying economics and am a member of the club golf team.
For the past few summers, I have worked at the Tillery Tradition Country Club, where I worked in the pro shop. I have played golf for most of my life, and I look forward to working with the Carolinas Golf Association, having playing in their various junior tournaments growing up. It will be fun to work in tournament operations for many of the events I've played in when I was younger.
Golf has been a big part of my life, and I look forward to gaining experience in golf administration. Some of my other interests include hanging out with friends and watching UNC basketball.
"I'm excited to be working for the Carolinas Golf Association this summer. It will be fun to work for an organization that was such a big part of my junior golf experience growing up. I look forward to learning more about golf administration, as well as building relationships with all of the CGA and my fellow interns."
Daniel Kocher (Operations)
My name is Daniel Kocher, and I am a junior at Pennsylvania State University. I study telecommunications and hope to have a focus in production. I chose Penn State because it is where my family has always gone, from both my parents to grandparents, aunts and uncles.
The past two summers, I worked as a summer camp counselor with Raintree Country Club as a tennis instructor. I have done it all, from managing day-to-day operations as head counselor to making sure the kids stay safe, while having fun. I have also shadowed a family friend who is one of the producers at ESPNU and the SEC Network, and I currently am a studio assistant with PSNTV News, a student-run news outlet.
I have always had a passion for sports. I have played ultimate Frisbee for Penn State for two years, not to mention the countless sports I played throughout the earlier parts of my life. Basketball is my favorite sport, and I love playing with my friends and family whenever I get the chance.
I enjoy making short videos with my friends for fun and for purpose. I help do media for my campus ministry, CRU, and my friends and I have a great time expressing our ideas through video.
"I am so excited to work for the CGA this summer and can't wait to see the opportunities it opens up for me."
Chris Kelly (Operations)
My name is Chris Kelly, and I am a senior accounting major at Appalachian State University. I am a native to the Pinehurst area, and I graduated high school at Pinecrest.
Prior to this internship, I worked in Boone, NC at the pro shop at the Sugar Mountain Golf Course. This is where I got my start in the golf industry and gained interest to pursue it further. During my time at the club, I had a variety of responsibilities including managing the shop, on-course maintenance and tee time scheduling.
Playing competitive sports and being active has always been a part of my lifestyle. I ran competitive cross country and track in high school and at the college level. I enjoy playing golf every chance I get and playing in tournaments.
"I am looking forward to building my skills and knowledge with the CGA this summer and meeting all of the golf community throughout the Carolinas."
Brittany Stewart (Communications)
My name is Brittany Stewart, and I am a senior journalism student at the University of Georgia. For my first two years of college, I attended the University of North Georgia and competed on the university's women's tennis team. Discovering my love of communications, I transferred to the University of Georgia after my sophomore year to pursue my passion.
Last summer, I interned with the BB&T Atlanta Open, a professional men's tennis tournament on the ATP World Tour, and served as the staff writer as well as the media and communications intern. In this role, I was responsible for creating official tournament press releases, writing player biographies and assisting the media director with the running of the media room. Since November, I have served as a marketing intern for the Clarke-Oconee Tennis Association, handling member communications as well as managing social media. I have also covered various UGA sports with The Red & Black newspaper including women's tennis, women's volleyball, women's soccer and women's gymnastics.
Sports have been a prominent part of my life, and I hope to continue that passion into my future career. Some of my other interests include hanging out with friends, working out and traveling, and shopping.
"I am thrilled to be working for the Carolinas Golf Association this summer. I can't wait to learn new communication skills, meet all of the talented players and build relationships with my fellow interns!
Kyle Brodt (Communications)
My name is Kyle Brodt, and I will be a senior communications student at Wingate University this upcoming fall. I am from Fredrick, Maryland, and originally came to the Carolinas to play collegiate baseball, but instead decided to focus on what has become my passion—producing and directing live broadcasts.
Over the past three years, I have worked as a camera operator and technical director for ESPN3 broadcasts of Wingate sporting events as well as other official NCAA events. I have also written pieces for the Wingate University newspaper, the Weekly Triangle.
Sports have always been my greatest love, and I look forward to being able to pursue a career in that area. When I have free time, I enjoy spending time with friends, playing video games, and of course, playing golf!
"I am so excited about working and learning at the Carolinas Golf Association this summer, and I can't wait to get to know the players, staff, and my fellow interns!"