Bojangles Junior Boys' Open Preview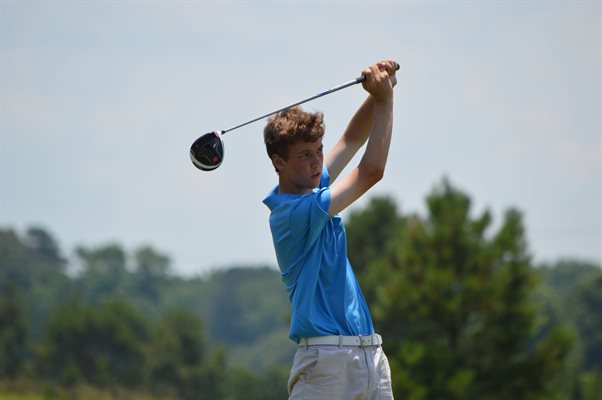 Pierce Robinson of Kings Mountain, N.C. returns to defend his title at the Bojangles Junior Boys' Open.
SOUTHERN PINES, N.C. (May 30, 2018) -- The Carolinas Golf Association will conduct the TYGA Bojangles Junior Boys' Open at Cutter Creek Golf Club in Snow Hill, N.C. from June 2-3.
Related: Championship Web Site | Full Field of Players | Starting Times | Scoring | History

Players to watch:
Pierce Robinson of Kings Mountain, N.C. will look to defend his 2017 title this year. Robinson won by one stroke last year and is coming off of a top-15 finish at the Creed Boys' Invitational last week. Robinson is currently ranked 17th in the N.C. Junior Boys' Rankings.

Carter Cheek of Cary, N.C. finished tied for second place in last year's tournament with a final score of one-over-par and will look to get over the hump at Cutter Creek GC this year.

Jeffrey Parker of Oak Ridge, N.C. also finished tied for second at last year's Open that included a one-under-par first round score.

Tyler Dechellis of Clayton, N.C. posted a two-under-par final score at the Creed Boys' Invitational last week to finish in second place. Dechellis has a finished in the top-20 of all but two tournaments he has participated in this year and is ranked 50th in the N.C. Junior Boys' Rankings.

Eston Lee of Four Oaks, N.C., ranked 63rd in the N.C. Junior Boys' Rankings, has six top-10 finishes this year including a second place finish at the NCHSAA 3A Regional and the UNC Tarheel Junior Championahip.

Logan Patrick of Dunn, N.C. won the NCHSAA 2A State Championship in early May and will hope to reclaim that strong form this weekend. Patrick is currently ranked 75th in the N.C. Junior Boys' Rankings.

Garrett Risner of Holly Springs, N.C. has six top-12 finishes in 2018 including an 11th place finish at the Creed Boys' Invitational and will look to bring that strong play into this weekend's tournament.

Cutter Creek Golf Club features a diverse and meticulously maintained championship golf course designed by renowned golf course architect Bob Moore. As one of the most challenging and serene courses in the area, the club has hosted numerous PGA, CGA, LPGA and USGA events. Cutter Creek GC has hosted the Bojangles Junior Boys' Open since its inaugural tournament in 2015.

Past champions in the field (One):
Pierce Robinson, Kings Mountain, N.C., 2017


The Bojangles Junior Boys' Open is a 36-hole, stroke play event.
Entry is open to any male amateur golfer ages 13 to 18 as of June 2, 2018, who has not started college, legal resident of North Carolina. Entries are subject to rejection at any time, including during the event, by the TYGA or the host club. The reason for rejection may include unbecoming conduct or cell phone use during a stipulated round. For complete residency and eligibility requirements, refer to the TYGA Tournament Manual at the CGA website (www.carolinasgolf.org)
Scoring will be provided by the CGA throughout the championship, offering 9 and 18-hole updates. Live updates will also be available on the CGA's official Twitter account, @cgagolf1909. Continue to visit the CGA website throughout this championship and all year long for complete championship coverage including scores, interviews, photos, and recaps.
Schedule of rounds:
Saturday June 2
First Round Starting Times: 12:30 p.m. - 2:30 p.m.
Sunday June 3
Second Round Starting Times: 8:00 a.m. - 10:00 a.m.

About the Carolinas Golf Association (CGA)
The CGA is a 501(c)(3) not-for-profit educational organization that was founded in 1909 to promote and to protect the game of golf in the Carolinas by providing competitions, education, support and benefits to golf clubs and golfers. The CGA is the second largest golf association in the country with over 700 member clubs represented by nearly 150,000 individuals.
The CGA annually conducts 48 championships and five team match competitions for men, women, juniors, and seniors. It also runs over 150 One-Day (net and gross) events as well as qualifying for USGA national championships. The CGA serves golf in the Carolinas with numerous programs such as: the USGA Handicap System; tournament management software and support; course measuring and course/slope ratings; agronomy consultation; answers about the Rules of Golf, Rules of Amateur Status, and Handicapping; Carolinas Golf Magazine; Interclub series; Tarheel Youth Golf Association; Carolinas Golf Hall of Fame; expense assistance for USGA Junior and Girls' Junior qualifiers from the Carolinas; and the Carolinas Golf Foundation (CGF). The CGF has distributed nearly $2,000,000 since 1977 to benefit Carolinas' golf initiatives including junior and women's programs.