Long and Strawn Inducted into Carolinas Golf Hall of Fame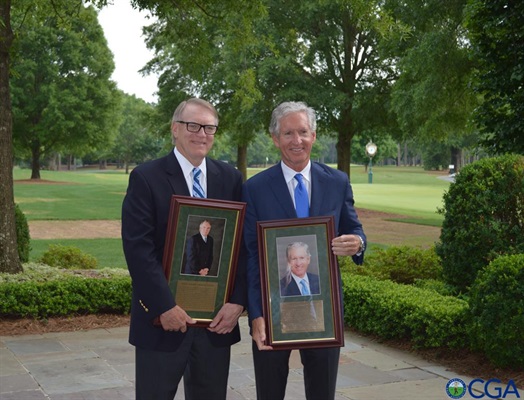 Bobby Long and David Strawn were inducted into the Carolinas Golf Hall of Fame on Thursday, May 24, 2018.
By: Brittany Stewart/CGA Communications Intern
Hall of Fame Website | Event Photos | Bobby Long Speech | David Strawn Speech
CHARLOTTE, N.C. (May 30, 2018) -- The Carolinas Golf Foundation hosted the 2018 Golf Hall of Fame induction ceremony on May 24, 2018 at Quail Hollow Club in Charlotte, N.C. Robert E. Long, Jr., or "Bobby", and David Strawn were added to a Hall of Fame roster that includes notable names in golf history.
Throughout his career, Long played a crucial role in keeping several large PGA Tour events within the Carolinas. As the Chairman of the Piedmont Triad Charitable Foundation, he played a crucial role in the partnership between Triad and the Wyndham Championship. He also assisted in bringing the Wells Fargo Championship to Eagle Point Golf Club in Wilmington, N.C., where he is also a member.
In more recent years, Long has become one of the largest contributors to "The First Tee", a program dedicated to introducing the game of golf and its values to younger generations.
Strawn, a successful, life-long golfer, influenced the game of golf through his representation of the Carolinas on the course both as a professional and an amateur. He finished second at the Eastern Amateur and Carolinas Open and was the runner-up at the U.S. Amateur. Strawn also competed in professional championships across the world, including the Masters, British Open and the U.S. Open.
In a night dedicated to honoring these men and their accomplishments, groups of family, friends, and Carolinas golf supporters gathered at Quail Hollow Club. Guests enjoyed an introduction from Carolinas Golf Foundation Director of Development, Braxton McLennan followed by a three-course dinner.
Strawn was inducted first, after former Furman University teammate Frank Ford III introduced him and highlighted his love for the game that was showcased through his many accomplishments. Long, who was introduced by his son, Robert Long III, humbly referred to himself as a "cheerleader" for the game of golf as he accepted his nomination.
Carolinas Golf Association President, Gene Spencer, wrapped up the evening, encouraging attendees to help grow the game of golf to the younger generation and pass down the values and love for the game that the two inductees exhibit.
The 2018 Carolinas Golf Hall of Fame inductees join a remarkable roster of golfers, including Arnold Palmer, Peggy Kirk Bell, Donald Ross, Billy Joe Patton and Harvie Ward. The plaques honoring each of the inductees is located in the convention hall of the Carolina Hotel of Pinehurst Resorts, and the Carolinas Golf Hall of Fame is under the care of the Carolinas Golf Association.