U.S. Senior Women's Amateur Q Results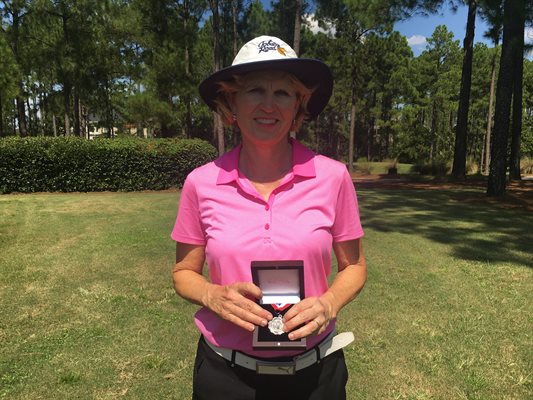 Susan Beaupied of Pittsboro, N.C. (pictured) claimed medalist honors.
U.S. Senior Women's Amateur Qualifying Results
from the Members Club at Woodcreek in Elgin, S.C.

ELGIN, S.C. (September 20, 2018) -- Final results from U.S. Senior Women's Amateur Qualifying at the Members Club at Woodcreek in Elgin, S.C. on Thursday, September 20, 2018 (5660 yards, par 36-36--72, Course/Slope rating: 74.1/126).
Susan Beaupied of Pittsboro, N.C. carded a two-over par 74 to claim medalist honors at the U.S. Senior Women's Amateur Qualifier hosted by the Members Club at Woodcreek in Elgin, S.C. Beaupied made the turn at even-par 36 and only made two bogeys on her inward nine to finish in the top spot. Lea Anne Brown of Mt. Pleasant, S.C. is the only other Carolinas qualifier from this site. She posted a four-over-par 76. Also qualifying were Cissye Gallagher of Greenwood, M.S. (77) and Adrienne Maclean of Tequestra, F.L. (78).
Susie Fonde of Jacksonville, F.L. is the first alternate. Angela Stewart of Greenville, N.C. is the second alternate.
Four qualifying spots and two alternate positions were available at this qualifying site.
Sectional qualifying is conducted over 18 holes at 24 locations in the United States. The championship proper will be held at Orchid Island Golf and Country Club in Vero Beach, F.L. on October 6-11, 2018.
This qualifier was conducted by the Carolinas Golf Association on behalf of the United States Golf Association.
Results
U.S. Senior Women's Amateur Qualifying
Members Club at Woodcreek
Elgin, S.C.
September 20, 2018

Player
City, State
To Par
Total
Medalist
Susan Beaupied
Pittsboro, NC
+2
74
Lea Anne Brown
Mt. Pleasant, SC
+4
76
Cissye Gallagher
Greenwood, MS
+5
77
Adrienne Maclean
Tequesta, FL
+6
78
The following players did not make the cut
1st Alt
Susie Fonde
Jacksonville, FL
+7
79
2nd Alt
Angela Stewart
Greenville, NC
+9
81
Pam Prescott
Piedmont, SC
+9
81
Chrissie Spidell
Anderson, SC
+10
82
Diane Chancellor
Greensboro, GA
+10
82
June Wang
Huntersville, NC
+11
83
Charlotte Stringer
Bluffton, SC
+13
85
Charlotte Twitty
Chapin, SC
+13
85
Migdalia Lopez
Delray Beach, FL
+24
96
About the Carolinas Golf Association (CGA)
The CGA is a 501(c)(3) not-for-profit educational organization that was founded in 1909 to promote and to protect the game of golf in the Carolinas by providing competitions, education, support and benefits to golf clubs and golfers. The CGA is the second largest golf association in the country with over 700 member clubs represented by nearly 150,000 individuals.
The CGA annually conducts 48 championships and five team match competitions for men, women, juniors, and seniors. It also runs over 150 One-Day (net and gross) events as well as qualifying for USGA national championships. The CGA serves golf in the Carolinas with numerous programs such as: the USGA Handicap System; tournament management software and support; course measuring and course/slope ratings; agronomy consultation; answers about the Rules of Golf, Rules of Amateur Status, and Handicapping; Carolinas Golf Magazine; Interclub series; Tarheel Youth Golf Association; Carolinas Golf Hall of Fame; expense assistance for USGA Junior and Girls' Junior qualifiers from the Carolinas; and the Carolinas Golf Foundation (CGF). The CGF has distributed nearly $2,000,000 since 1977 to benefit Carolinas' golf initiatives including junior and women's programs.
For more information about the CGA, visit our website.
##30##