The 38th US Mid-Am: Everything You Should Know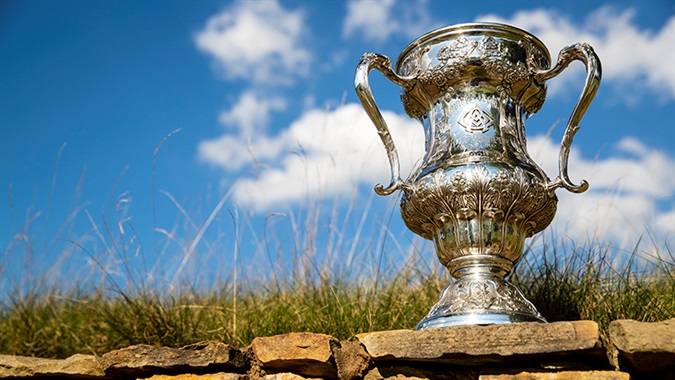 Who will hoist the Robert T. Jones Jr. Memorial Trophy at Charlotte Country Club? (Photo: USGA/Chris Keane)

CHARLOTTE – The Carolinas are hosting another USGA Championship: The 38th United States Mid-Amateur Championship hosted by Charlotte Country Club and Carolina Golf Club in Charlotte, N.C. from Sept. 22-27.
If you read the latest edition of the Carolinas Golf Magazine, Great! You're ahead of the game.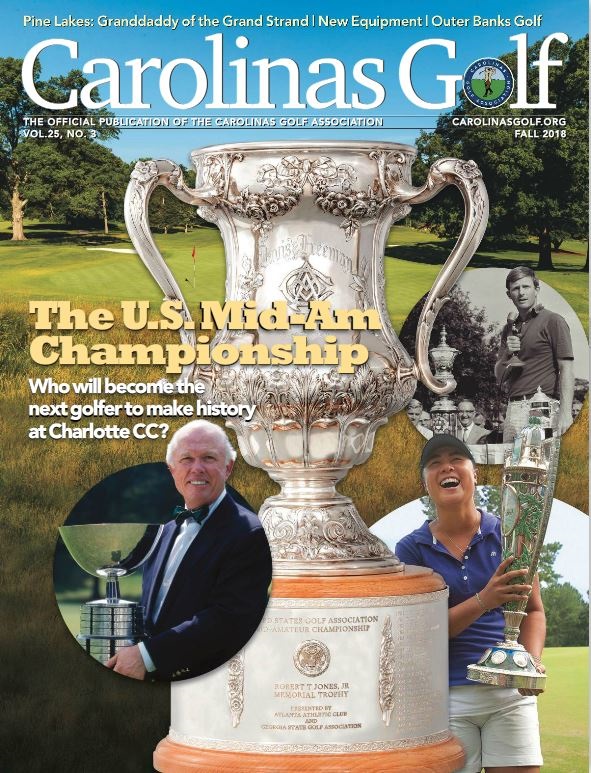 If you didn't, you can read it in full online here.
This will be the first U.S. Mid-Amateur contested in North Carolina. South Carolina has hosted the U.S. Mid-Am twice – Jim Stuart won in 1991 at Long Cove Club, Hilton Head Island, S.C. and Nathan Smith won in 2009 at Kiawah Island Club (Cassique Course) in Kiawah Island, S.C.
Acclaimed Charlotte-based golf writer, Ron Green Jr., wrote the cover story for the 2018 Fall issue of Carolinas Golf Magazine which will give you a breakdown of past USGA Champions crowned at Charlotte Country Club. It will also give you some great insight on what to watch out for at this year's US Mid-Am. Again, you can read the full story here.
WANT TO GO?
Admission is free! Tickets are not needed for this USGA championship, and spectators are encouraged to attend!!
The CGA Executive Director, Jack Nance, will be on site Saturday and Sunday as an official starter but if you are unable to make it to Charlotte Country Club or Carolina Golf Club, you'll be able to watch the semifinal matches and the championship matches on FS1.
The USGA does a great job of providing live updates and video throughout the championship on their social media. Make sure you're following the CGA social media for other exclusive content regarding our Carolinas qualifiers.
SCHEDULE OF PLAY
The starting field of 264 players will play two rounds of stroke play, with the low 64 scorers advancing to match play. The schedule is as follows:
Sept. 22 (Saturday): First round, stroke play
Sept. 23 (Sunday): Second round, stroke play
Sept. 24 (Monday): First round, match play
Sept. 25 (Tuesday): Second and third rounds, match play
Sept. 26 (Wednesday): Quarterfinal and semifinal rounds, match play
Sept. 27 (Thursday): Championship match (36 holes)
TV COVERAGE:
Semifinal Matches - Sept. 26/Wednesday from 4-6 p.m. on FS1
Championship Match - Sept. 27/Thursday from 4-6 p.m. on FS1
USGA AND CHARLOTTE COUNTRY CLUB
This is the fourth USGA championship to be conducted at Charlotte Country Club. The club hosted the 1972 U.S. Amateur, which Marvin (Vinny) Giles III won by three strokes over Mark Hayes and Ben Crenshaw. Giles, a three-time runner-up in the championship before his victory, finished at 1-over-par 285. He trailed Hayes by one stroke with nine holes to play, but birdied holes 13, 14 and 16 en route to the championship.
In 2000, Bill Shean Jr. won his second U.S. Senior Amateur with a 2-and-1 triumph over Richard Van Leuvan.
Danielle Kang earned a 2-and-1 win over Jessica Korda to claim the 2010 U.S. Women's Amateur title. Kang made a 4-footer for birdie on the 35th hole to secure the victory. Kang had squared the match on the 32nd hole with a short birdie putt and converted a 5-foot par putt to win No. 34 and go ahead.
CAROLINAS AND THE USGA IN 2019
North Carolina will host three USGA championships in 2019 – The U.S. Senior Women's Open at Pine Needles Lodge & G.C. in Southern Pines, the U.S. Amateur at Pinehurst Resort & C.C. in Village of Pinehurst and U.S. Senior Amateur at Old Chatham G.C. in Durham. South Carolina will host the 2019 U.S. Women's Open at the Country Club of Charleston in Charleston.
OTHER CHAMPIONSHIPS AT CHARLOTTE C.C.
1927 Southern Amateur (Watts Gunn)
1937 Southern Amateur (Fred Haas Jr.)
1916 Carolinas Amateur (Walter M. Paul)
1920 Carolinas Amateur (F.H. Hyatt Jr.)
1926 Carolinas Amateur (Roland Hancock)
1934 Carolinas Amateur (Thad Street Jr.)
1948 Carolinas Amateur (James McNair)
1981 Carolinas Amateur (Nolan Mills)
1998 Carolinas Amateur (Terry Ezell)
2012 Carolinas Amateur (Carson Young)
US MID-AM HOST COURSE INFO
Charlotte (N.C.) Country Club
Stroke-Play Co-Host Course: Carolina Golf Club, Charlotte, N.C.
PAR AND YARDAGE
Charlotte Country Club will be set up at 7,382 yards and will play to a par of 36-35–71.
Carolina Golf Club , which will serve as the stroke-play co-host course for the two days of stroke-play qualifying, will be set up at 6,937 yards and play to a par of 36-35–71.
(NOTE: Yardages subject to change.)
GOLF COURSE ARCHITECTS
Charlotte Country Club was designed by Donald Ross and opened it first nine holes in 1910, with the second nine completed five years later. In 2007, Ron Pritchard completed restoration of the course. Charlotte Country Club, which began as The Mecklenburg Club, also features a recently restored 68,000-square-foot clubhouse. Carolina Golf Club was also designed by Ross and the course was restored by Kris Spence in 2008.
COURSE RATING AND SLOPE
Based on the course setup for the championship, the USGA Course Rating™ for Charlotte Country Club is 76.7 and its Slope Rating® is 153. The Course Rating for Carolina Golf Club is 75.2 and its Slope Rating is 149.
WHO CAN ENTER
The championship is open to any amateur golfer who is 25 years old by Sept. 22 with a Handicap Index® not exceeding 3.4.
ENTRIES
The USGA accepted 4,709 entries for the 2018 championship, the second-highest total received. The record of 5,271 entries was set in 1997. The 2017 Mid-Amateur accepted 4,386 entries.
SECTIONAL QUALIFYING
Sectional qualifying, conducted over 18 holes, were held from Aug. 6-27. There were 64 sites in 40 states. California had the most, with seven qualifying sites, while Texas had four qualifiers. Florida, Illinois, North Carolina, New York, Ohio and Pennsylvania each had three.
CAROLINIANS IN THE FIELD
With the championship in Charlotte, N.C. we are excited to have so many golfers representing the Carolinas in this year's field. Here are a list of the golfers in this year's field representing the Carolinas:
Kyle Bearden - Barnwell, S.C.
Stephen Behr - Florence, S.C.
Brett Boner - Charlotte, N.C.
Stefan Brewer - Charlotte, N.C.
Sherrill Britt - West End, N.C.
Jake Colley - Raleigh, N.C.
Anthony Conn - Raleigh, N.C.
Barry Dyche - Charlotte, N.C.
Samuel Echikson - Belgium (Davidson College)
Danny Evelyn - Charlotte, N.C.
Chad Frye - Davidson, N.C.
Fred Gahl - Raleigh, N.C.
Scott Harvey – Kernersville, N.C.
Clay Holland - Greensboro, N.C.
Cole Isban - Charlotte, N.C.
Zac Lewis - Fuquay Varina, N.C.
Josh Nichols – Apex, N.C.
Kevin O'connell - Cary, N.C.
Damon Postal - Charlotte, N.C.
Jerry Richardson Jr. - Cary, N.C.
Jordan Sease - Lexington, S.C.
Thomas Todd III - Laurens, S.C.
Chad Wilfong - Charlotte, N.C.
Stephen Woodard - Charlotte, N.C.