Simson Captures The 11th NC Super Senior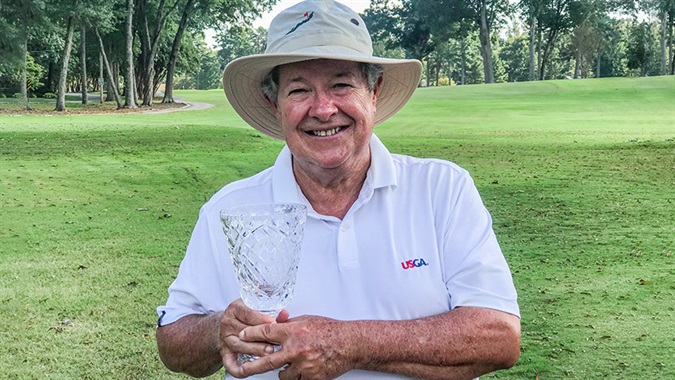 Paul Simson of Raleigh claims his 35 CGA title at the 11th North Carolina Super Senior Championship.

BURLINGTON, N.C. (September 26, 2018) -- Final Results of the 11th North Carolina Super Senior Championship at Alamance Country Club in Burlington, N.C. on September 26th.
Related: Championship Web Site | Results
Paul Simson of Raleigh, has another CGA trophy to "add to his arsenal," as he put it, after capturing the title at the 11th North Carolina Super Senior Championship hosted at Alamance Country Club in Burlington. Simson is not only a Carolinas Golf Hall of Fame member, but he also holds the record for all-time CGA championships.
"Is this 34 or 35 championships?" Simson asked.
It's 35 and he's not likely to stop there.
"Well, I can tell you, it never gets old," Simson said. "I worked very hard today to win. It was a really, really solid day and tournament for me. I'm really pleased with the way I've been playing."
Simson has a lot to pleased with from his final round. Simson's 2-under-par, 69 consisted of 18 greens-in-regulation which led to three birdies and only one bogey.
He began the day with a one-shot cushion but found himself two down after seven holes to his competitor and friend, Don Detweiler of Raleigh.
A birdie on the 12th hole put Simson within one shot of Detweiler. Simson made a 25-foot putt for birdie on the 13th hole to get back to even. Detweiler bogeyed the two par threes on the back nine to give Simson the lead. A birdie on the par-5 seventeenth got Detweiler back within one but a par on the 18th hole would result in a second place finish.
Ray Womack of Burlington, started the day just one shot off the lead. He got off to a solid start with three birdies in his first six holes but came up one shot short to finished tied for second at five-under-par total for championship.
Simson has some history at Alamance Country Club. In 1991, he won the North Carolina Amateur there against radio-show host, John Maginnes. That year he'd go on to win the Carolinas Amateur and the Carolinas Mid-Amateur.
"Winning at Alamance is where it all started," Simson said. "I've always seemed to have great success at Donald Ross courses. I've won close to half my championships on them. I tend to shoot for the center of the greens on Ross courses because of the penalty for missing any side but something just fits my eye as far as his golf courses are concerned."
Detweiler and Simson will team up at the 7th Super Senior Four-Ball hosted at the Country Club of South Carolina on October 8-9.
Walters Wins 70+ Division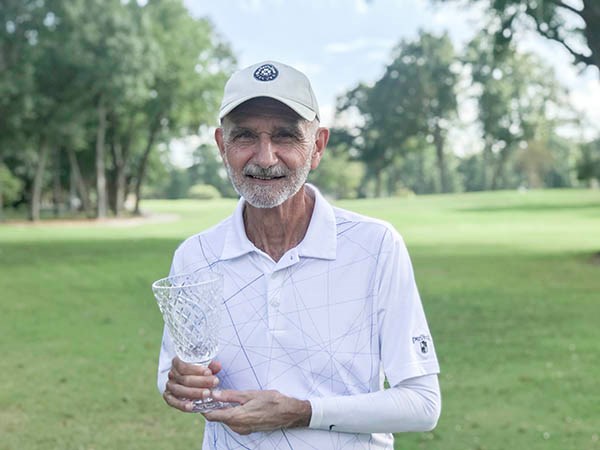 Two-time CGA Champion, John Walters of Charlotte, wins the 70+ Division at the 11th North Carolina Super Senior Champion.
Two-time CGA Champion,
John Walters
of Charlotte, N.C., came from behind today firing a 3-under-par, 68 to win the 70+ Division of the N.C. Super Senior Championship.
Walters' first round was similar to Simson's second round in the fact that he hit 16 greens, made 17 pars and only had one bogey. The bogey was the result of a three putt on the par-3 fourteenth hole.
Walters' second round seemed to start off similarly to his first. He began the round two shots back from the day one leaders and started off with seven straight pars.
"That's when the flood gates opened up," Walters said.
Walters made five birdies in his next seven holes and would eventually win by one shot over Alan Dirk of Pittsboro and Terry Rathman of Gastonia.
"Well, it means a lot to me to win," Walters said. "Paul Simson has won so many of them and everyone he wins is important to him. Every one I can manage to compete in and win, is really important to me too."
This championship is conducted at 36 holes of stroke play. Entry is open to any male amateur golfer, age 65 and older, who is a legal resident of North Carolina, is a member in good standing of a club which is a member of the Carolinas Golf Association and has an active GHIN® USGA Handicap Index®. Players may sign up for the 65+ or 70+ age division.
The CGA wishes to thank the members and staff of Alamance Country Club, especially the Head Golf Professional, Drake Woodside and Head Golf Course Superintendent, Peter Horn.
11th North Carolina Super Senior Championship
Alamance Country Club | Burlington, N.C.
Final Round Results

Championship Division
Pos.
Player
Affiliation
To Par
R1
R2
Total
1
Paul Simson
Raleigh, NC
-6
67
69
136
T2
Don Detweiler
Raleigh, NC
-5
68
69
137
T2
Ray Womack
Burlington, NC
-5
68
69
137
T4
Ernie Newton
Winston Salem, NC
-3
68
71
139
T4
Gary Hull
Cornelius , NC
-3
70
69
139
T4
Robert Desjardins
Matthews, NC
-3
71
68
139
T7
Arlis Pike
Kernersville, NC
-2
68
72
140
T7
Wayne Pyrtle
Burlington, NC
-2
72
68
140
T9
Richard Condrey
Nebo, NC
-1
71
70
141
T9
Kim Mansfield
High Point, NC
-1
73
68
141
T11
Robert Klug
Pinehurst, NC
+1
70
73
143
T11
John Bunn
Raleigh, NC
+1
70
73
143
T11
Russ Perry
Winston Salem, NC
+1
73
70
143
T14
Bob Yow
Clinton, NC
+2
71
73
144
T14
Logan Jackson
Winston-Salem, NC
+2
72
72
144
T14
Cliff Seastrunk
Raleigh, NC
+2
72
72
144
T14
Bill Boles
Wilson, NC
+2
76
68
144
18
Robert Wildner
Hendersonville, NC
+3
72
73
145
T19
Gray Tuttle
Pinehurst, NC
+4
72
74
146
T19
Dee Blankenhorn
Raleigh, NC
+4
74
72
146
T19
John Richardson
Charlotte, NC
+4
73
73
146
T22
Charlie Parks
Asheboro, NC
+5
73
74
147
T22
Charley Johnson
Southern Pines, NC
+5
73
74
147
T22
Chuck Wunsch
Pinehurst, NC
+5
75
72
147
T22
George Leight
Apex, NC
+5
75
72
147
T26
Spike Smith
Pinehurst, NC
+6
74
74
148
T26
Ron Carpenter
Creedmoor, NC
+6
74
74
148
28
Jim Hunsuck
Statesville, NC
+7
74
75
149
T29
Dickie Brewer
Winston Salem, NC
+8
74
76
150
T29
Bill Thaxton
Monroe, NC
+8
77
73
150
T29
Don Moore
Raleigh, NC
+8
76
74
150
T29
Charles Taubersmith
Pinehurst, NC
+8
78
72
150
T33
Mike Wilson
Ocean Isle Beach, NC
+9
76
75
151
T33
Paul Stroup
Charlotte, NC
+9
77
74
151
35
Billy Poteat
Hickory, NC
+10
75
77
152
36
Greg Powell
Charlotte, NC
+11
75
78
153
37
Evan Long
Charlotte, NC
+12
77
77
154
T38
Rick Crompton
Apex, NC
+13
76
79
155
T38
Bill James
Leland, NC
+13
78
77
155
T38
Edward Mills
Fairview, NC
+13
78
77
155
T41
Robert Dail
Wendell, NC
+14
77
79
156
T41
Phillip Greene
Charlotte, NC
+14
78
78
156
T41
Garland Yates
Asheboro, NC
+14
80
76
156
T41
Todd Turner
West End, NC
+14
82
74
156
T45
Ray Jackson
Rocky Mount, NC
+15
75
82
157
T45
Raymond Davis
Apex, NC
+15
81
76
157
T45
Frank Golden
Charlotte, NC
+15
79
78
157
T48
Lawrence Hicks
Greensboro, NC
+16
78
80
158
T48
Austin Overby
Ocean Isle Beach, NC
+16
80
78
158
T48
Dwight Leadbetter
Elon, NC
+16
80
78
158
T51
David Watterworth
Charlotte, NC
+19
78
83
161
T51
Michael Jones
Charlotte, NC
+19
80
81
161
T51
Kenneth Eichele
Pinehurst, NC
+19
82
79
161
54
Robert Surratt
Concord, NC
+20
77
85
162
T55
Russ McLauchlan
Fuquay-Varina, NC
+22
83
81
164
T55
George Deryckere
Rocky Mount, NC
+22
85
79
164
57
Vaughn Fogleman
Greensboro, NC
+23
82
83
165
58
Tom Carbone
Mooresville, NC
+25
83
84
167
59
Andy Stinson
Hickory, NC
+29
81
90
171
WD
Jim Bridges
Statesville, NC
-
77
WD
WD
WD
Chuck Latham
Vass, NC
-
79
WD
WD
70 + Division
Pos.
Player
Affiliation
To Par
R1
R2
Total
1
John Walters
Charlotte, NC
-2
72
68
140
T2
Alan Dirk
Pittsboro, NC
-1
71
70
141
T2
Terry Rathman
Gastonia, NC
-1
70
71
141
4
Mike Sprouts
Winston Salem, NC
+2
75
69
144
T5
Doug Potter
Greensboro, NC
+3
71
74
145
T5
Rick Luzar
Pinehurst, NC
+3
70
75
145
T5
Bill Martinson
Chapel Hill, NC
+3
73
72
145
T8
Michael McDowell
Charlotte, NC
+4
76
70
146
T8
Rick Kline
Davidson, NC
+4
72
74
146
T8
Robin Lindsey
Huntersville, NC
+4
71
75
146
T11
Gene Grubb
Greensboro, NC
+5
73
74
147
T11
Bill Burling
Greensboro, NC
+5
74
73
147
13
Ray Novicki
Southern Pines, NC
+6
74
74
148
14
Steve Preston
Charlotte, NC
+7
74
75
149
15
Dave Moser
Charlotte, NC
+8
77
73
150
T16
Lea Couch
Bahama, NC
+9
75
76
151
T16
James Brown
High Point, NC
+9
75
76
151
T16
Steve Spiegler
Charlotte, NC
+9
75
76
151
T16
Barry DeLapp
Hendersonville , NC
+9
73
78
151
T16
Rick LaFata
Raleigh, NC
+9
72
79
151
T21
Robert Crawford
Winston Salem, NC
+11
77
76
153
T21
Jim Brannock
Elon, NC
+11
75
78
153
23
David Williams
Cary, NC
+12
78
76
154
T24
Steve Joyce
Denver, NC
+13
78
77
155
T24
Terry Collins
Pinehurst, NC
+13
75
80
155
26
Dennis McNames
Winston Salem, NC
+14
79
77
156
27
Arnold Edwards
Charlotte , NC
+15
78
79
157
28
Raymond Stone
Raleigh, NC
+17
78
81
159
T29
Wiley Barrett
Southern Pines, NC
+18
81
79
160
T29
Bill Coble
Burlington, NC
+18
76
84
160
31
Bill Beal
Matthews, NC
+19
81
80
161
32
Gus Andrews
Salisbury, NC
+22
81
83
164
T33
Frank Morris
Winston-Salem, NC
+23
82
83
165
T33
Bob Beasley
Greensboro, NC
+23
78
87
165
35
Glenn Morris
Pittsboro, NC
+27
85
84
169
36
Russ Priddy
Salisbury, NC
+29
89
82
171
37
John Hornung
Hampstead , NC
+40
93
89
182
WD
John Zatorski
Pinehurst, NC
-
91
WD
WD